It is the details that matter when it comes to making a car more than simply a means of transport; and Lexus, whose principles enshrined in Omotenashi, the Japanese spirit of hospitality, understands this all too well. Beyond horsepower and torque, the luxury marque built an appreciation for the finer details by enthralling its occupants with luxurious interior space, rich in Takumi craftsmanship.
Enlisting the expertise of Japan's master craftsmen under the leaderships of visionary Chief Engineer Toshio Asahi and Chief Designer Koichi Suga, these guardians of the ancient artisan philosophy worked tirelessly to bring the brand's vision of true automobile luxury to life. With that, the fifth generation Lexus LS was born.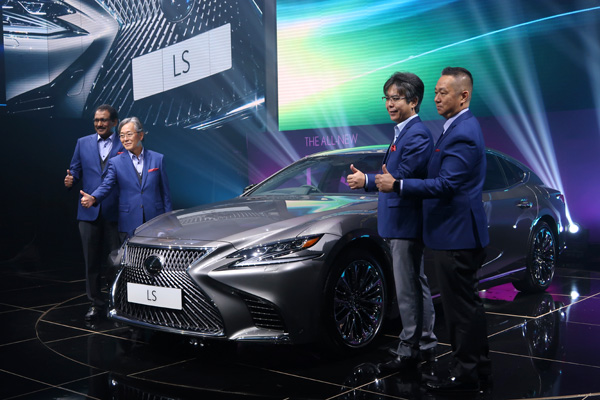 Celebrating 10 years of perfection, Lexus Malaysia hosted a grand soiree in Kuala Lumpur's St Regis to welcome the arrival of its flagship luxury sedan, the 2018 Lexus LS. Attended by Malaysia's entrepreneurial elites, the official launch event invited guests to embrace their inner royalty with an exclusive look at the brand's most luxurious sedan in its full grandeur, in the lavish setting of the city's most prestigious hotel.
"Since the first LS made its global debut, it was our persistency and commitment to deliver amazing that saw us through 28 years of relentless pursuit of perfection. It has been ten years since the fourth-generation LS was launched and it took us a decade of determination and tireless reinvention to finally present you the completely reimagined 2018 Lexus LS. True vision doesn't just see the future, it changes it," said Mr. Akio Takeyama, Deputy Chairman of Lexus Malaysia.
Each edition of the Lexus LS leading up to the fifth-generation has made advancement in areas of luxury, craftsmanship, performance and safety; but this by far is the brand's boldest move in design language and engaging on-road performance. Blending a dynamic coupe-like exterior with the spaciousness of a prestige sedan, the most radically redesigned LS is also the most powerful and advanced yet.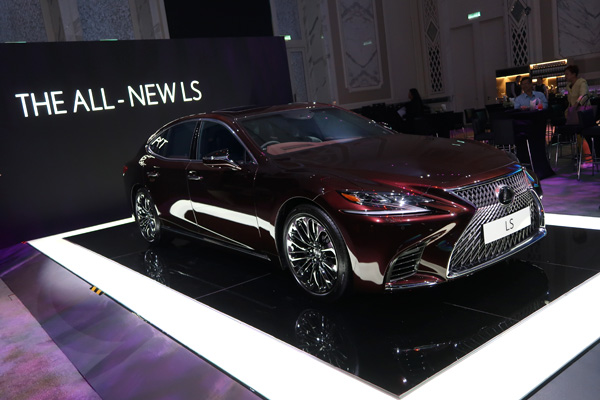 The LS is built on the same high-performance platform as the LC and features an all-new 3.5litre twin turbo V6, the world's first 10-speed automatic transmission in its class, and the most advanced Lexus dynamic control system yet.
While the exterior design of the new Lexus flagship is impressive, some might say that its true beauty lies beneath the surface. Lexus' Takumi craftsmen have artfully fashioned an interior that is at once sensual and serene, featuring origami-inspired material designs through timeless handcrafted pleats, ambient lighting reminiscent of Japanese lanterns, ornamentation based on traditional Japanese Kiriko glass techniques, and the vibrant grain pattern of Art Wood organic trim reminiscent of flickering flames.
Omotenashi is also expressed through the brand's partnership with premium audio technology expert, Mark Levinson. The available Mark Levinson audio package was developed specifically for the LS, and features 'Quantum Logic Immersion Technology' that employs 23 speakers and a 16-channel amplifier to deliver a concert hall-like listening experience – with instruments and vocals heard as if coming from their stage positions.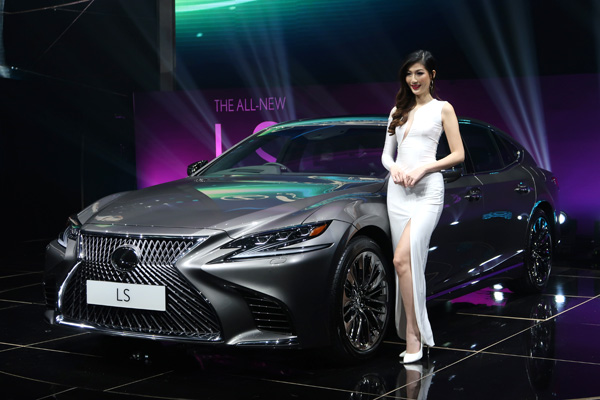 Where safety is concern, the flagship Lexus LS integrates a portfolio of active safety technologies to support the driver's awareness and decision-making under a variety of traffic conditions and contingencies. Included in the Lexus Safety System is the Pre-collision Safety System, Lane Departure Alert with Lane Keep Assist, Dynamic Radar with Adaptive Cruise Control and Automatic High Beam System.
"Our concept of Omotenashi, the Lexus way of hospitality, remains steadfast.  Applying it to a Lexus vehicle, it simply means taking care of the driver and passengers, anticipating their needs, attending to their comfort and helping to protect them from risk.  Omotenashi is pivotal throughout Lexus, from the standards of care we deliver through our dealer network to our ability to seamlessly anticipate a driver's needs and desires," said Mr. Ravindran K., President of Lexus Malaysia.
The radical new LS is an intersection of traditional Japanese artistry and advanced technology to transport its occupants into a full sensory experience. Forged from passion, the LS delivers precision and refinement wherever the journey takes you. Not only is the LS a true representation of the Lexus brand, it is the definitive new-generation luxury car for the modern discerning driver.
More information on LEXUS and its range of luxury vehicles can be found at www.lexus.com.my or call their toll free line at 1800 88 53987.