To Samsung, the phrase Do What You Can't carries a very profound meaning – to never be complacent, to keep defying barriers, and ultimately achieving the impossible. With a goal to empower consumers in realising their ambitions, Samsung stops at nothing to create innovative technologies so that people can do impossible things.
"We are reaching out to this generation of doers, people who go out and make things happen. We want them to know that if the phone in your pocket can do anything, so can you. When the opportunity to support our first national figure skater Julian Yee came about, we jumped at the chance because Julian is a prime example of what it means to Do What You Can't. Against all odds, Julian is today an Olympic contender in a sport that isn't even common in Malaysia – and for that we are very proud of him and we hope others would see him as an inspiration to achieve greater things," said Mr Yoonsoo Kim, President of Samsung Malaysia Electronics.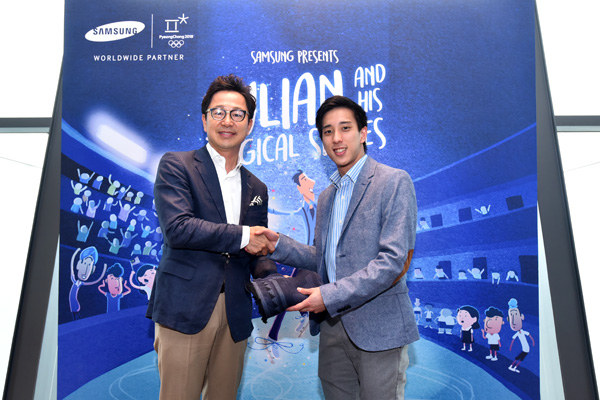 "Just like how Julian was able to achieve what many thought was unrealistic, we decided to remain in that spirit, and produce a beautiful and creative video from a mobile device. Both Julian and the video have shown us at Samsung that with the right mindset, attitude and support, Doing What You Can't is something very attainable after all," Mr Yoonsoo Kim added.
In view of the coming Olympic Winter Games PyeongChang 2018, Samsung prepared a short feature film entitled "Julian and His Magical Skates", a special tribute to the rising star. The video was fully recorded and illustrated with the Samsung Galaxy Note8 and its S Pen, further cementing Samsung's progress in innovation and of doing the impossible.
The Galaxy Note8 is Samsung's ultimate productivity device, the very tool to help you push boundaries and break past your limits. With its one-of-a-kind S Pen, it allowed the creative team behind the video to bring the beautiful illustrations to life. Thanks to its large and gorgeous Infinity Display, there was a clear canvas big enough for the artists to place their quality work on.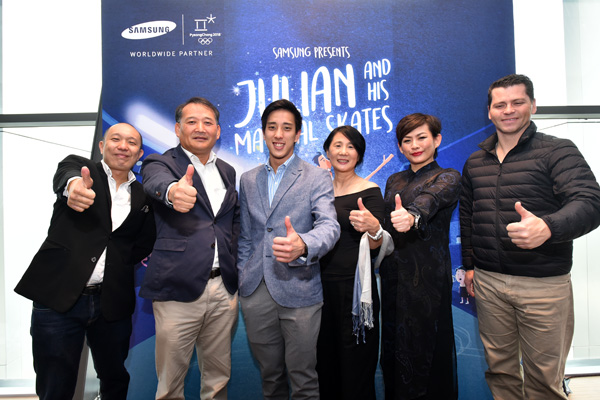 Mr Chan Woei Hern, Executive Creative Director of Ensemble Worldwide Malaysia, who was commissioned to produce this brand film, shared that, "The best technologies are often the simplest ones.  Like a pair of skates or the S Pen. Two seemingly ordinary tools, but in the right hands or in Julian's case, feet, it can capture people's attention and imagination. As we heard Julian's story, we wanted to get into the mood of Do What You Can't as well. And that meant scripting, sketching and creating the story entirely from scratch with a Galaxy Note8 and S Pen. That's the magic of technology at work. We'll be releasing a behind-the-scenes video soon, shot entirely on a Galaxy Note8 as well, so everyone can experience the journey as we brought the video to life."
"My story is a tale of Do What You Can't because I really did; and I want to remind everyone out there that young or old, you CAN achieve your dreams and you will be surprised that you CAN actually do what you never thought you could. With innovations and advanced technology in today's world to help make things easier, none of us should be held back by "ifs", "buts", or "maybes". We should all have that burning spirit to achieve the impossible – and from here on out, it should be "yes", "can", and "Do What We Can't"!" said Julian Yee.
"Julian and His Magical Skates" is the telling of Julian's journey to the Olympic Winter Games PyeongChang 2018, and a reiteration of Samsung's "Do What You Can't" message to inspire others to break barriers to fuel meaningful progress and realise their dreams.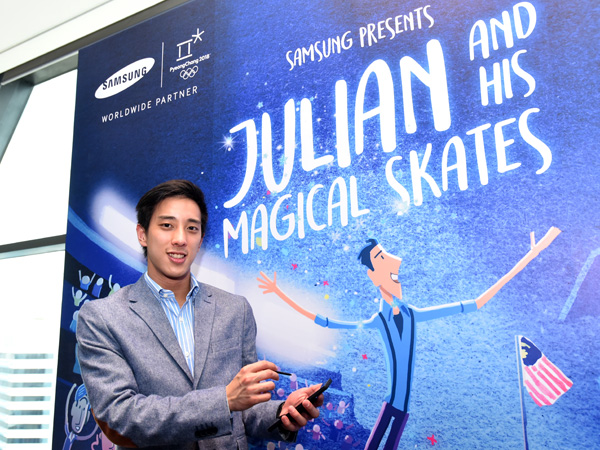 To view the short feature titled "Julian and His Magical Skates", visit www.samsung.com/my/magicalskates. Let's bookmark this video as a reminder to continue pursuing what we are passionate about, and to continue supporting Julian as he represents Malaysia on the global Olympic stage.