Epson Malaysia unveils its First Solution Centre in Malaysia
Epson, a world leader in digital imaging and printing solutions, today unveiled the very first Epson Solution Centre in Wisma Consplant, Subang Jaya, that is set to be a one-stop platform for the company to demonstrate innovative solutions that will boost the company's local business growth and support customers in Malaysia better.
"We are pleased to unveil and make available the Epson Solution Centre for our customers in Malaysia. This is in line with the 'Epson 25' Corporate Vision, with which, we mandate for ourselves to create a connected age of people, things and information, supported by efficient, compact and precision technologies that generate value for customers. We are strengthening our business infrastructure in the region to support these efforts and this Malaysian solution centre is one of them," said Daisuke Hori, Epson Malaysia's Managing Director.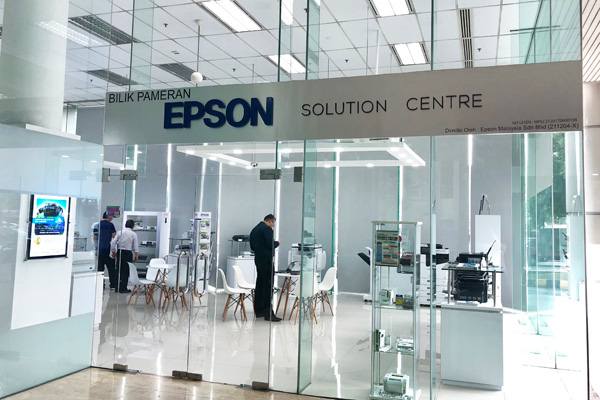 The 5,000 sq ft centre showcases and demonstrates products from three of Epson's key pillars of innovation, namely printing & imaging, visual communications and wearables, with the aim to help customers better understand how Epson solutions can help their business.
"Epson Solution Centre will be the ideal place where customers can come and experience, in a realistic business setting, what our products can do for their business. We believe that this solution centre will help us to serve our B2B customers better and   to support our business growth," elaborated Danny Lee, General Manager, Sales & Marketing, Epson Malaysia.
Catered to segments such as SOHO, Enterprise, Commercial & Industrial, and home entertainment, Epson products from the three pillars of innovation to be on display include:
Visual Communications experience – large scale projection installation, education, business and home entertainment for high brightness projectors, business projectors & interactive projectors, and home projectors. Epson's latest range of holistic and integrated solutions in the visual communication space launched late January is also showcased here.
Printing & Imaging – from SOHO to commercial and industrial use across ink tank printers, business inkjets, scanners, and label printers.
Wearables – Moverio smart eyewear.
The centre will also house a Customer Service Centre, where customers can send in products for service or troubleshooting, as well as training and meeting rooms.
World's first ultra-short throw 3LCD laser home theatre projector unveiled
Additionally, Epson also made available the world's first 3LCD ultra short throw laser home theatre projector, the EH-LS100, bringing bright big-screen projection to homes. Epson's first ultra-short throw laser projector for homes, the projector's ultra-short throw design allows it to project at extremely close distances to a wall without need for mounting on ceiling, enabling easy installation and a seamless integration with the home décor.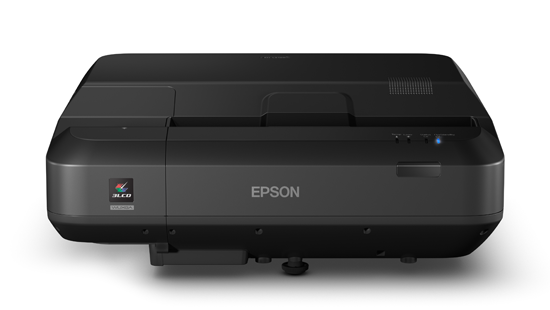 Projecting screen sizes ranging from 70 to 130 inches, the EH-LS100 offers WUXGA full HD resolution with brightness levels of 4,000 lumens of both white and colour brightness, delivering extraordinary image performance in a variety of lighting conditions. Users can experience deep blacks and brilliant colours at a high contrast ratio of up to 2,500,000:1 for an immersive and vivid home theatre experience.
With its ultra-short throw capability, EH-LS100 is able to achieve a 100-inch projection with a placement of just 26cm away from the wall, overcoming the issues of distance and space in home projection systems. The EH-LS100 can now be placed in the same place and angle as conventional entertainment devices – users can simply plug in and play to enjoy a cinematic experience in the comfort of own home.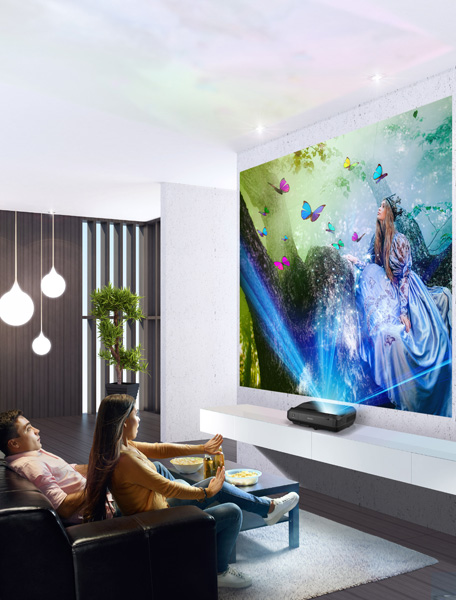 With its innovative laser light source technology, the EH-LS100 has outstanding durability, delivering up to 20,000 hours of viewing, without need for maintenance and lamp replacement – this translates to more than 12 years of usage. With its laser technology, the projector brings instant on/ off performance – there is no need to wait for warm up or cool down, ensuring immediate projections.
The EH-LS100 projector comes with a variety of connectivity options – including direct in-built Wi-Fi. Users can enjoy smooth wireless projection directly from Android and Apple iOS tablets, as well as smartphones through the iProjection app. It also comes with 3 HDMI ports that enable up to 3 different devices to be connected to the projector. With this, multiple devices can be easily managed with the use of a single remote control. Lastly, users can enjoy built-in 16-watt speakers without having to connect to an amplifier or separate speakers.
b2bBusinesscentercustomersepsonmalaysiaprojectorsolutionsubang jayawisma consplant