THUNDEROBOT unveils flagship and best-selling gaming laptops at its first Malaysian launch
THUNDEROBOT made its debut to the Malaysian market with the inaugural launch of its flagship gaming laptop THUNDEROBOT DINO, along with three other gaming laptops, the THUNDEROBOT 911GT, 911SE and bestseller ST Plus at Talent Lounge, Petaling Jaya, Selangor. As a leading brand of gaming laptops in China, THUNDEROBOT offers gamers powerful gaming machine powered by the 7th Generation Intel® Core™ processor and NVIDIA GeForce GTX10 series graphics processor.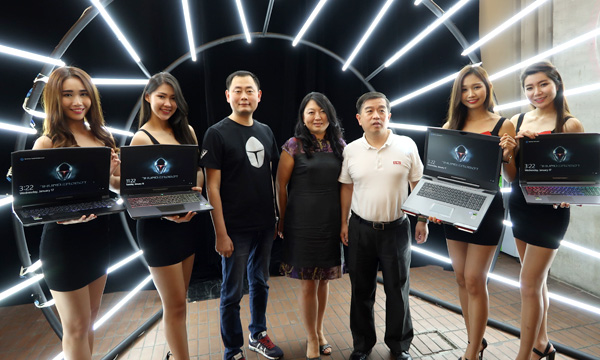 Its specially designed keyboard such as RGB backlit keyboard for DINO and ST Plus makes gaming experience more enjoyable, more intuitive and more personalized. Superior sound system with in-built subwoofer in 911GT and Sound Blaster® X-FI® MB5 in both 911SE and ST Plus, complements the amazing graphics to make your games come alive.
Gaming laptops need not be boring or bulky, as modelled by THUNDEROBOT's gaming laptops that sport a futuristic, elegant and light-weight design.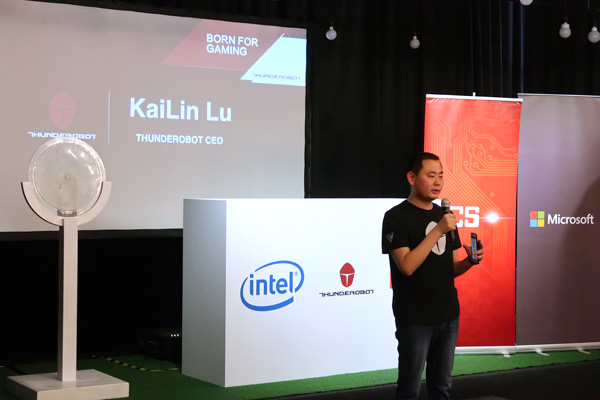 "With a population of 31 million people and as one of the 5 key founding members of ASEAN, Malaysia contributes a per capita income of US$10,570 in the ASEAN economy, the rising consumer power offers massive potential for the emerging gaming industry. Within a short span of a few years, the gaming market in Malaysia has seen an increase of more than 10% and the numbers are expected to continue growing rapidly in the next few years with a two to three digit growth according to relevant parties. This affirms the blue ocean business opportunity of gaming industry in Malaysia," said Lu Kai Lin, CEO of THUNDEROBOT Technology Co. Ltd.
Lu expressed his confidence in working with Malaysian partners to bring in quality products with excellent services to meet the needs of gamers, contributing to the growth of gaming scene here.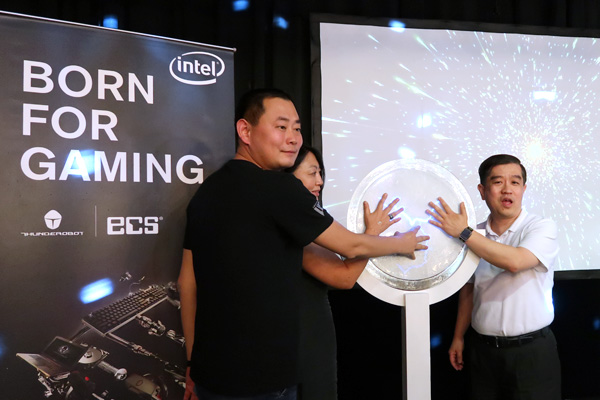 THUNDEROBOT DINO – GAME'S ON
Made to impress fellow gamers with a futuristic, spaceship design gaming laptop. The flagship DINO features a strong, space-grey metal chassis with a signature breathing blue light. Powered by the 7th Generation Intel® Core™ i7-7700HQ processor and the NVIDIA GeForce GTX 1070 with 8GB GDDR5 VRAM to deliver the ultimate performance, DINO is also able to offer a lag-free and immersive VR gaming experience. The 15.6" full HD IPS display delivers deeper blacks, a crisp image quality with vivid colours, while having 300 nits of brightness. To deliver the ultimate viewing experience, DINO sports an HDMI 2.0 port that supports extending its display to a supported 4K monitor with 60Hz refresh rate, gamers can also extend more displays with DINO's Mini DisplayPort 1.3 and USB-C 3.1 port. As cooling plays an essential part in maximizing gaming performance, DINO features an enhanced thermal design with dual fans and 4 free conduction copper heat pipes, to provide stability and maximum air cooling efficiency for long hours of gaming.
While gaming in dimly-lit or dark environments, the DINO's RGB backlit keyboard can be configured with the flexiket keyboard software for up to 16.8M colors for different zones and light activity, the keycaps features surface carving that allows the backlight to glow beautifully, DINO's touchpad also lights up when it is in use, so that you won't need to hunt for the position of it in the dark.
THUNDEROBOT 911GT – Your Speeding Up Machine
Inspired by the performance of a sports car, the 911GT features an impressive 17.3" IPS level display that offers 1780 wide view, it ensures an immersive gaming experience with true to life image quality. The integrated subwoofer in 911GT pumps out deep immersive bass for an adrenaline rush gaming experience. Gamers can now enjoy professional-level keyboard with the rapid keystrokes, specially-marked WASD cursor keys and a full numeric pad that comes with 911GT keyboard. All the keys are backlit, emitting a soft white glow for gaming in dark environments. Like DINO, 911GT also comes with enhanced thermal design with dual fans and 4 copper heat pipes that keep the machine cool even for long hours of gaming.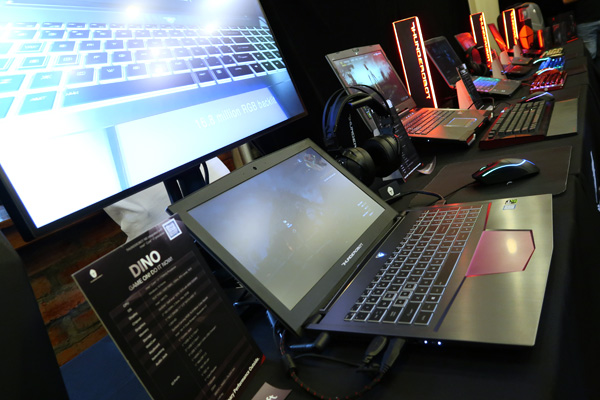 THUNDEROBOT 911SE – Your Gaming Starts Here
Your pride of owning a gaming laptop begins here with the 911SE, which features wedge line with a unique polygon edge design, complete with a breathing LED logo. Its keyboard boasts surface carving with a white color backlit keyboard glittering and translucent carving, promising a pleasant gaming and typing experience.
911SE is integrated with blazingly fast and reliable Intel® Wireless-AC and Bluetooth® 4.2 technology, ready to make your experience smooth and enjoyable. On top of that, Sound Blaster® X-FI® MB5 delivers premium audio quality for a life-like game play.
THUNDEROBOT ST Plus – Let your performance do the talking
With the Intel® Core™ i7-7700HQ processor and NVIDIA GeForce GTX 1050Ti graphics chip, the ST-PLUS is able to achieve exceptional game performance, the GTX 1050Ti is 30% more powerful than GTX 1050, which offers better gaming performance. It also features RGB full color backlit keyboard and surface carving and 16million light designs for individual pressed key with independent peripheral illumination, light glittering and translucent carving.  For a 15-inch gaming laptop, the ST Plus weights at only 2.3kg and boasts a 2.7cm slim profile with ridgelines to accentuate deeper texture shape, which is impressive for its standards.
The ST Plus offers faster performance and reliability with integrated Intel® Wireless-AC and Bluetooth® 4.2 technology. For superior audio effects, ST Plus also comes equipped with Sound Blaster® X-FI® MB5 feature.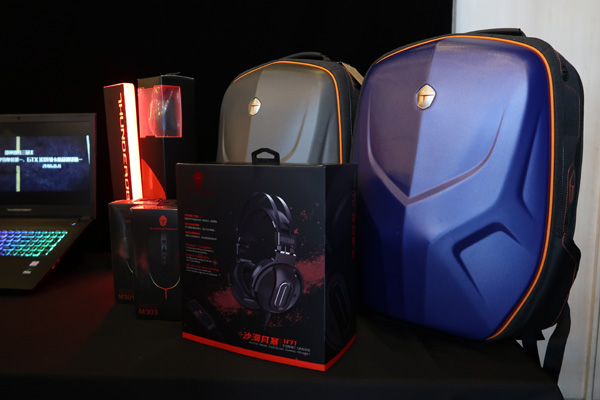 The DINO and 911GT are VR-ready for a breakthrough VR immersion gaming experience, while all four laptops offer unbeatable energy-efficiency and new gaming technologies that gamers will appreciate.
ECS Astar Sdn. Bhd. is the exclusive distributor for THUNDEROBOT gaming laptops in Malaysia. ECS has appointed LAZADA as its online store dealer and nationwide dealers as listed below. The list of dealers is expected to expand in the very near future.
About THUNDEROBOT Technology Co. Ltd.
THUNDEROBOT Technology Co. Ltd ("THUNDEROBOT" or "the Company") is one of the leaders in the sale of gaming computers and accessories of the gaming industry in Asia. Founded in 2014, Thunderobot aims to be a one-stop service solution for users, especially gamers, to gain the ultimate gaming experience via its in-house design, production and marketing of desktop PCs, laptops, keyboards and numerous gaming peripherals, such as mouse and headphones. THUNDEROBOT's laptops stand out for their power and game speed, coupled with attractive designs that are futuristic and elegant. For more information, please visit thunderobot.com.
About ECS ICT Berhad
ECS ICT Berhad, an MSC-status company ("ECS" or "the Group"), is a leading distribution hub for Information & Communications Technology (ICT) products in Malaysia. Listed on the Main Market of Bursa Malaysia Securities Berhad on 15 April 2010, the Group is an associate company of ECS Holdings Limited which is one of the leading ICT distributors in the Asia Pacific, with access to a network of more than 25,000 channel partners across China, Thailand, Malaysia, Singapore, Indonesia, the Philippines, Cambodia and Myanmar.
ECS distributes a comprehensive range of ICT products comprising notebooks, personal computers, smartphones, smartwatches, tablets, printers, software, network and communication infrastructure, servers, and enterprise software with over 40 leading principals.   With a nationwide channel network of more than 6,100 resellers comprising retailers, system integrators and corporate dealers, ECS also provides value-added product support and technical services. For more information, please visit www.ecsm.com.my.
computerECSgamingintellaptopnotebooknvidiaperipheralthunderobotvr