Epson Malaysia brings Truly Immersive Experience with New Revolutionary Projection Technologies
Epson, a world leader in digital imaging and printing solutions, today showcased a myriad of holistic and integrated solutions in a truly immersive way that brings imagination to life, during the Epson Projection Conference & Showcase 2018. It introduced the revolutionary first 3LCD laser ultra-short throw projectors, the EB-1470Ui and EB-700U projectors, to the market, in addition to other projection technologies and smart glasses for commercial and industrial applications.
Held at the Sunway Convention Centre, Epson Malaysia presents Epson Town that showcases projection innovations that transforms everyday life, where the concept of a small town built around the use and application of Epson's revolutionary 3LCD and laser projection technologies. With precision and performance at the centre of the showcase, guests experience a live demonstration on the impact of holistic integrated solutions on areas such as education, corporate, home, retail, as well as public spaces for businesses and consumers.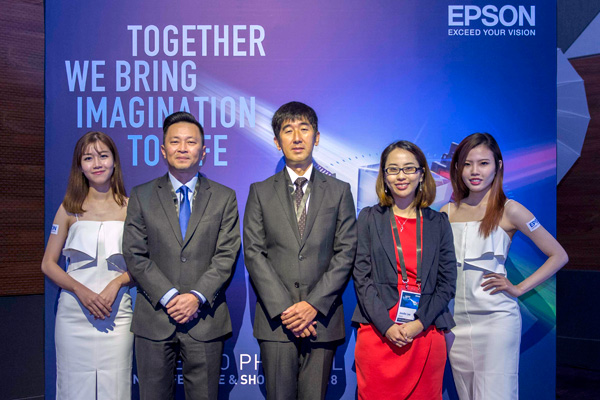 As the projection landscape continues to evolve, Epson believes that projection innovations are developing into important communication tools that engage audiences in new and exciting ways. In addition, the global technology giant believes that innovation works best when attention is paid to the details.
Daisuke Hori, Managing Director of Epson Malaysia said: "When it comes to developing new technologies and innovations, we believe that it's our attention to details that makes a fundamental difference and sets us apart from our competitors. These details come from listening to what our customers want from our products, and satisfying their needs by designing products that exceed their expectations. In terms of Epson's projection innovation, every component in our projectors is created with the same obsessive attention to detail to ensure spectacular performance that will stun even the biggest crowd."
World's first 3LCD Laser ultra-short throw projectors
With the introduction of laser projection technology on the ultra-short throw projector platform, Epson has expanded its reach into new markets. As the first manufacturer to combine inorganic 3LCD panels with an inorganic phosphor wheel, Epson continues to build on innovative laser features to connect people and technology with solutions for creative ideas, displays and collaboration across a variety of sectors, including corporate spaces, educational institutions, retail spaces, and anywhere that long life, minimal maintenance and low cost of operation are significant.
The projectors' laser light source provides up to 20,000 hours of operation with virtually no maintenance needed. Both the projectors deliver 4,000 lumens of white and colour brightness and WUXGA beyond Full HD resolution of 1920 x 1200 pixels for a dynamic viewing experience.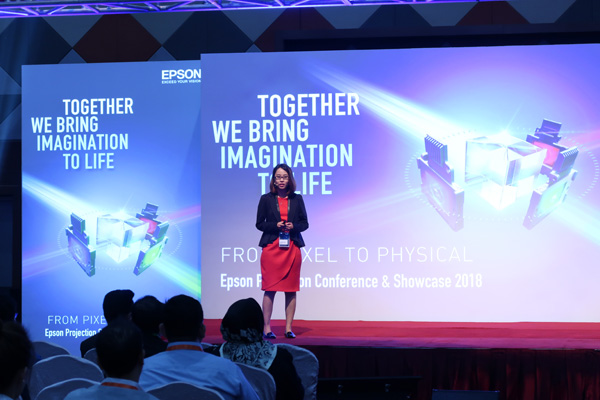 In a first such innovation, the EB-1470Ui projector combines cutting-edge laser light source technology with ultra-short throw interactivity, bringing spectacular image quality, durability and interactivity to meetings and classrooms, which was demonstrated in the Epson Town setting. It works on nearly any flat surface turning it into an interactive touch enabled digital whiteboard, making it the ideal collaboration solution for the meeting room or classrooms.
The EB-1470Ui supports up to 100-inch screen size, providing better readability and enhancing productivity. It can also support seamless interactivity across dual screens for a larger-than-life interactive presentation. Two projectors can be paired side by side to create an ultra-wide interactive screen of up to 177-inch for the classroom or boardroom.
An interactive table top can also be created with the optional table mount. Users can write or draw on Microsoft Office documents with the Microsoft Ink function, and the annotations can be conveniently saved into the PC as Microsoft office file. It can also enable interactive discussions with an in-built digital interactive whiteboard that can be shared with up to 15 laptops and mobile devices within the network, to view and co-create live drawings and images in real time for active collaboration. It has many other great functionalities too.
The EB-700U projector, on the other hand, can project up to 130-inch in portrait or landscape mode and with its ultra-short throw, multi-direction projection capabilities and    PC-less functionality, it is ideal to be used as a digital signage for projection in confined retail settings and corporate or public spaces for display.
The EB-700U can be rotated 360 degrees in all directions without any loss in image brightness, making it suitable for projecting on walls, ceilings and floors. It does not need to be connected to a PC and photo slide shows can be loaded directly from a USB memory key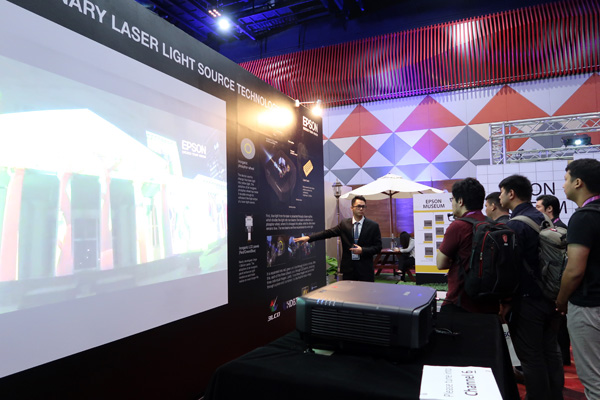 The projector starts up within 5 seconds, ensuring smooth and timely displays. With a contrast ratio of 2,500,000:1, the EB-700U delivers sharpness and crisp image quality even in well-lit environments. It comes with diverse connectivity options, as well as remote management and control tools for ease of access and maintenance,
"With the launch of our first laser ultra-short throw projectors, we continue to drive the laser-phosphor market and to deliver innovative laser projectors that deliver our customers with new experiences and outstanding image quality across our markets. Laser is the future of display technology and we will continue to provide enhanced collaborative experiences, outstanding image quality and with virtually no maintenance, all at an affordable cost," said Danny Lee, General Manager, Sales & Marketing, Epson Malaysia.
Besides these laser ultra-short throw projectors, Epson also launched the EB-L1700 series, the most compact series of 3LCD laser projectors in its class, with brightness of 15,000 lumens. The projectors integrate inorganic 3LCD panels with an inorganic phosphor wheel to achieve superior light and heat resistance for spectacular image quality, reliability and durability.
With its laser light source, the EB-L1700 series of projectors deliver outstanding levels of colour brightness for extremely long periods, of up to 20,000 hours of maintenance free use, in high quality SXGA+ and WUXGA resolutions.
Designed to operate 24/7, the EB-L1700 projectors have an improved dust resistance design and are ideal for applications requiring continuous projection including events, storefronts, museums, digital signage and more. With a laser light source, the projectors reach maximum brightness quickly, in just under 7 seconds.
With an operating system that enables easy set-up and control of geometry features for seamless projection, which includes edge-blending, curve projection, corner wall projection, point correction, quick corner and others, Epson offers up to 9 different types of lenses for these projectors.
Revolutionise Every Facet of Life with Projection Innovation
Today's rapidly changing landscape – from education, corporate, home, retail to business and consumer spaces –  demands intelligent, easy-to-use technology that inspires new ways of thinking. This is how the Epson Town showcase demonstrates its innovations at work.
In the education sphere today, the classroom has evolved to encourage a learning dialogue between students and teachers with an interactive ultra-short throw display solution. Display size matters – although obvious, some do not realise that screen size is of paramount importance, especially in the common large classroom settings.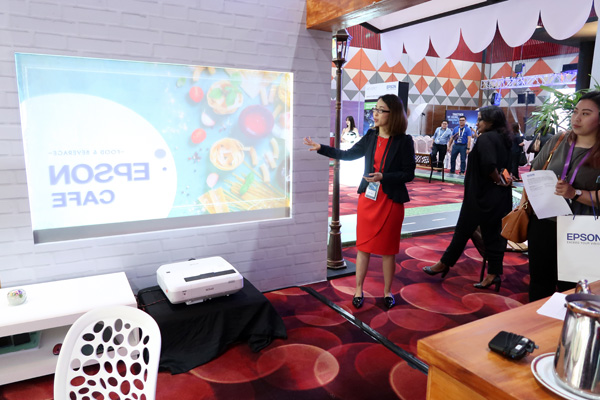 With large interactive screen size offered by interactive projectors, the projected images are not restricted to a specific size and can go up to 100-inches. In addition, interactive content can be delivered to every student in the classroom, and both students and teachers can interact with group projects using gestures or pens, make, share, and discuss notes without having to power up a PC. As interactive projectors become an increasingly popular teaching tool in classrooms, Epson's projection technologies will continue to revolutionise teaching and learning by better engaging learners with attractive visuals and interactive features at an affordable cost.
For the highly-pressured business world, Epson's projection technology allows you to connect, collaborate and share information effortlessly on a truly multi-purpose projection system. It offers a smart collaboration platform for sharing and co-authoring, across long distances or with multiple PCs and mobile devices, to enhance your meetings and video conference with greater participant engagement.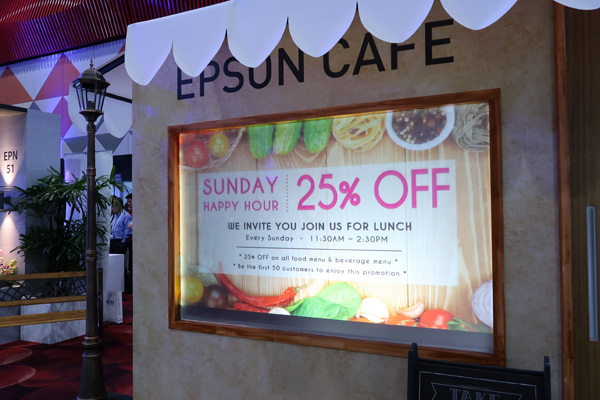 Even retailers today are focused on improving the consumer shopping experience by connecting with customers in a unique and meaningful way. Epson enables the growth of new retail concepts and allows retailers to stay ahead of the competition by offering technologies that help businesses attract more customers and keep them coming back for more. As retail space shrinks, Epson's ultra-short throw advantage enables retailers to project a large screen within the narrow space of retail windows. Epson's projectors are extremely versatile, enabling retailers to project onto walls, ceilings and floors, bringing visual merchandising to life.
With such immersive experience you get from every aspect of life, Epson understands the need to bring these innovations into the comfort of your home, i.e. delivering a high-quality cinematic experience for your viewing pleasure. Be it catching your favourite sports, watching a classic movie, streaming a movie box set, or playing the latest games, Epson's range of home theatre projectors with high dynamic contrast ratio provides superior and bright Full HD image quality that brings the big screen to life, so you can indulge in the full immersive home cinema experience like never before.
Immersive Visual and Augmented Reality Experience for Large Venue and Public Spaces
Designed for installation in large venues such as at concerts and museums, Epson's high brightness projectors facilitate the projection of any shape on any type of surface, delivering uncompromising image quality, brilliant video and professional-grade reliability.
In addition, the Moverio BT-350 Smart Glasses have the potential to transform museum experiences around the world by bringing augmented reality to life. It is the first production-volume smart glasses designed for a busy, commercial environment where the glasses are for multiple-user deployment, with a first-of-its-kind docking station for easy device management.
Furthermore, the emergence of interactive digital storytelling, combining story generation, narration and audio, augmented with digital content to ensure that storytelling is more personal and mobile than ever before.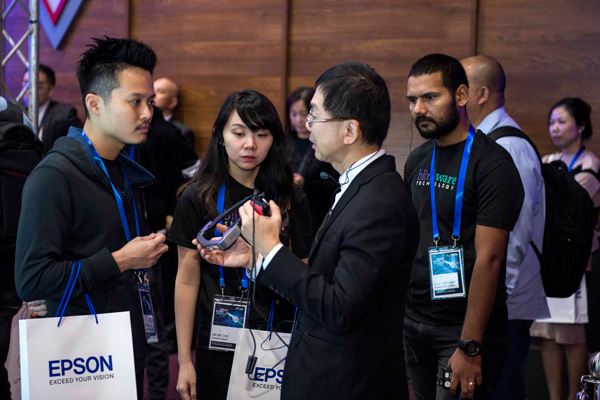 Epson also showcased the Moverio Pro BT-2200 smart headset, designed for critical industrial needs. It is based on a rugged and durable platform built specifically for helmet-mandatory environments. Through augmented reality overlays, the headset enables workers in various locations to see exactly what their counterparts are seeing to provide informed support and training. The smart headset comes with a new hinge specifically designed to fit over front brim helmets, making it an ideal device for use in dangerous worksites that require workers to put on helmets such as in construction environment.
As the number one projector brand in the world for 16 consecutive years, this projection conference and showcase is an important milestone for Epson and is a reflection of the company's continued market leadership and success in the visual imaging industry.
Lee adds: "Epson pioneered the 3LCD technology in the 1980s. In 1989, we launched our first 3LCD projector, the VPJ-700. Since then, Epson continues its commitment to offering projectors that lead the world in technology, innovation and quality. Today, we continue to hold the dominant market leadership position as the leading projector brand for 16 years and running that takes care of the little details using the most innovative technology in the world. In Malaysia, our current market share is at 47.4% as of FY17Q2, according to FutureSource Consulting and we pride ourselves on bringing exceptional value to our customers."
For more information, visit www.epson.com.my.
3lcdaraugmented relBusinessedutainmentepsonhomeprojectionprojector