Begin the New Year of Gaming with Legion of Champions Series II
Lenovo, the world's leading PC manufacturer, announces the return of their League of Legends tournament, the Legion of Champions Series II and attractive offers on their Lenovo Legion gaming devices for the whole month of January.
The Legion of Champions Series II tournament is an annual, highly competitive League of Legends tournament amongst professional players organized by Lenovo, in collaboration with Intel and Garena that sees gaming powerhouses compete from all around the Southeast Asian region.

The Malaysian finals of the championship saw fan favourites Fire Dragoon take first place, and will go on to represent Malaysia at the Legion of Champions Series II Grand Finals in Bangkok, Thailand from the 26th to 28th of January 2018. Apart from the opportunity to compete at the world stage, the local championship saw Fire Dragoon take home cash prizes worth RM 5,000.
"We are so excited to have won this championship and been given the chance to compete in the finals! We are looking forward to meeting and playing against other top-notch gamers in the region in Bangkok," said Jonathan 'Xare' Chan, captain of Fire Dragoon. "This championship is possible only because of the support from brands like Lenovo, who provide us with a platform to realize our potential as gamers."
The local finals which were held on 6 January 2018 at The Pantheon at One City, also produced 4MoD as the first runner up, Allegiance as second runner up and Orange ESports as third runner up.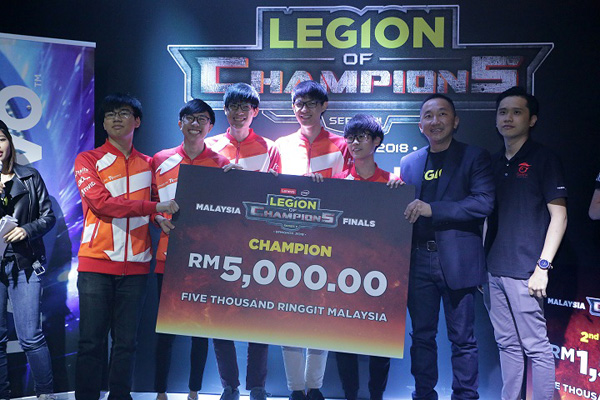 The tournament also had be plenty of activities for the attendees. The attendees participated in plenty of mini-games throughout the day, experienced the excitement from the crowd as the teams battled it out and challenged Lenovo Legion Ambassador, Tashbunny to multiple gaming duels. The early birds at the event also managed to go home with limited edition Lenovo Legion goodie bags.
Four lucky fans managed to walk away with Lenovo's newest addition to their Tab series, the recently launched Lenovo Tab 4 8, from the Grand Lucky Draw!
Be A Champion with Lenovo Legion
Lenovo is also starting the New Year by giving away official Lenovo Legion gaming accessories to their Lenovo Legion fans! To redeem the gifts1, fans must purchase selected Lenovo Legion Y520 and Lenovo Legion Y720 laptops from 1st to 31st of January 2018.
Once purchased, participants may redeem their gifts online in four easy steps by logging on to http://bit.ly/lenovoredemption, filling in their details, attaching a copy of their original invoice, and submitting it. For those who prefer to submit their details offline, they may fill in the redemption form in store with their particulars, attach a copy of their original invoice, and send to the Lenovo Programme Center via email, post, or fax.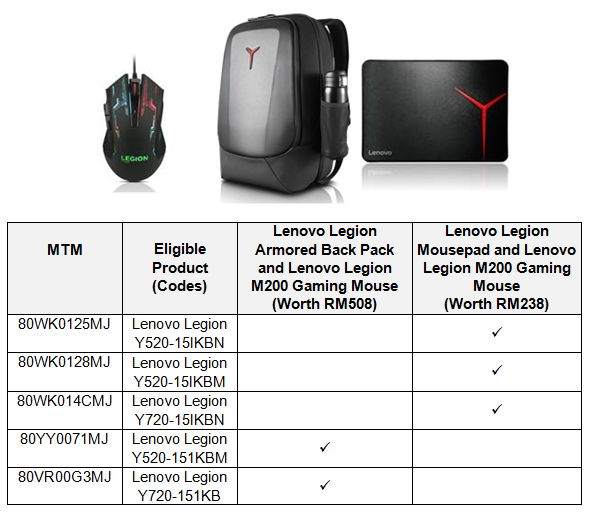 "E-sports and gaming are gaining popularity beyond gamers to a more general audience. For gaming fans, e-sport competitions are the Olympic Games of the 21st century. As a leader in technological innovation supporting this trend, Lenovo wants to continue building top-notch gaming experiences by providing a platform to nurture the Malaysian gaming community. We are dedicated to the fulfilling the needs of gamers through initiatives such as Legion of Champions Series II, a first-of-its-kind regional competition involving eight markets," said Khoo Hung Chuan, General Manager, Lenovo Malaysia and Singapore. "Lenovo also believes the gaming community deserves superior products that reflects their passion for gaming. This is why we are offering passionate gamers a chance to complete their Lenovo Legion gaming setup with our official gaming accessories."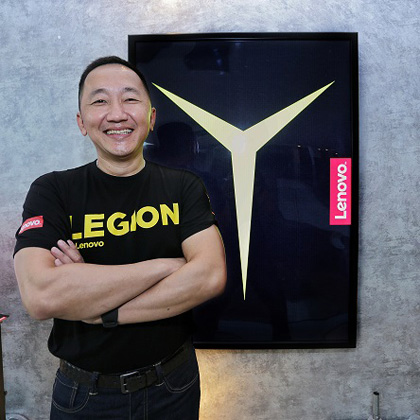 "We are very excited to once again be part of the "Legion of Champions" tournament. Along with the rapid growth of the vibrant and passionate gaming community in Asia, we are also seeing increased expectations for better and faster processors to support and deliver amazing gaming performance," said George Chacko, Director of Global Account for Lenovo, Intel Asia Pacific and Japan. "At Intel, we're committed to supporting the gaming needs of the eSports community by helping them perform their best through our innovative technologies, and delivering the ultimate gaming experience."
Price and Availability
Prices for the Legion Y720 Laptop start from just RM 6,099, inclusive of GST, with the device available for purchase at Lenovo Exclusive Stores and Lenovo Multi Brand Stores.
Prices for the Legion Y520 Laptop start from just RM 3,299, inclusive of GST, with the device available for purchase at Lenovo Exclusive Stores and Lenovo Multi Brand Stores. Photo Journalist
Gadgets, Photography, Automobile, Lifestyle
championshipesportsgaminglaptoplegionlenovonotebooktournament