Acer unveiled at CES 2018 in Las Vegas four new products to add to its well-known lineup of laptops – the Chromebook 11, the Nitro 5, the Swift 7, and the Spin 3. Despite the laptops being of different categories, they all share the same trait on superior performance.
The Chromebook 11 is Acer's take on a laptop with powerful performance for the everyday user, complimented with a long-lasting battery that allows for plenty of enjoyment in a conveniently-sized package. The laptop's Chrome OS makes it so that all the key features are tied to one another, improving its ease of use. Overall, the Chromebook 11 provides users a laptop choice that does not sacrifice performance for value.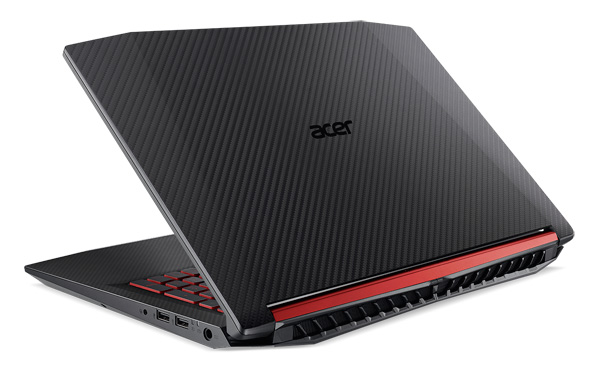 Casual gamers seeking high performance would find Acer's Nitro 5 to be a solid fit for a laptop that will suit their needs, able to support mainstream titles without effort. Packed with plenty of performance, the Nitro 5's impressive AMD CPUs and GPUs come together with the laptop's solid-state drive and DDR4 RAM to provide gamers an edge on reliability and speed.
Contesting the title of "world's thinnest laptop" is Acer's new Swift 7, a laptop designed to combine good performance with portability. Despite its incredibly thin profile, the laptop's performance is on-par with other laptops with its Intel Core processors. The Swift 7's personal 4G LTE connection also allows users to stay productive just about anywhere they go.
Acer's refreshed Spin 3 is the ideal choice for those seeking a more flexible and versatile laptop design, as proven by the Spin 3's adjustable 360° screen, which lets users adjust their display however they see fit. Performance is not compromised in any way with its impressive 8th gen Intel Core processor and storage options, making the laptop a good versatile choice for many uses and situations.
Acer Chromebook 11 – Great for Content Consumption, Productivity, Fun
The new Chromebook 11 line that offers strong everyday performance and a portable design with all-day battery life of up to 10 hours.
The new Acer Chromebook 11 (CB311-8HT / CB311-8H) offers an 11.6-inch display in a portable and fan-less design, so it's great for consumers and families who will move the device around or use in shared spaces. Plus, connecting peripherals, charging phones and other devices, and even sharing content on a large display can be done thanks to the Acer Chromebook 11's two USB 3.1 Type C ports.
"The new Acer Chromebook 11 continues Acer's tradition of delivering strong performance with all the benefits of Chrome OS at an excellent value," said James Lin, General Manager, Commercial & Detachable Notebooks, IT Products Business, Acer Inc. "Chromebooks are widely known as a fast, easy and secure way to work and play both online and offline. Customers can play games, stay productive, enjoy content and do even more with the new Acer Chromebook 11 thanks to its support of Google Play."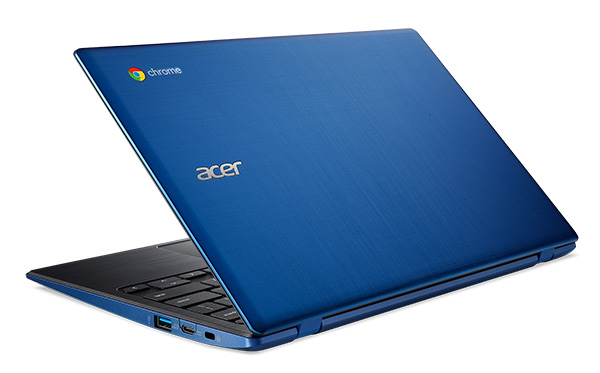 Do More with Google Chrome; 10-Hour Battery Life and Strong, Quiet Performance
The Acer Chromebook 11 provides easy access to the Google ecosystem including Google Drive, Gmail, and a variety of useful Chrome apps and extensions. Also, the Acer Chromebook 11 will fully support Google Play at launch, so customers will have access to millions of Android apps on Google Play to let them have more fun, be entertained, stay connected and remain productive. Plus, customers won't have to take their power adapter on the go, as the new Acer Chromebook 11 provides up to 10 hours1 of battery life on a single charge.
Customers can also enjoy multiple apps and tabs at the same time on the Acer Chromebook 11, since it delivers strong performance with the latest Intel® Celeron® processors. The Acer Chromebook 11 comes with 4GB of memory and 16GB or 32GB of eMMC storage. The device's fan-less design allows it to run quietly, making it great for shared spaces such as in a family room, library or coffee shop.
Stay Connected to Peripherals, Wirelessly
The new Acer Chromebook 11 device includes two USB 3.1 Type-C Gen 1 ports, which can be used to charge the device as well as other products, transfer data quickly and connect to an HD display. Plus, customers can use the MicroSD card reader to access and transfer content. The Acer Chromebook 11 also includes two USB 3.0 ports and Bluetooth 4.2. Customers can stay connected to their network with fast and reliable 2×2 MIMO 802.11ac Wi-Fi wireless connectivity.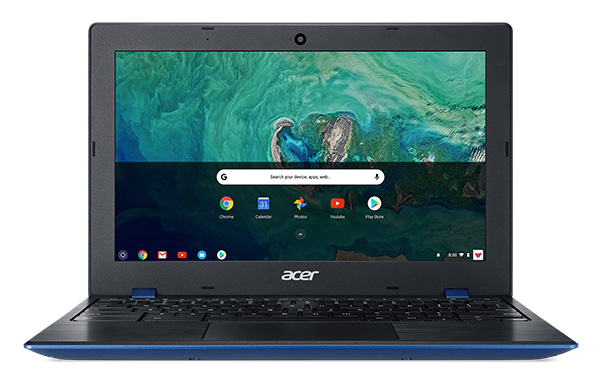 Display Options in a Portable Design
The Acer Chromebook 11 has an 11.6-inch IPS display available in either touch (CB311-8HT) or non-touch (CB311-8H) models with 1366×768 resolution to provide sharp and legible text as well as vivid, clear videos and photos. The high-dynamic range (HDR) camera produces clear and brighter photos as well as video for Google Hangouts and webchats. The dual stereo speakers and integrated microphone enhance the webcam experience with high-quality audio.
The slim and portable form factor makes the Acer Chromebook 11 ideal for use anywhere; it measures only 0.71 inches (18.15mm) thin and weighs only 2.43 pounds (1.1kg).
Acer Chromebook 11 Simplifies Security and Collaboration
Chromebooks are easy to use and ideal for sharing by multiple users. Customers simply log into their own Google account to access their Gmail, Google Docs, apps, extensions, bookmarks, and other information. Chrome OS provides additional security since it's automatically updated to guard against ever-changing online threats. Many Chromebook customers store their files on Google Drive which protects files, documents, and photos safely in the cloud, and ensures that the most current version of the file or document is always available and safe, even if the Chromebook is lost or stolen.
New Acer Nitro 5 Gaming Laptop
Designed for the casual gamer, the Acer Nitro 5 is equipped with graphics and processing power offering incredible performance with aggressive yet refined styling.
The new Acer Nitro 5 gaming laptop, designed for casual gamers seeking great performance in an attractive laser-textured design. Powered by Windows 10, the new 15-inch laptop is targeted towards mainstream users who enjoy the thrill of gaming with friends, and building their own network of like-minded players.
"With performance to effortlessly power mainstream titles, the Acer Nitro 5 houses essential technologies that casual gamers value most," said Jerry Hou, General Manager, Consumer Notebooks, IT Products Business, Acer Inc. "We've developed the Nitro 5 knowing that gamers want powerful specs to enable great experiences on the go. The new Nitro 5 is designed to tackle these needs and features a striking exterior for added uniqueness."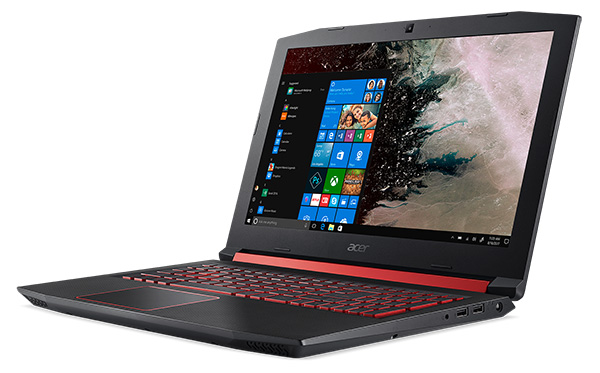 Uncompromising Performance and Control
The Acer Nitro 5 packs in the latest-generation AMD Radeon™ RX560 graphics for faster rendering, improved lighting and texture details so users can immerse themselves in on-screen excitement. Gamers will also benefit from the latest AMD Ryzen™ mobile processors for amazing performance, whether it be for gaming, content creation or multi-tasking applications. The Nitro 5's internal solid-state drive is available up to 512 GB, plenty of storage for the latest gaming titles, music and movies. The lightning-fast speeds of DDR4 RAM of up to 32 GB combined with the SSD means fast booting, loading and restarting in mere seconds so players can get to the action immediately. Once in the throes of battle, Acer's NitroSense utility allows the monitoring of the CPU/GPU, and adjustment of cooling fan speeds via Acer CoolBoost to keep them in optimal operation.
Designed for Visual Seduction
The Nitro 5's chassis features a top cover with elegant laser texturing that brings bold refinement to the gaming laptop. A matte, crimson red hinge is a gorgeous yet understated accent that beautifully matches the futuristic design of the backlit keyboard. Amazing visuals are not limited to the Nitro 5's exterior. The 15.6-inch Full HD IPS display produces brilliant imagery with crisp details, letting users track with precision the bloodshed that reigns down on their enemies. For better online collaboration, a front-facing HD web camera lets users strategize face-to-face, and then celebrate together as they bask in their post-match glory. Users can also easily broadcast games live with Mixer, directly from the Game bar on Windows 10 simply by pressing the Windows key plus G.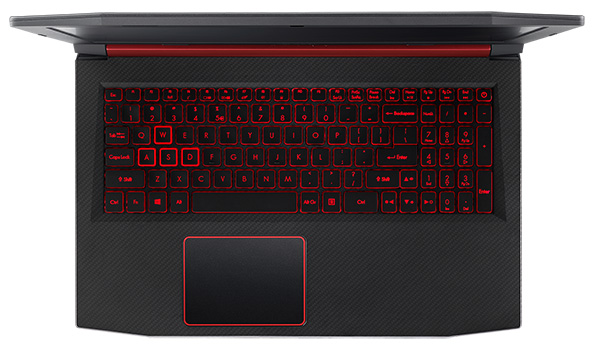 Immersive Excitement and Connections  
To round out the gaming experience, Acer's Nitro 5 features finely-tuned, high-quality speakers with Dolby Audio™ Premium and Acer TrueHarmony™ technology. This equips gamers with the necessary gear to hone in on the faintest sound of tip-toeing attackers, and then relish in the reverberating boom of a carefully-placed landmine. The Nitro 5 features all of the supporting technologies and connections the casual gamer needs: fast and reliable dual-stream 802.11ac wireless technology, a plethora of ports, including hyper-fast USB Type-C, HDMI 2.0, and Gigabit Ethernet to enable users to enter any arena prepared to execute every mission at the highest level.
Acer's New Swift 7 Redefines the World's Thinnest Laptop
Acer's new Swift 7 is a marvel of modern engineering designed for discerning professionals who demand ultimate productivity, portability and always-on connectivity through 4G LTE
The new Swift 7 (SF714-51T) stakes its claim as the world's thinnest laptop. At just 8.98 mm thin, the new Swift 7 is an always-connected PC running Windows 10 that's designed for mobility, with an ultraportable design packing a powerful Intel® Core™ i7 processor, all-day battery life and a personal, trusted 4G LTE connection.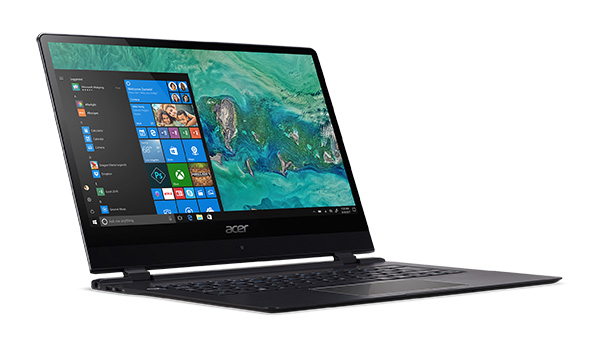 "We're extremely proud to make the world's thinnest laptop even thinner with the new Swift 7," said Jerry Kao, President of IT Products Business of Acer Inc. "Building on the engineering breakthroughs from the previous generation, the new Swift 7 steps up the game with an even slimmer chassis, powerful performance and always-on 4G LTE connectivity for professionals on the go."
"The next PC anyone buys should be a great PC – powerful to feed the newest, richest experiences all day long," said Chris Walker, Vice President of Intel Corp. "Acer's Swift 7 delivers on the performance expectation then ups the ante with built-in 4G LTE in an ultra-thin, stunning design. It's the perfect PC for those who have things to do and create anywhere, at any time."
"Acer's new Swift 7 is a great Windows 10 PC for on-the-go professionals or consumers who crave portability and connectivity," said Peter Han, Vice President, Partner Devices and Solutions, Microsoft Corp. "The Swift 7 is thin, light, and perfect for customers to stay connected on the go."
Always-Connected
The Acer Swift 7's unmatched slim design is only the beginning of the new features on offer. Blazing-fast, built-in Intel XMM 4G LTE connectivity keeps users productive and always-connected, especially useful for professionals who wish to eliminate tedious wireless connection problems on the road so they can stay focused on the task at hand. In addition to a Nano SIM card slot, the Swift 7 features eSIM technology, allowing download and activation of eSIM profiles. The Swift 7 ships with a Transatel profile provisioned with up to 1 GB of free data valid for one month in 48 countries to help users get started immediately, while additional data plans can be easily purchased as needed through the Mobile Plans application while travelling around the world. 802.11ac wireless with 2×2 MIMO provides reliable and fast connections to the office or home network.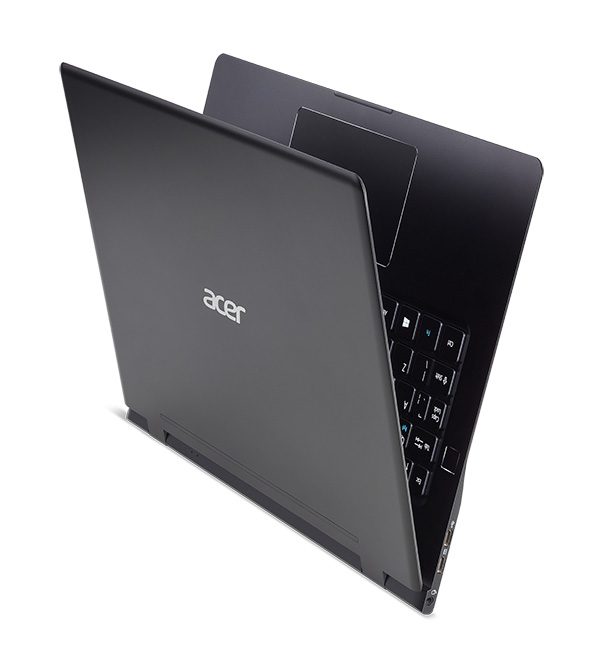 Both Brawn and Beauty
Powered by a 7th Gen Intel® Core™ i7 processor, the Swift 7 provides incredible performance, a seamless Windows 10 experience and up to 10 hours of battery life. 256 GB of PCIe SSD storage offers plenty of room to keep important files at the user's fingertips, while 8 GB of LPDDR3 memory keeps multitasking smooth and responsive. A fingerprint reader allows password-free and more secure sign-in through Windows Hello.
The Swift 7's unibody aluminum chassis is pleasing to the eye and gentle to touch, perfect for modern professionals seeking a sophisticated look. Its new high-resolution display has been upgraded to 14-inches, and sports a Full HD IPS display, Acer Color Intelligence™ for lifelike clarity at every angle, as well as a Corning® Gorilla® Glass NBT™ touchscreen and touchpad. Typing has never been easier thanks to the Swift 7's backlit keyboard, which is handy in low-light conditions such as long-haul international flights or train journeys.
Spin 3: Destined to Turn Heads
Acer has also announced its refreshed Spin 3 (SP314-51) laptop, designed for users seeking out a versatile device for all-day productivity and entertainment. Its durable 360° dual-torque hinge enables it to function as a laptop, tablet, display, and even provides a space-saving tent mode, all in a single device. Now equipped with a powerful 8th Gen Intel Core processor and impressive storage options, the Spin 3 merges exceptional performance with portability. It provides up to 12 hours4 of battery life for digital work and play on the move, with two front-facing speakers with Acer TrueHarmony™ technology. The Spin 3's 14-inch display supports vivid imagery in Full HD with IPS technology, allowing on-screen content to shine through in exceptional detail.
 
Pricing and Availability
Several models in the Acer Chromebook 11 line (CB311-8HT/ CB311-8H) will be available in North America in April with prices starting at $249, and in EMEA in March with prices starting at €249.
The Acer Nitro 5 will be available in North America in April with prices starting at US$799; and in EMEA in April with prices starting at €1,099.
The Acer Swift 7 will be available in North America in March with prices starting at US$1,699; and in EMEA in April with prices starting at €1,699.
The Acer Spin 3 will be available in North America in February with prices starting at US$599; and in EMEA in January with prices starting at €649.