Tronsmart enters Malaysia market with a series of Mobile Charging Products
Tronsmart, a leading smartphone accessories brand has officially entered the Malaysian market today and introduces a series of mobile charging products, this includes the Titan Plus 90W Multi-Port USB Charger, BRIO 20,100 mAh PD Power Bank, AIRAMP Dual Coil Wireless Charger and W2DT Wall Charger.
With the aim to offer a more convenient lifestyle to mobile users, Tronsmart aims to provide users only with the highest quality and feature-rich products.
As charging technology has advanced to the fast charging and wireless world, Tronsmart's new line of mobile charging products sports intuitive features that will enrich the mobile experience.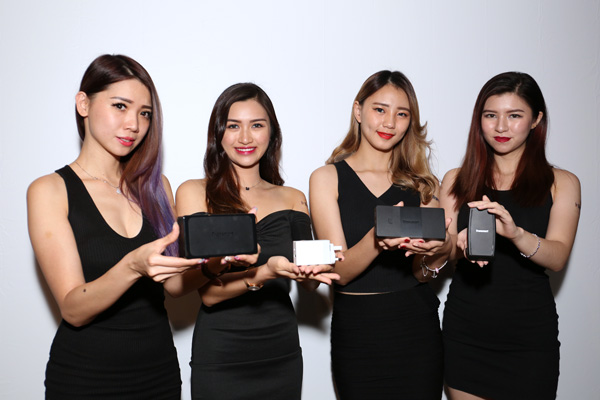 "In recent years, Tronsmart has been expanding rapidly outside China. Now with the collaboration with Malaysia distributor, Kconnection Technology Sdn Bhd, local consumers can easily purchase Tronsmart products at all IT stores in KLCC, IOI City Mall etc. Alternatively, consumers can also make their purchase online at Tronsmart Malaysia's e-commerce partners like Lazada, Shopee, 11Street and Lelong etc." quoted Alice Wu, Senior Sales Director, Tronsmart Malaysia.
"Tronsmart aims to become the top Quick Charge brand in Malaysia with their brand influence, fine products and good after-sales service that guarantee customer satisfaction." she said.
"I would like to congratulate Tronsmart on entering the Malaysian market with their innovative mobile charging products that features Qualcomm's Quick Charge technology." Quoted Mr Goh Thih Liang, Country Manager, Qualcomm Malaysia and The Philippines.
"Qualcomm Quick Charge has long been the trusted fast charging solution adopted on smartphones using our Qualcomm Snapdragon system-on-chip, we are continuously working with partners like Tronsmart to produce mobile charging products with the highest quality and safety standards." he added.
In 2018, Tronsmart will be unveiling mobile charging products with Qualcomm's Quick Charge 4.0 technology, while consumers can look forward to more wireless and solar charging products.
In addition, Tronsmart will also be unveiling its line-up of portable speakers that features Amazon Alexa integration and Bluetooth 5.0 technology.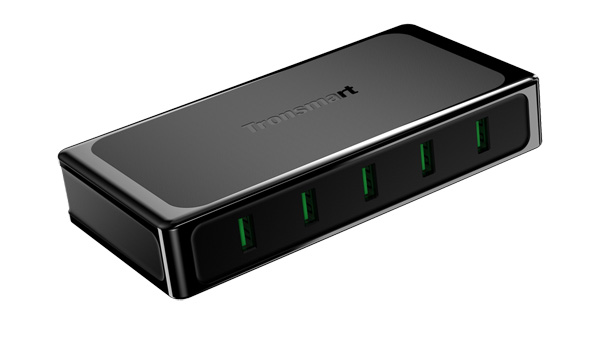 U5TF Titan Plus 90W Multi-Port Desktop Charger with Quick Charge 3.0, Huawei FCP and VoltiQ Technology
Featuring 90W of total output, the Tronsmart U5TF Titan Plus desktop charger features five USB-A charging ports that supports Qualcomm Quick Charge 3.0 fast charging technology.
Smartphones that support the Quick Charge 3.0 charging protocol includes the Xiaomi Mi 6, HTC U11, LG G6, Nokia 8 and more.
The Titan Plus is able to intelligently identify the device that it is charging with VoltiQ technology and supports Huawei's FCP fast charging technology, it will support maximum 2.4A charging output for non Quick Charge devices and has mutli-level protection to ensure the safety of your devices while charging.
The Tronsmart U5TF Titan Plus Desktop Charger will go on sale in Malaysia on December 25 with a retail price of RM209.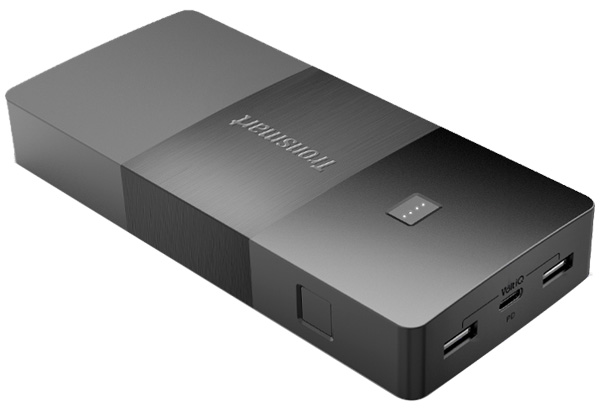 Tronsmart Brio 20,100 mAh PD Power Bank
The Tronsmart Brio 20,100 mAh power bank features two USB Type-A ports with VoltiQ technology and a USB Type-C port that supports the Power Delivery 2.0 protocol, which the latter delivers up to 30W of output to supported devices such as Apple's MacBook, iPhone 8 and 8 Plus, iPhone X, Nintendo Switch and more.
The Tronsmart Brio is also able to charge up to three devices simultaneously with a maximum output of 54W, making it unrivalled when compared to the rest.
The power bank uses premium LG battery cells, which consumers can be rest assured that their devices are being charged safely.
The Brio 20,100 will be officially released in Malaysia in January 2018 with a retail price of RM329.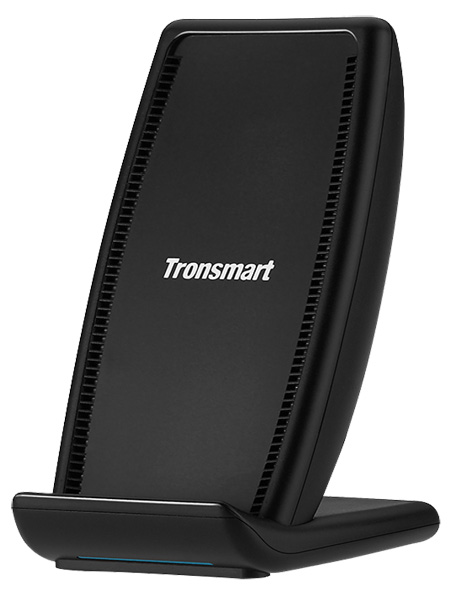 AirAmp Dual Coil Wireless Charger
Tronsmart has always been innovative in making their products, and the AirAmp Dual Coil Wireless Charger is one of the most exciting one among them because it comes with an ergonomic design with fast charging capability.
The AirAmp is a highly versatile wireless charger in terms of device compatibility as it supports a wide range of smartphones ranging from Android devices to the latest iPhone models that include Samsung Galaxy S7, S7 Edge, S8, S8 Plus, Note 8, iPhone 8, iPhone 8 Plus, iPhone X etc.
While the AirAmp wireless charger provides faster charging speed than conventional wireless chargers, but you can rest assured that your device won't suffer from overheating issue thanks to its rear cooling vents that offers optimal performance and stability.
To ensure charging safety for your device, the AirAmp wireless charger provides multi-protection that consist of over-charging protection, over-voltage protection, over-current protection, short-circuit protection.
It is worth noting that the AirAmp is also a case-friendly wireless charger which means you can charge your phone hassle-free without removing your phone case.
The AirAmp wireless charger is now officially available in Malaysia with a retail price of RM199.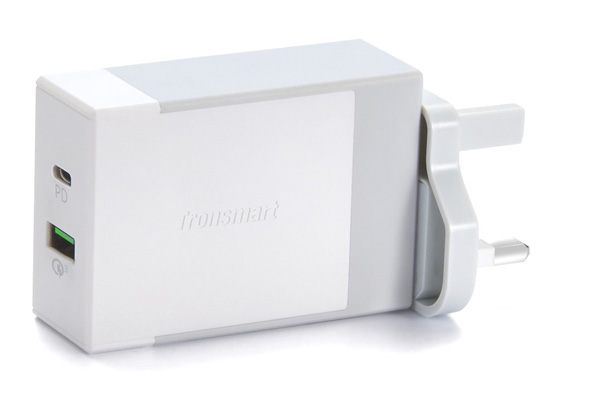 W2DT 48W USB Wall Charger
Dubbed the World's most powerful wall charger, the Tronsmart W2DT features USB Power Delivery along with Qualcomm Quick Charge 3.0 and VoltiQ technology. It is compatible with multiple connectors including Type-C and Micro-USB.
The built-in Quick Charge 3.0 offers 4 times faster charging speed than standard chargers and 40% faster than Quick Charge 2.0 Technology.
The USB Type-C Power Delivery port offers 30W of total power. Larger wattage power keeps your device charging at high speed, taking lesser time to fully charge. Additionally, this charger can also charge your new MacBook, Google Chromebook Pixel and iPad Pro etc.
The USB port with Qualcomm Quick Charge 3.0 and VoltIQ technology can identify the power level required for charging each connected, making it the best choice for Qualcomm Quick Charge devices like Samsung Galaxy Note 8 and non-Quick Charge devices like iPhone.
This powerful W2DT USB wall charger will be officially released in Malaysia in January 2018 with a retail price of RM179.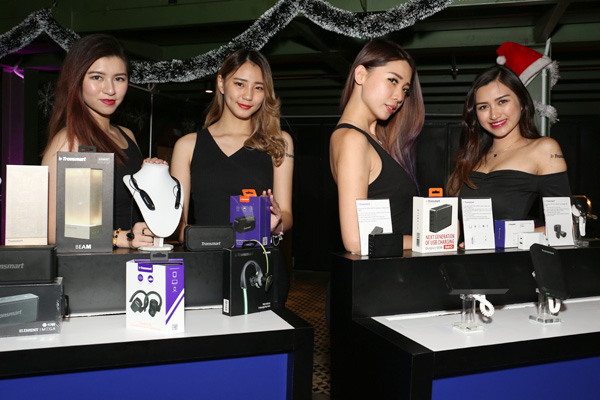 All Tronsmart products can be purchased at the following online stores:
In addition, Tronsmart can also be purchased at most major IT and consumer electronics retailers as listed below:
Flash Gadgets (Foto Flash)
iGadget
All IT Hypermarket
Mac Studio
My Chameleon
Telstar
Sun Global Concept Store
For more information, kindly contact or log on to Tronsmart Malaysia official Website and Tronsmart Malaysia official Facebook. Photo Journalist
Gadgets, Photography, Automobile, Lifestyle
chargermobilepowerbankqualcommquick chargesmartphonetronsmartusbwireless