Chord Electronics' Poly streamer turns the smartphone into a Hi-Fi-quality music player
Poly is a ground-breaking portable music streamer, the first of its kind in the world. When partnered with the Mojo DAC, it enables music streamed from a range of wirelessly connected devices to be enjoyed in the best possible sound quality, whether at home or on the go. Poly is also a music player: its unlimited-capacity Micro SD card slot can house huge libraries and liberate storage on smart devices. Full smartphone control using everyday apps enables effortless music playback whether streaming or playing music from the Micro SD.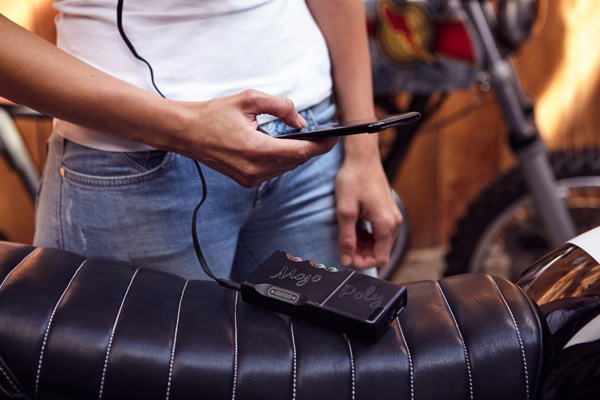 Poly directly connects to Mojo's award-winning audio processing (DAC) technology dramatically improving the audio quality of streamed music. Its advanced design enables everyday devices, including Android and Apple smartphones/tablets, to become portable 'hi-fi-quality' digital audio players: the smartphone becomes the controller, with Poly and Mojo doing the high-level audio processing. Poly can also be used with computers and laptops, plus it can access networked audio stored on NAS drives using popular DLNA apps. Playback is via Mojo's twin headphone outputs, plus home and in-car audio systems with auxiliary (AUX) inputs can also benefit from improved sound quality.
Poly connects to Wi-Fi networks, including mobile hotspots when on the go, and remembers multiple networks with its auto-connect functionality. It also benefits from Bluetooth 4.1, AirPlay and DLNA connectivity, offering uninterrupted music streaming when transitioning from indoors to outdoors. Poly also features its own hotspot mode, enabling a connection where devices, networks or countries do not facilitate tethering. Its rechargeable LiPo batteries offer up to nine hours of playback from a four-hour charge using the device's fast-charging USB circuit; both Poly and Mojo can be charged simultaneously.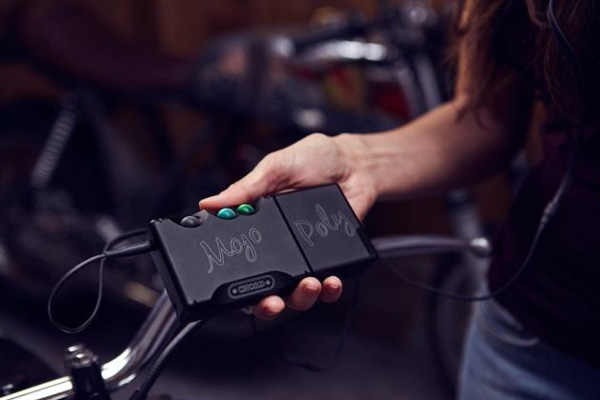 Smartphones now become hi-fi-quality digital audio players
Combined with Mojo, Poly removes the need for expensive digital audio players (DAPs) thanks to its high-resolution music streaming, award-winning digital audio processing technology and unlimited-capacity Micro SD card slot. By storing music libraries directly within Poly, precious smartphone/device storage space can be instantly liberated.
Poly is high-resolution audio-compatible, with support for the latest studio-quality files; PCM data up to 768kHz resolution and DSD64 to DSD256 (Quad-DSD). Supported file types include ACC, WAV, FLAC, AIFF, OGG VORBIS, ALAC, WMA and MP3.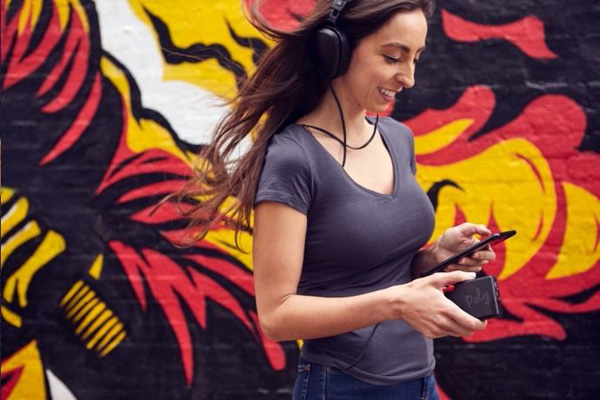 Poly offers over-the-air updates, keeping the unit up-to-date with the latest firmware. Future updates will include Native Spotify and Tidal integration and a forthcoming Poly app, GoFigure, will assist with initial network set-up and device configuration settings.
Like Mojo, Poly proudly uses British design and technology and is also made in Britain. It's precision CNC-machined from solid aluminium billet with black anodisation and laserablated logos. A high-quality Mojo/Poly protective leather case is available separately.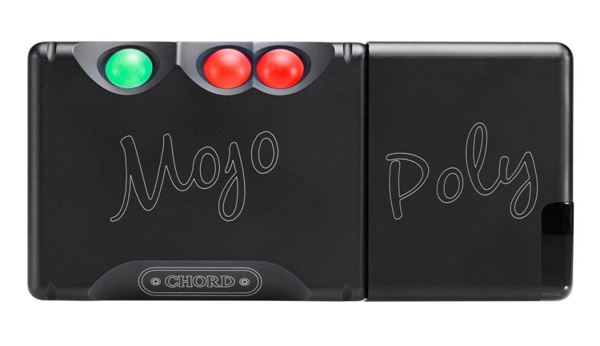 Features and specifications
Materials: Precision-machined aluminium casing with black anodisation, opaque black wireless signal window and silicone feet (protective leather case available)
Battery: Rechargeable LiPo (Lithium Polymer) 2200mAh; play time: 9+ hours
Charging: Sub-four hours, 2-amp Micro USB input. Both Mojo and Poly can be simultaneously charged via Poly's fast-charging Micro USB circuit
Connectivity types: Bluetooth 4.1 and Wi-Fi 2.4GHz (for optimum stability)
Storage: Micro SD unlimited maximum capacity, playback using MPD/DLNA apps plus SD playback over Bluetooth if Wi-Fi is absent
Playback support: DNLA, AirPlay and Bluetooth 4.1
Files supported: all major file types including ACC, WAV, FLAC, AIFF, OGG VORBIS, ALAC, WMA and MP3
PCM sample rates: 44.1kHz, 48kHz, 88.2kHz, 96kHz, 176.4kHz, 192kHz, 358.8kHz, 384kHz,717.6kHz and 768kHz
DSD via DoP sample rates: DSD64 – DSD256 (Quad-DSD); DSD from SD card
Devices supported iPhone, iPad, Android phones/tablets, Windows and Mac OS X computers and DAPs (Astell & Kern etc)
Dimensions: 50mm (L) x 62mm (W) x 22mm (H)
Over-the-air software updates
Hotspot mode: Poly can create its own hotspot where networks/devices/countries don't support tethering
Integrated Access Point: allows configuration of connected networks (up to 32)
Bit-perfect audio
DLNA server and renderer (SD card); SMB Server (SD card); MPD player (SD Card)