The Best is Coming to Malaysia! Acer Malaysia expands its Predator Gaming Line
Acer Malaysia today unveiled new additions to its Predator Gaming line in Malaysia, led by the powerful and thin Predator Triton 700 laptop that comes with the latest overclockable NVIDIA® GeForce GTX 1080 with Max-Q design and our very first low profile N-Key Roll Over mechanical keyboard. In the lineup also are the curved screen Predator X34P and Z35P gaming monitors that offer UltraWide display featuring NVIDIA®G-SYNCTM for ultra-smooth and immersive performance and experience as well as the recently-launched-in-IFA Predator Galea 500 gaming headset and Predator Cestus 500 mouse to enhance gaming enjoyment and control.
Acer Sales & Services Sdn Bhd General Manager of Products, Sales and Marketing, Chan Weng Hong said, "Acer is constantly upping the ante in design and innovation to offer devices that meet our users' levels of need. The Predator Triton 700 is a fine example of such innovations; it is built on the highly acclaimed Predator 21 X curved gaming laptop to result in an uncompromised, powerful gaming laptop. Acer's proprietary AeroBlade 3D Fan and Coolboost technology give not only great thermal performance but also allows us to pack massive computing power inside an ultrathin, beautifully-crafted form factor. Gamers now can take this Predator on the road to conquer new worlds with ease!"
Predator Triton 700 – Built on an Award-Winning Innovation to be the Best for Gamers
The Predator Triton 700 draws on the best innovations of the legendary gaming machine – Predator 21 X – and packs them into a svelte, minimalistic 18.9 mm thin aluminum chassis for the perfect balance of size, performance and features. Its angular details, prominent highlights and clear window design is the epitome of pure aesthetics.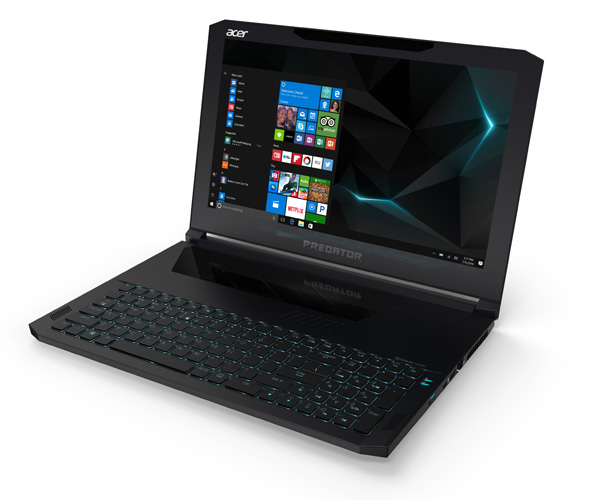 Powering the beast within is 7th Gen Intel®Core processors and the latest overclockable NVIDIA®GeForce® GTX 1080 with Max-Q design to deliver extreme gaming performances. The Predator Triton 700 is built with two NVMe PCle SSDs in RAID 0 configuration and up to 32GB of DDR4 2400 MHz memory for maximum speed and massive storage. Thanks to Acer's industry leading unique Dual AeroBlade 3D Fan with the world's thinnest metal blade at only 0.1mm, the thermal system is robust; paired with efficient battery power usage when executing a mix of tasks, it supports longer hours of gaming demands. The Dual AeroBlade 3D Fan and hyper efficient air cooling of upper and bottom air intake helps to increase airflow by 35% and unleash the power potentials from the Predator Triton 700. Adding to the 'cool' factor is the oversized Corning®Gorilla®Glass plate above the keyboard that serves as a window into the laptop's cooling system, showcasing the unique AeroBlade 3D Fan and five heat pipes. This glass plate functions as a Precision Touchpad.
For a truly immersive gaming experience, the VR-ready Predator Triton 700 offers bright, vibrant visuals on a 15.6-inch Full HD IPS display supporting NVIDIA®G-SYNC for faster and smoother gameplay. Perfect gaming visuals with 170-degree viewing angle, 120Hz super fast refresh rate and 300 Nits high brightness delivers blur-free action by eliminating screen tearing and minimizing stuttering. With the combination of Acer TrueHarmony and Dolby Atmos® surround sound, gamers can enjoy audio with crisp and rich acoustics for a more immersive experience.
The Predator Triton 700 also features Killer DoubleShot Pro technology which will pick the fastest network connection (Ethernet or Wireless) to send high priority traffic while sending standard traffic over the other, for the ultimate high-speed attack.
Meanwhile, speedy Thunderbolt 3 connectivity provides transfer speeds of up to 40Gbps and supports 4K video output. With three-monitor surround gaming, the Predator Triton 700 is capable of playing games in an immersive super-wide setup.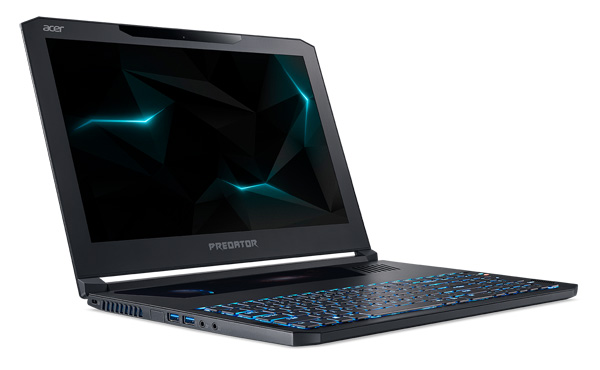 The preloaded Acer PredatorSense software allows gamers to customize RGB lighting effects and control the whole gaming experience from one central interface. Gamers can optimize, boost and monitor via the advanced gaming tweaks available at their disposal, to have a gaming experience unique to them.
To complete the package, the Predator Triton 700 comes with an accurate, super-responsive mechanical keyboard. The keys are RGB backlit and can be individually programmed for a more signature look and unrivalled total gaming experience.
There will be 2 options available for customers in Malaysia. The top end Predator Triton 700 is priced at RM13,999 while another configuration with a GTX1060 will be priced at RM9,999 and is available for purchase immediately at all authorized Acer resellers nationwide and Acer Online Stores.
Every top end Predator Triton 700 with GTX1080 customer will be entitled to purchase a "special edition" TTe-Sports GT Fit Predator gaming chair at RM1,399, Predator Gaming mouse at RM499 and Predator Gaming T-shirt at RM99. Further information is available at a-redemption.com.
Predator X34P and Z35P Gaming Monitors – UltraWide Curve Gaming Monitors
The large 34-inch and 35-inch X34P and Z35P 21:9 monitors with UltraWide QHD (3440 x 1440) displays awe with immersive 1900R and 1800R curvature respectively. The X34P features an IPS panel to deliver crisp gaming performance in vivid colors regardless of viewing angle while Z35P gaming monitor feature a VA panel for better blacks, contrast and viewing angle. They envelope gamers in the game even further by pulling them deeper into newer and richer worlds of visuals.
The NVIDIA®G-SYNC in the Predator X34P and Z35P gaming monitors create a smooth, tear-free gaming experience by syncing frames rendered by the GPU to the refresh rates of the monitors, while NVIDIA® Ultra Low Motion Blur (ULMB) technology reduces motion blur by delivering sharp edges in fastpaced gaming environments in the Predator Z35P.
The excellent 178-degree viewing angle provides maximum viewing area and keeps the games clear from any position. Both the Predator X34P and Z35P gaming monitors come with 100% sRGB color gamut to bring rich colors and ensures games look as epic as possible.
The fast 4ms response time and native 100Hz refresh rate which supports overclocking up to 120Hz that give gamers all the speed they need to dominate their opponents and make the gameplay seamlessly smooth on the Predator X34P and Z35P gaming monitors.
With a ZeroFrame design, Predator X34P provides the maximum viewing experience and supports multi-monitor setups perfectly. It can pump up the sound with two built-in speakers which deliver world-class audio to the gamers to enjoy their gaming experiences. Combined with DTS®Sound 9Wx2 speakers and Acer TrueHarmony in the Predator Z35P, users can enjoy the massive curved screen and world-class audio like never before from a display, making games even more engaging.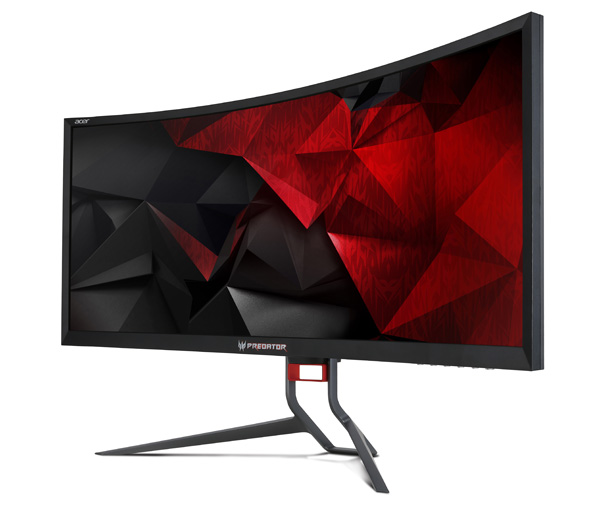 Outfitted with Predator GameView, these unique monitors can be tweaked and saved in three custom modes for gamers to switch easily between while gaming. In addition to Standard, ECO, Graphic and Movie modes, there are three special game modes, including Action, Racing and Sports, which can be conveniently accessed through a hotkey or On-Screen Display (OSD) menu. Gamers can also define their own custom profile and program each mode according to their preferences. Dark Boost technology allows sharper view of fine details in darker environments to help gamers get the jump on opponents and perfect the shot over special gaming features like aim-points.
With Flicker-less, BlueLightShiled, ComfyView and Low-Dimming technology, this gaming monitor protects gamers from eye-strain as they stay in the fight for hours on end. The gaming monitors can be tilted from -5° to 35° (Predator X34P) and -4° to 35° (Predator Z35P), and adjusted 130 mm up and down to obtain the most comfortable viewing position.
The Predator X34P gaming monitor is priced at RM4,299 and will be available in mid January 2018 while the Predator Z35P gaming monitor is priced at RM3,899 and is available immediately at select authorized Acer resellers nationwide.
Predator Galea 500 and Predator Cestus 500 – Enhancing Gameplay Like Never Before
The Predator Galea 500 gaming headset puts you right inside the game, giving you the ability to hear and not just see the exact location of all elements within the game. Acer TrueHarmony 3D Soundscape technology recreates the acoustic space based on the orientation of the player's head, convincing the brain that sound is coming from a fixed direction, giving a truly unique and one-of-a-kind experience. With customisable environment modes, the Predator Galea 500 lets users select from three modes including EQ, Music, Movie and Sport with volume control.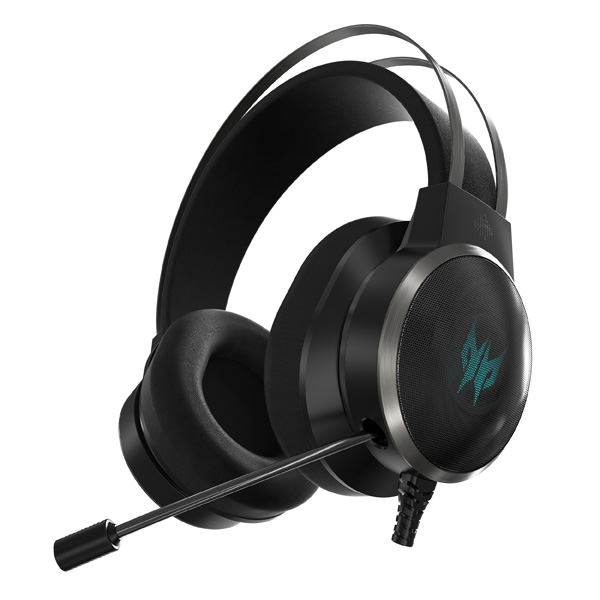 Featuring a driver constructed with Bio-cellulose membrane and rubber surround, the Predator Galea 500 premium headset delivers crystal clear audio clarity like those usually found only in high-end speaker systems for a 'cinematic experience in gamers heads'.
The new Predator Cestus 500 gaming mouse features the Omron dual switch design, which allows gamers to adjust the click resistance according to the game type they are playing. Gamers can customize the Predator Cestus 500 gaming mouse with 16.8 million RGB color lights and 8 lighting patterns to suit every mood and style as well as 5 on-board profile settings for battles on the go with Acer's Predator QuarterMaster app. Whether right-handed or left-handed, the customizable ambidextrous design with side panels support up to 4 different usage mode for the ultimate fit and ergonomic comfort. And more importantly, a gold-plated USB connector with braided cord makes it tough enough for all the battles ahead.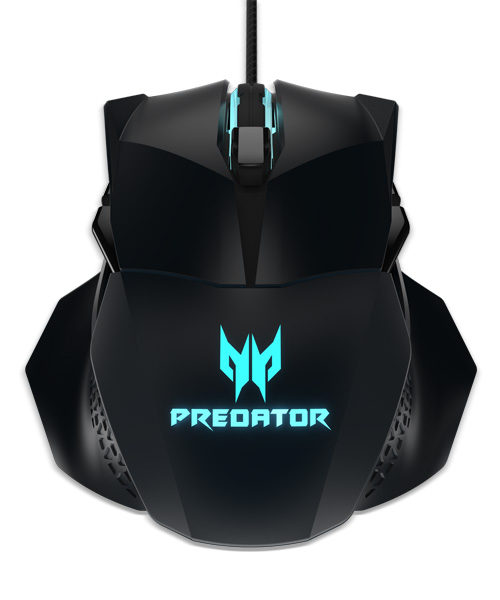 The Predator Galea 500 gaming headset is priced at RM1,399, while the Predator Cestus 500 is priced at RM299. Both are available immediately at select authorized Acer resellers nationwide including Acer Online Stores.
At the same time, to fully support the gaming community, Acer has also made available accessories such as power adaptors, external DVD drives and premium bags in stores.
For more information, please visit Acer Malaysia Facebook or call Acer's Product Infoline at 1800-88- 1288 (9am – 6pm, Mondays to Fridays).
Acercestusesportsgalaegamingheadphonelaptopmonitormousenotebookpredator