Acer Malaysia today sprang a surprise by launching the Predator Orion 9000 as well alongside the Predator Triton 700 gaming laptop, Galea 500 gaming headset, Cestus 500 gaming mouse and two curved 21:9 monitors. With this launch, the Predator is one of the most complete lines of gaming devices, spanning desktops and laptops to accessories in Malaysia.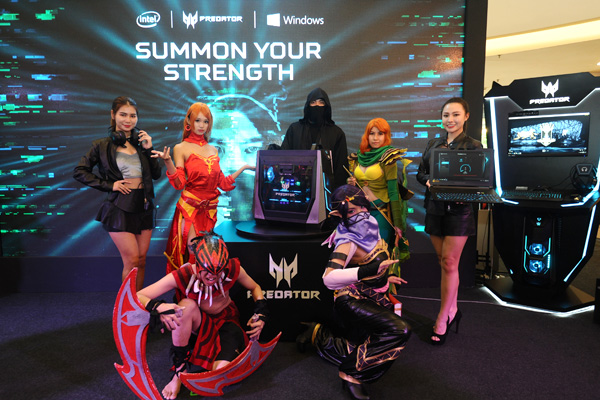 Engineered to allow gamers to push their game to new levels, the Predator Orion 9000 sports up to Intel® Core i9 Extreme Edition 18-core processor as its heart to deliver unprecedented raw power and responsiveness that is vital in today's fast gaming demands. To enter the world of extreme gaming with high resolution in stereo and at high refresh rates, gamers have the options of 2-way multiple graphics of RadeonTM RX Vega or GeForce®GTX 1080 Ti in SLI, which support virtual reality and 4K2K UHD with ease. Its one-punch overclocking means battlers can select turbo performance with just a single press of a button.
Keeping the temperature down in this Predator while the game heats up is Acer's IceTunnel 2.0. This thermal innovation is an advanced airflow management solution which smartly separates the different thermal zones of the system, each with an individual airflow tunnel to expel heat. Employing physics, the Predator Orion 9000 draws more cold air in and expels the rising hot air of the liquid-cooled CPU with its design of large metal mesh panels on the front and top. Meanwhile, up to five 120mm fans in the front, top, and back funnel cool air through the chassis. Part of the airflow is redirected towards the back of the motherboard tray to cool the storage devices. The blower-style coolers for graphic cards evacuate the heat from the back, while the self-contained PSU blocks the system heat by a cover to avoid thermal interference.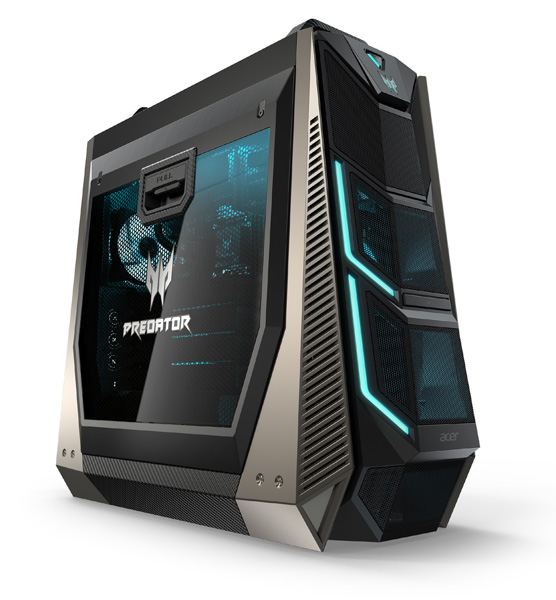 The Predator Orion 9000 is designed for hardcore gamers and superior expandability for all gaming needs. It comes with an adaptable chassis which allows gamers to upgrade CPU, GPU, RAM, storage and thermal system effortlessly by removing the side windows easily. A massive side window panel showcases the magnificent interior view while keeping electromagnetic interference (EMI) levels in check. Gamers can also personalize the RGB lights up to 16.7M colors. With PredatorSense 3.0, gamers can also control fan speed as well as monitor and optimize CPU performance.
By its sheer looks, this powerful gaming machine intimidates with a commanding exterior of black-and-silver spacecraft-like presentation. Outfitted with two handles and wheels, the Predator Orion 9000 accords easy portability despite its size. Completing the thoughtful design is a front-access headset cradle management that helps keep the game area tidy.
Overall, the Predator Orion 9000 maintains key elements of concrete angles, refined panels and accent highlights from the Predator 21 X to deliver the spirit of Predator. And, the architecture can support up the new Intel Core X-series processor family that deliver up to 18 cores and 36 threads, 128 GB quad-channel DDR4 memory and four Radeon RX Vega.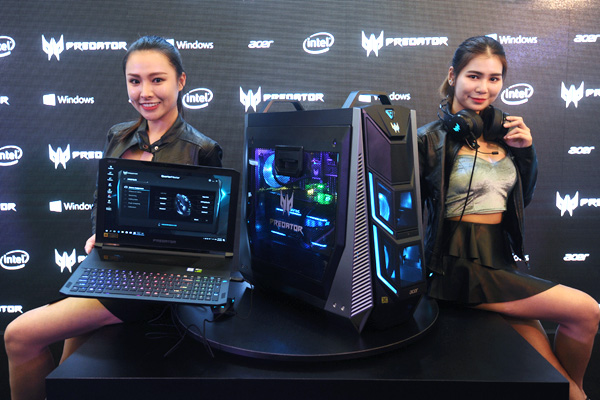 In Malaysia, the Predator Orion 9000 will be available in two options:
Intel® Core i9 Extreme Edition, 32GB DDR4 (16GB DDR4x2, upgradable to 16GB x 8), 512GB PCI-E SSD and 3TB 3.5-inch 7200 RPM HDD, NVIDIA® GeForce® GTX 1080 Ti with 11GB of GDDR5X
Intel® Core i7 processor, 16GB DDR4 (16GB DDR4x1, upgradable to 16GB x 8), 256GB PCI-E SSD and 1TB 3.5-inch 7200 RPM HDD, NVIDIA® GeForce® GTX 1080 with 8 GB of GDDR5
The Intel® Core i9 Extreme Edition Predator Orion 9000 retails at RM28,888 while the Intel® Core i7 model is priced at RM12,999. The Predator Orion 9000 is available in December at select authorized Acer resellers nationwide. For more information, visit Acer Malaysia's Facebook.