Huawei and CyberSecurity Malaysia cooperate to create a safer and more secure cyberspace for Malaysia's digital future
Huawei and CyberSecurity Malaysia today exchanged a Memorandum of Understanding as part of efforts to promote and advance cyber security, protecting the nation's cyber space in the face of digital transformation. The exchange was attended by Abraham Liu Kang, Huawei Malaysia CEO and Dato' Dr. Haji Amirudin Abdul Wahab, CyberSecurity Malaysia CEO; and was witnessed by YB Dato' Seri Ahmad Zahid bin Hamidi, Deputy Prime Minister of Malaysia, Datuk Seri Ong Ka Chuan, Second International Trade and Industry Minister, and Mr Guo Ping, Deputy Chairman of the Board, Rotating CEO, Huawei in conjunction with Huawei Asia Pacific Innovation Day held for the first time in Kuala Lumpur.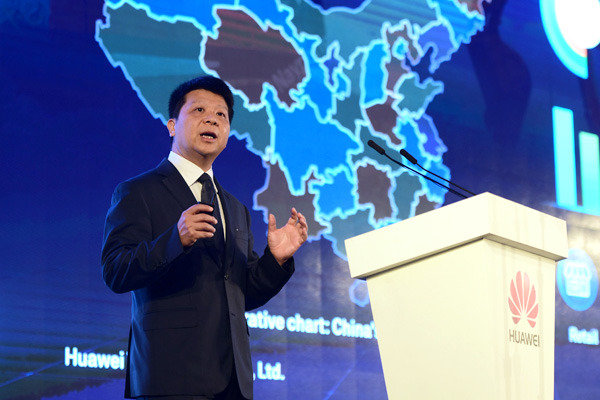 Recognised for its long-term commitment to developing Malaysia's sustainable ICT industry, Huawei will cooperate with CyberSecurity Malaysia, the national cyber security specialist and technical agency under MOSTI to ensure an open and collaborative partnership on the matter of national cybersecurity between the two.
CyberSecurity Malaysia CEO Dato' Dr. Haji Amirudin Abdul Wahab said, "We continue to be proactive in identifying and working with the relevant industry players in order to harness the knowledge, expertise and support necessary for us to reach our goal of ensuring a safer and more secure cyber-space. Our partnership with Huawei is aligned to our cyber security efforts with the nation's digital agenda and will strengthen our capabilities in reinforcing the nation's cyber defenses to protect against escalating cyber threats.  In order to thrive in a digital economy, cybersecurity needs to be at the core of our digital transformation strategy."
As an effort to stay on top of the ever-changing external environment on cyber security, the partnership will see the establishment of a "Steering Committee" that promises to meet twice a year to discuss issues among others related to the technical standards of cybersecurity, and the innovation of ICT technology, and approaches in identifying and managing potential threats. In addition, a joint taskforce from both parties will be created to execute all the tasks set up by the committee.
"As a global leading industry expert and partner to the Malaysian government, Huawei understands the concerns of the Government and our customers about the issue of security. With the fast-paced development of the ICT industry, we're seeing an increase in cyberattacks in recent times. These attacks are becoming more, frequent and creative with consequences that impact globally. We will continue to highlight and reinforce the importance of cybersecurity and share Huawei's best practices and approaches to it. Committed to the sustainable development of technological innovation, we are dedicated to offering feasible and effective measures to improve the security of our customers. We will work to facilitate smooth, secured and undisrupted communications among the people of Malaysia," commented Abraham Liu, CEO of Huawei Malaysia.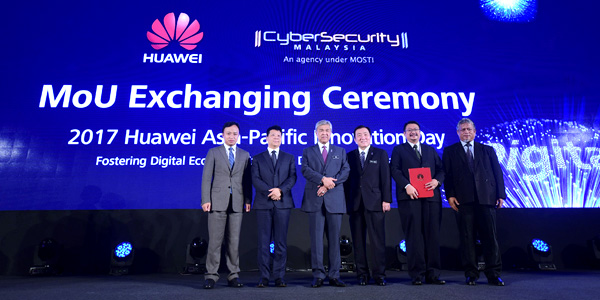 Based on the MoU, Huawei will work to support and develop local players of the cybersecurity industry through the Cyber Security Malaysia Collaborative Partner (CCP) program. Huawei will share their knowledge and best systems and processes on the security matters through training courses with local players. Huawei will also assist in promoting cyber security awareness at national and international level through CyberSecurity Malaysia's awareness programs.
Liu added, "As part of today's agenda in discussing efforts to foster a digital economy, we also talk about creating smart cities. With the onset of a digital era, new and emerging cybersecurity trends and challenges will come into play impacting the security landscape and that is why it is pertinent that we should start now in monitoring and identifying opportunities. A sustainable smart city can only be achieved if it is a safe one." The agreement will also see the joint cooperate to promote and advance the Smart and Safe City concept development projects at a local and international level.
Since 2001, Huawei has been committed in supporting and developing the ICT industry in Malaysia. As a partner, Huawei continues to take on an open and collaborative approach to work with the Malaysian government, its local customers and partners to combat cyber security threats and challenges and ensuring a healthy and sustainable ecosystem.
cybersecutiyHuaweiictindustryinternetmoupartnershipproection