WeCash hits 20,000 users Breakthrough Records
WeCash, Malaysia's First WeChat O2O reward platform WeCash hits 20,000 users in just two months. 4 lucky winners walk away 4 units of iPhone 7 in the Spin & Win campaign with total prize value of RM88,888.
The two months campaign started from 16 June 2017 and end at 15 August 2017. The campaign offers a total in value of RM88,888 and above in prizes which include 4 units of new iPhone 7.
As of last week, 4 units of brand new iPhone 7 have been given away to 4 lucky WeCash users, who have just joined as WeCash member.
In conjunction with WeCash member day, the Spin & Win iPhone7 award ceremony took place in WeCash HQ Business Centre on last Saturday,30 September 2017.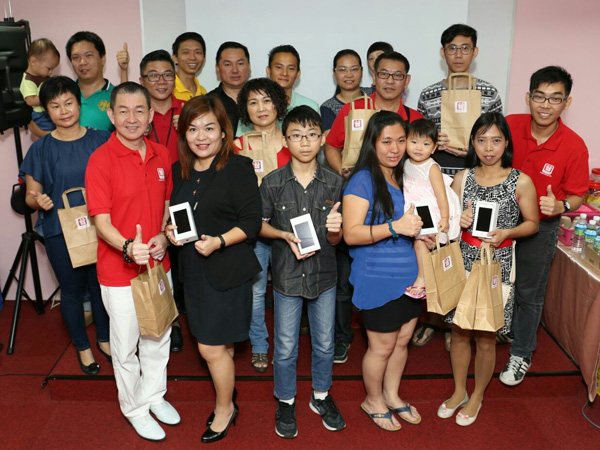 Tan Siew Choo from Kuala Lumpur, is the first WeCash user to win iPhone 7 in Spin & Win contest.
She joined WeCash for just over a month, and praised the easier way of rewarding on WeCash platform.
The second iPhone 7 lucky winner is Low Pei Sing from Malacca, who has been a WeCash member for two months.
Third iPhone 7 winner is Cheah Lai Heng from Penang, she has joined WeCash just a month.
The fourth lucky user is Tan Han Yee also living in Penang, who has been in the WeCash for more than two months.
There are more prizes waiting for you! Anyone can join WeCash Malaysia to become a WeCash member through WeChat for free, spending while you can earn points anytime , to get more cash and gift voucher!
Inform your family, friends and neighbors as soon as possible. As long as you have a smart phone, you can spend and earn every day together with WeCash!
WeCash is developed by goSMAC Sdn.Bhd, which is the first cross-industries social media customer loyalty and reward platform. It aims to embark to a card-less and cashless smart digital lifestyle.
goSMAC Sdn.Bhd Executive Director Mr.KK Lai announces: ""WeCash awards platform breaking 20 thousand users in just two months,  far exceeded the expectations of the our expectations. Moreover, every day there are new merchant registered to join us, the response is overwhelming."
"Consumers today have high expectation and demand for technology and rewards. Apart from fun and convenience, they hope to be further satisfied with great savings on their daily spending," he continued.
WeCash is designed as a loyalty reward point system with digital card. While earning their reward points, WeCash members can redeem their favorite Cash/Product Vouchers in WeCash Digital Redemption Center offered by Merchants of various industries. Hence, it encourages members to continue saving more money.
KK Lai points out that WeCash as the first WeChat Cross-industries Social Loyalty Alliance cloud-based platform in Malaysia, WeCash helps Merchants to collect customer data for customer relationship management (CRM) purpose through the social media platform. With customer's data, Merchants starts to know who their customers are, understand their customers, create repeat sales, new leads generation, reward customers and increase business revenue.
Through WeCash mobile platform, the merchant gets the benefits by sharing customers from other cross-industries participating Merchants. The consumer can earn reward points from merchants of different industry under one platform. It brings benefits to all parties within the business ecosystem.
"During the soft-launch promotion, the first 1000 WeCash Smart Merchants will enjoy the waiver of, registration fee, set up fee & activation fee; and the first 100 approved Merchants will further enjoy the waiver of 1st year support fee of RM 1,656, add up to a total saving of up to RM 3,720. The Merchant can now start experiencing and enjoying the functionality and values of WeCash O2O Platform with a nominal investment of RM 600" he said.
For more information, please log onto WeCash official website at www.wecash.my.