Watsons & MyDigi rewards Customers wth Exclusive Super Savings
Watsons and Digi's valued customers now have another reason to celebrate with MyDigi app offering, namely Watsons Monday Superdeals. Taking the Monday blues away, customers can now enjoy amazing Monday Superdeals by downloading the MyDigi app and enjoy amazing offers starting from as low as RM0.99 to RM8.99 only, for selected health & beauty products in Watsons. Digi customers can purchase the offer and redeem the Superdeals at any Watsons store nationwide.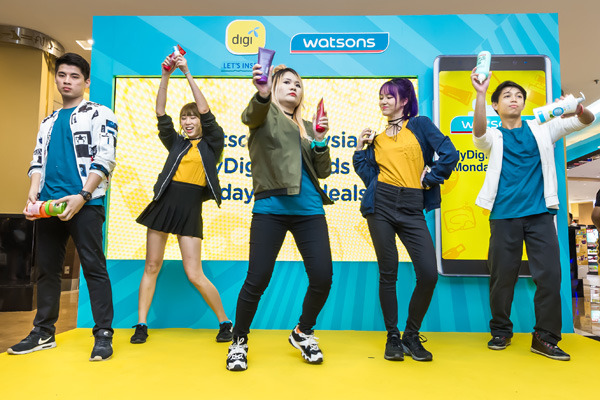 "We are privileged to collaborate with Digi on this fantastic partnership which gives Watsons customers or potentially new Digi customers value to shop. Watsons is always committed in delivering the best offers to our customers. As we are gearing towards digitalisation, it was ideal to collaborate with Digi – one of Malaysia's leading and most innovative mobile telecommunications operators to give our customers the best value possible and conveniece. Watsons VIP Members will also enjoy members additional deals and rewards at Digi stores," said Caryn Loh, General Manager & Country Head, Watsons Malaysia.
The media launch event was attended by Danny Hoh, Customer Director, Watsons Malaysia, Francis Chang, Head of Customer Management, Digi Malaysia, Foo Hwei Jiek, Head of Trading, Watsons Malaysia, How Lih Ren, Head of iTelco, Digi Malaysia along with members of the media and the bloggers community. During the event, attendees were treated to a preview of "The Sounds of Savings", a jointly created video by Watsons Malaysia and Digi showcasing the Watsons Monday Superdeals. Members of the media and bloggers who are Digi users had the opportunity to redeem the Watsons Monday Superdeal on-the-spot where they were treated to an additional RM10 Watsons Cash Voucher at the event and a lucky attendee won a new Samsung Galaxy Note 8 phone in a lucky draw. Other stage activities included the "Guess & Win" contest, where 4 participants were asked to guess the offer of the Watsons Monday Superdeals for each Monday of the week for the month of October. While other off-stage engagement activities were "Roll & Win" and "Shoot & Win".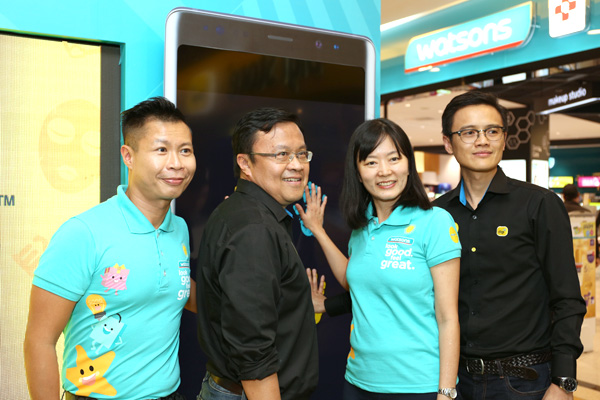 "The Rewards programme in MyDigi is designed to reward our loyal customers by providing relevant and exclusive perks in their daily lives. Watsons, being our new merchant partner, will bring fun and exciting offers that deliver great savings to our customers. The partnership with Watsons is timely as well since Digi has expanded our 4G+ and 4G LTE footprint nationwide, including secondary towns and market centres, where Watsons have a presence too. It makes it easier for us to empower our 12+ million customers to redeem their rewards wherever they are. In line with our ambition to be the preferred digital lifestyle partner, we have centred our engagement with customers via our MyDigi platform. The Rewards programme further layers that engagement with richer and relevant perks such as Watsons Monday Superdeals that deliver great savings and exclusive offers." said Francis Chang, Head of Customer Management, Digi Malaysia.
Watsons VIP members are in for a treat, as from 16 October 2017, Watsons VIP members can enjoy 15% off mobile accessories at selected 33 Digi stores nationwide when they flash their Watsons VIP card. This promotion is valid for one year.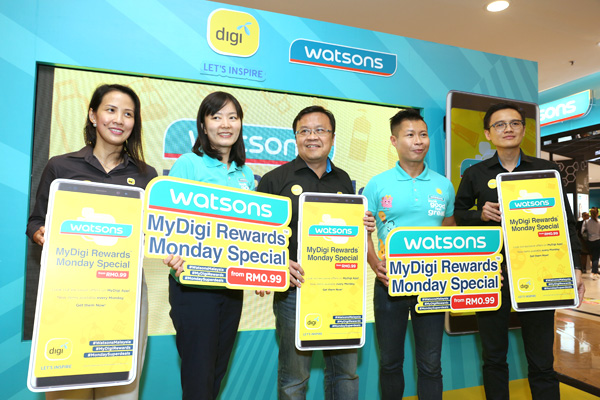 For more information, visit www.digi.com.my and www.facebook.com/watsonsmalaysia.
appcampaigncustomersDiGimarketplacemydigionlinepartnershiprewardsshoppingvoucherwatson