Shell makes Fuelling Up a Rewarding Experience
Shell Malaysia today kicked-off Menang RM5,000 Hari-Hari, a contest aimed at rewarding customers' loyalty and support. From 8 October 2017 to 7 January 2018, the joint promotion between Shell and BonusLink involves one customer a day receiving a RM5,000 cash prize for swiping their BonusLink Card and refuelling at Shell retail stations nationwide.
Early this year, Nielsen concluded that Malaysia has one of the lowest consumer confidence ratings in Southeast Asia. Nielsen's survey found that Malaysians are focused on building their savings and cutting down on indulgences by going on fewer holidays, spending less on new clothes, new technology products, home improvement, and out-of-home entertainment.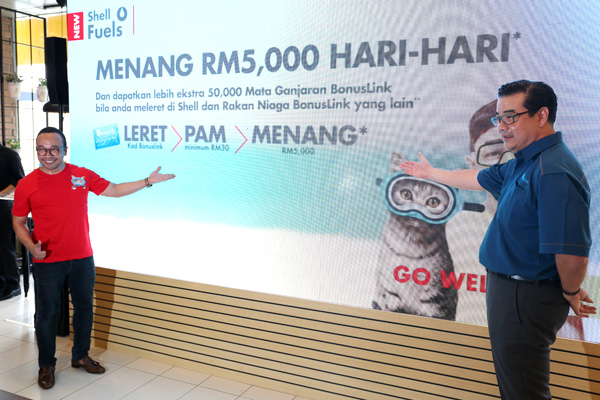 This inspired the Menang RM5,000 Hari-Hari contest, which gives customers an opportunity to be rewarded for refuelling at Shell, just by refuelling at Shell during the promotion period.
Shairan Huzani Husain, Managing Director of Shell Malaysia Trading Sdn Bhd and Shell Timur Sdn Bhd said, "Customers are at the heart of everything we do, and our mission is to make life journeys better. The Menang RM5,000 Hari-Hari contest is one way to reward our customers, and help them to end the year on a high note."
Victor Goon, General Manager of BonusLink said, "This is another exciting campaign with Shell, aimed squarely at our Members, giving them a chance to win cash and BonusLink Points. It ties in very well with our slogan 'Everyday's a Bonus' because there are daily prizes up for grabs throughout the campaign."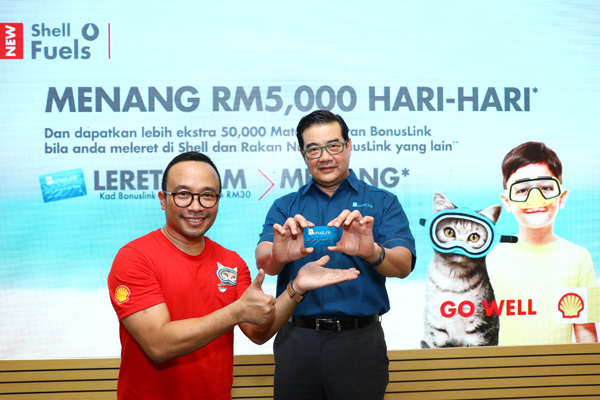 To participate, customers only need to swipe their registered BonusLink Card and pump a minimum of RM30 of any petrol or diesel at Shell retail stations nationwide to be eligible for one entry. BonusLink will select one winner a day to receive the RM5,000 cash prize.
Additionally, winners of the contest will also be awarded Extra 50,000 BonusLink Points if they swipe at another BonusLink Partner* within the same calendar month.
For a list of daily winners, and for more information on Menang RM5,000 Hari-Hari, please visit www.shell.com.my/LebihEkstra.
*Please visit www.bonuslink.com.my for a full list of BonusLink Partners. Photo Journalist
Gadgets, Photography, Automobile, Lifestyle
bonuslinkcampaigncardfuelpetrolprizerewardsshellstationswipe