Munio offers a Cybersecurity Solution and Assurance Package for Malaysian Businesses
Technology is booming, and businesses are becoming increasingly dependent on digital and everything that comes with it. However, this makes way for cybercrimes to become more rampant which calls for cybersecurity to be a prerequisite for businesses to survive and grow.
Cybersecurity has been advancing at considerable rates to meet the threat of cybercrimes. Despite that, cyber threats are still expected to accelerate even faster. According to Juniper Research, a research house based in Hampshire, United Kingdom, the cost of data breaches caused by cybercrimes is expected to reach up to $2.1 trillion globally by 2019, quadruple the estimated cost of breaches in 2015.
In light of this, Munio is stepping into the Malaysian market to introduce a package that provides a complete top-of-the-line cybersecurity technology and cybersecurity assurance package, the first-of-its-kind in Malaysia. "Munio was conceived as an answer to companies' uncovered financial risks due to digital threats. As first movers, we hope to educate the market on how to implement a comprehensive digital security plan. We aim to deliver complete, easy-to-understand digital risk solutions that will protect, assure, and insure our customers' digital assets," said Bernard Seah, Business Development Director of Munio.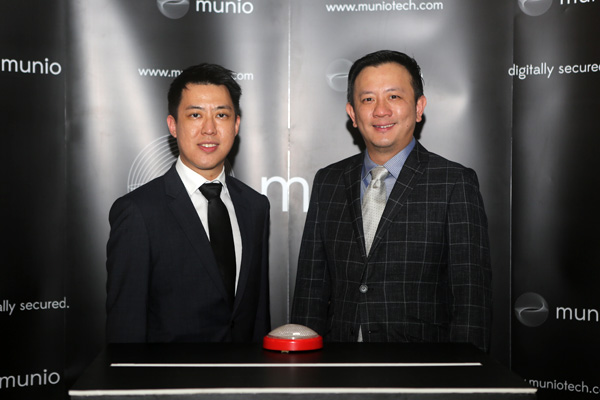 Munio was founded by Seah in 2017, previously a private wealth consultant attached with one of Singapore's largest independent wealth advisories. Over the years of his career as a financial advisor, Seah saw the need for a very particular service in the cybersecurity division faced by his private wealth clients. Armed with years of financial knowledge, Seah, together with his partners at Glocomp Systems outlined a service that protects parties against digital invasions and at a worst-case scenario, mitigates the costs of being attacked.
As a Malaysian pioneer that offers a cybersecurity package previously unmet in the market, Munio is rolling out its first offerings targeted towards the needs of small and medium enterprises (SMEs). "This is an extremely relevant market as over 98% of business establishments in Malaysia are SMEs. Not only that, this market is expected to contribute to over 40% of the nation's total GDP, and are often the most digitally vulnerable," Seah added.
With such a service finally making its way to Malaysian shores, CyberSecurity Malaysia has applauded Munio for taking the initiative to provide a boosted level of cybersecurity to Malaysian businesses. "As champions for digital security among Malaysian businesses, no matter how big or small, we are pleased that budding enterprises now have a package that provides high quality cybersecurity from Glocomp, and financial assurance should the worst-case scenario occur. This is a timely move by Munio, in view of ever escalating digital attacks happening around the globe and in Malaysia," said Dato' Haji Amiruddin Abdul Wahab, chief executive officer of CyberSecurity Malaysia.
Under the cybersecurity solution package, Munio's customers will have their digital assets protected by Munio's technology partners such as SecureKi, Symantec, and FireEye. Apart from that, Munio's customers will also be financially protected by Chubb, one of the largest insurers in the world. Munio will be supported by Glocomp, who will act as the sole distributor of this cybersecurity bundle programme.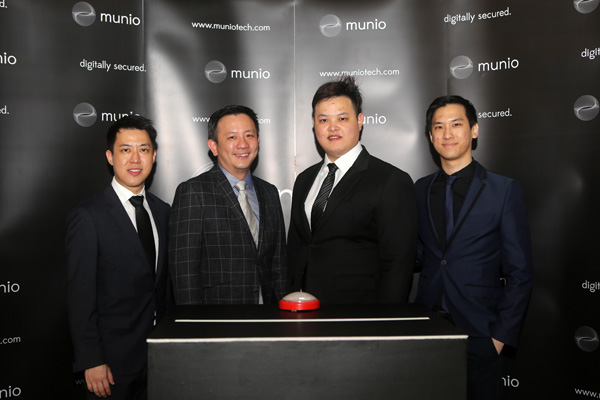 Joseph Giam, executive director of Glocomp Systems, expressed his excitement to work with Munio to realize their common vision of taking cybersecurity seriously. "All of us at Glocomp are excited to start rolling out our services to Malaysian businesses. With the escalating cybercrimes happening at our very doorsteps, such as the WannaCry ransomware, we must act now to prevent similar events from happening to us, and only then will we be able to progress smoothly as a business and ultimately as a nation," he said.
Moving forward, Munio intends to expand its solutions to better cater to enterprise clients and even public listed Malaysian businesses. It expects to make significant headway in neighbouring regional markets as well, as part of its expansion plans and vision in the coming years.
"We are looking forward to providing a digital peace of mind to all businesses in the region and we envision that in the near future, businesses and organizations will be able to ensure digital security and continuity in terms of operations, information, and costs. Munio aims to encourage the public in realizing the importance of digital security, and help to provide digital security solutions that can be effortlessly implemented and accessible for businesses of all sizes and industries," Seah concluded.
Customers keen on acquiring Munio's cybersecurity solutions package can obtain it via dealers' ICT and insurance channels. Those interested to be a reseller of Munio's first-of-its-kind package are welcome to enrol. For more information, visit www.muniotech.com or www.glocomp.com. Photo Journalist
Gadgets, Photography, Automobile, Lifestyle