Mobike enters Cyberjaya in Partnership with Cyberview and Mastercard
Mobike, the world's first and largest smart bike-sharing company, is expanding its dockless bike-share service to Cyberjaya in partnership with Cyberview Sdn Bhd, the technology hub enabler in charge of transforming Cyberjaya into a Global Technology Hub, and Mastercard, a technology leader in the global payments industry.
Mobike's expansion into Cyberjaya is supported by the Sepang Municipal Council, the local authority tasked with the responsibility of providing service and basic amenities to all Sepang residents. YBhg Dato Puasa bin Md Taib, President of the Sepang Municipal Council attended the launch event held at Dash Box hotel in Cyberjaya.
Launched in April 2016, Mobike has been transforming cityscapes all around the world with its innovative and dockless bike-share solution. Unique to Mobike, the company's entire fleet of over 7 million bikes are equipped with GPS and proprietary smart-lock technology that connect through the world's largest mobile-enabled IoT platform. As Mobike expands across Malaysia, data insights from its smart IoT platform can be leveraged to support city planners in improving cycling infrastructure and promote greater bike use amongst urban residents.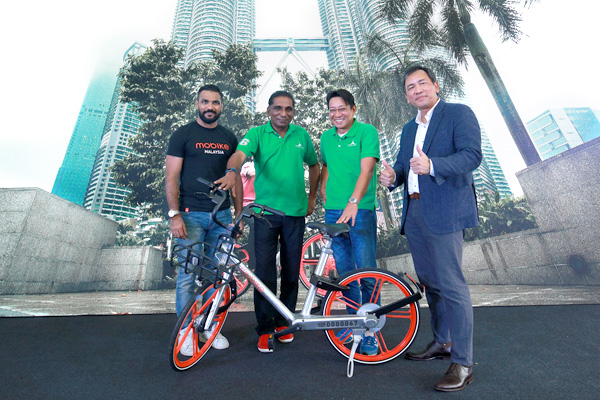 Mobike's approach to expansion in Malaysia and around the world prioritizes working closely with local businesses and government in order to tailor a bike-share model that best serves the unique needs of each market. Mobike's deployment of its smart bike-share service in Cyberjaya continues its commitment to the National Land Public Transport Master Plan that aims to integrate all land public transport modes to provide users with a seamless journey.
Sanjey Chandran, Country Manager of Mobike Malaysia, said:
"Our smart bike-share service has been designed to improve the liveability of local communities in Malaysia by providing an outstanding bike-share experience to our users and the municipality itself. Cyberjaya is recognised as a model for the development of smart cities in Malaysia, and we are pleased to be working with local businesses to advance the township's transformation into a Global Tech Hub. In addition, our partnership with Mastercard and Cyberview complements Malaysia's five-year development plan, a key focus of which is building sustainable cities."
Mastercard is supporting Mobike's expansion into Cyberjaya by integrating its digital payments service, Masterpass, with the smart bike's mobile phone application. By providing riders with a simple, safe and smart payment system, driven by the QR code technology within the app, riders can conveniently pay using their mobile phones.
Perry Ong, Country Manager, Malaysia and Brunei, Mastercard said:
"With over half of Malaysians making payments using mobile phones, as revealed by Mastercard Mobile Shopping Survey 2017, it is an exciting time to tap into the potential of mobile payments. This tripartite collaboration with Mobike and Cyberview further underscores our commitment to making cities more connected, efficient and inclusive. We are thrilled to bring an integrated payment ecosystem featuring emerging digital solutions such as Masterpass which can contribute to enhanced lifestyle and commerce in support of Cyberjaya strengthening its foothold as a Smart City."
Mohd. Najib Ibrahim, Acting Managing Director of Cyberview Sdn Bhd said:
"In transforming Cyberjaya into a Global Tech Hub, Cyberview has been working tirelessly to maintain and enhance an innovation ecosystem here in Cyberjaya. To ensure that we meet our goals, we have adhered to two pillars – our Smart City and Living Lab initiatives. On behalf of Cyberview, I am thrilled to be working with Mobike and Mastercard on an initiative under our Living Lab Pilot programme – where we work with various partners in testing and validating ideas and solutions right here in Cyberjaya."
To use the service, riders are being offered the opportunity to register with a one-time fully-refundable deposit at the promotional rate of 9 Malaysian Ringgit; at the end of the promotional period, the deposit will return to 99 Malaysian Ringgit. Mobike is also providing one free month of services in October. Following the promotional period, Mobike users can enjoy rides at the affordable rate of 1.5 Malaysian Ringgit for every 30 minutes.
How Mobike works
Mobike is a re-imagination and delivery of the ultimate urban bicycle with innovations such as the chainless shaft transmission, non-puncture airless tires, a lightweight aluminum anti-rust frame, an enhanced and durable disk-brakes and an auto-inspired five-spoke wheel. These functional design elements result in a maintenance-free bike, with each Mobike's lifespan estimated at 4 years of fix-free cycling. Each bicycle is connected to the Mobike IoT network via GPS-embedded smart lock; forming one of the largest IoT networks on the globe.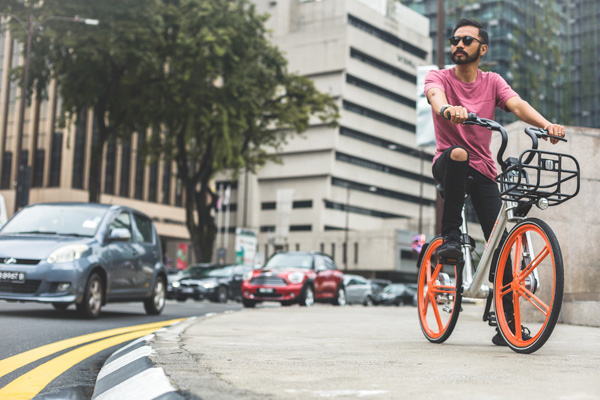 Mobike's distinctive silver and orange bikes will be initially deployed at key downtown locations in Selangor. To use the service, users simply need to download the Mobike app, register, and scan the QR code on the bike. With Mobike's proprietary smart-lock technology, scanning the QR code instantly unlocks the bike and allows the user to ride it away. To complete their ride, users need only to park the bike at any authorized bike parking areas near to their destination and manually close the lock on the bike.
The Mobike mobile app is now available for download in Malaysia at the Android store and Apple app store.
appbicyclebikecyberjayacyberviewmastercardmobikerentalservice