Microsoft strengthens its cloud offerings for Malaysian businesses through new solutions
As businesses in Malaysia look for better and faster ways to leverage on the fourth industrial revolution and transform themselves, modern technologies such as cloud computing have a crucial role to play. To better equip businesses, Microsoft today announced the enhancing of its cloud portfolio with the launch of Azure Stack, Microsoft 365 and SQL Server 2017. Together, these solutions will add flavour to Microsoft's existing array of cloud & hybrid platform, that has been at the helm of driving digital transformation for businesses over the past 25 years in Malaysia.
These solutions are the perfect tools for organizations to boost their hybrid cloud strategy to take advantage of modern cloud computing capabilities. In its recent survey of 1200 IT leaders across Asia on hybrid cloud, the cloud usage in Malaysia will be Hybrid cloud (50%), private cloud (31% and public cloud (19%.)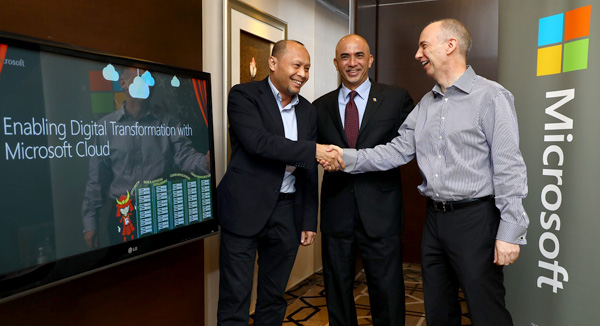 Celebrating the launch, K Raman, Managing Director of Microsoft Malaysia said, "For Malaysian businesses today, hybrid cloud is a natural progression regardless of size and budgets, to reach their digital ambitions. Many in the industry who have adopted these solutions include UEM Edgenta, Genting Plantations, Malaysian Airlines, Nando's Doctor2U amongst others. With a firm ear on the ground, we believe in evolving ourselves to meet their new and evolving requirements of enterprises. As such, we have expanded our suite of products and created customisable solutions to enable businesses in Malaysian businesses today to embrace digital transformation – engage with customers, empower their employees, optimize operations and transform their products.
SQL Server and Azure are already trusted by millions for their data and business-related needs. The extension of Azure Stack, SQL Server 2017 offer rich new applications which will enable better management tools, intelligent applications and advanced analytics to not just reduce cost and increase efficiency but to also innovate and enable faster time to market for businesses."
Details of these new cloud offerings are as follows:
Azure Stack extends the Azure ecosystem opportunity by helping enterprises grow their Azure business and reach a larger addressable market through hybrid cloud scenarios. It is an extension of Azure that brings the agility and fast-paced innovation of cloud computing to on-premises environments and enables entirely new hybrid cloud scenarios. It offers consistent hybrid cloud platform, providing an ideal fit for organizations that want flexibility without having to build applications in a different way.
Microsoft 365 brings together Office 365, Windows 10 and Enterprise Mobility + Security, delivering a complete, intelligent and secure solution to empower employees. It is tailored to address the commercial needs from the largest enterprise to the smallest business, in form of Microsoft 365 Enterpriseand Microsoft 365 Business They help companies achieve more together by better connecting employees, customers and suppliers, protect company data across devices with always-on security and simplify the set-up and management of employee devices and services with a single IT console. They also empower mobility among employees – to get work done from anywhere, on any device.
SQL Server 2017 provides intelligence, on a trusted industry-leading, most secure data platform, and enables innovation for all the data of a company. It enables companies to engage market leading solutions for every workload including Advanced Analytics, Business Intelligence, Data Warehousing and OLTP. SQL Server is the most intelligent, fastest and most secure database, and the most intelligent data warehouse that enterprises can rely on for operational analytics.
The launch was done in the presence of Malaysia Digital Economy Corporation (MDEC). Wan Murdani Mohamad, Director, Enabling Ecosystem, MDEC, noted how cloud providers are now seen as critical platforms that empower businesses, adding that, "These on-demand facilities, which are designed to help store all sorts of data on the cloud, are now made more affordable, easier to access, very space efficient, and progressively secure. This further strengthens the ecosystem, enabling it to upgrade itself.  As cloud is one of the digital ecosystem focus areas for MDEC, we work very closely with all related service providers and relevant stakeholders to advocate and facilitate the delivery of competitive and sustainable ecosystems in promoting and accelerating the adoption such services. Services that Microsoft is rolling out today engages all three pillars of innovation – Infrastructure and Apps; Data and Artificial Intelligence (AI); and Modern Workplaces. These ongoing efforts are crucial in enabling digital transformation and proper migration to the cloud."
Peering One is the first Azure Stack service provider in Malaysia. With this collaboration, customers who have hybrid cloud requirement due to latency, connectivity and regulatory have an option now to extend their Azure services to Peering One datacenters. With consistent cloud platform with Azure and Azure Stack, customer can now build and deploy modern application across hybrid cloud environments based on business requirement rather than on technology.
"There are four areas in which IT Leaders need to step up to enable digital transformation – first, they need to get up to speed with the modern tools of managing increasing security and complexity. Second, gain control of their infrastructure with software management tools spanning across public, private, and multiple branded clouds. Third, move quickly to an integrated hybrid cloud which will allow them to benefit from the best of both worlds. Lastly, they need to drive more sophisticated workloads in the cloud to innovate, shorten time to market and maximize the potential which new digital technologies offer. Our modern cloud applications will continue to be are customizable basis needs of the organizations, compliant with regulatory requirements and secure to ensure peace of mind to our customers," concluded Raman.
The launch took place at the event themed "Enabling Digital Transformation with Microsoft Cloud" that had participation from industry leaders and decision makers from various sectors. It was supported by platinum sponsors such as Cisco Systems (Malaysia) Sdn Bhd, Citrix, DXC Technology Malaysia Sdn Bhd, Hewlett Packard Enterprise, Lenovo Global Technology Sdn Bhd in addition to other gold sponsors and exhibitors.
As part of the launch, Microsoft has a host of offers. Users who sign up for Azure would receive $200 worth of credit to explore services for 30 days, 12 months of popular free services and 25+ services free of cost. Microsoft 365's Fast Track customer service is available as part the subscription – delivered by Microsoft engineers to enable the move to cloud at your own pace. It helps migrate email, content, and light up Microsoft 365 services for new users, deploy and securely manage devices including Microsoft 365 powered devices. There is also a discount of upto 30% to run SQL Server on Linux. Additionally, migrating to SQL Server would entitle businesses to receive free licenses, free training and subsidized assessment and support services un June 2018.
For more information, visit www.microsoft.com/en-my. Photo Journalist
Gadgets, Photography, Automobile, Lifestyle
BusinesscloudcomputingindustryITmicrosfot 365microsoftserversql