Uber launches UberFLASH and UberTAXI to give Malaysians more choices
Kuala Lumpur (5 September 2017) — Uber Malaysia today launched UberFLASH and UberTAXI, two new services that will provide Klang Valley commuters more choice when it comes to getting around safely, reliably, and affordably. UberFLASH will connect riders to the driver-partner closest to them – whether that is an uberX or a taxi on the e-hailing network. UberTAXI is a service in which taxi cabs are available upon request via the Uber App.
Warren Tseng, General Manager of Uber Malaysia and Singapore, said: "UberFLASH and UberTAXI broadens the concept of ridesharing, making things better for all – driver-partners, riders, and the city. We want to use technology to allocate existing resources on the road as efficiently as possible, so that we can serve more riders with more choice and better arrival times. We also look forward to offer more driver partners the choice of flexible earning opportunities. We support SPAD's intention to improve the overall public transportation landscape and will do our part to leverage our technology and ensure a quality experience for all riders and driver-partners all at the touch of a button."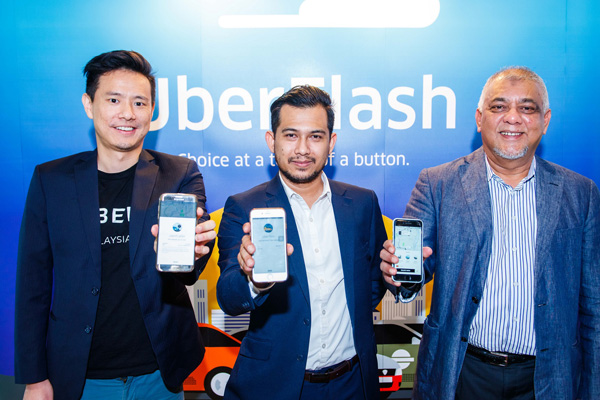 Also present at the launch today was Wan Md Hazlin Agyl Wan Hassan, Head of Taxi, Suruhanjaya Pengangkutan Awam Darat (SPAD), who said, "The launch of this service today demonstrates how technology can be harnessed by traditional modes of public transport. We are pleased that through these services, Uber Malaysia supports our overall vision of a more accessible, integrated and efficient land public transportation system for the greater good of all Malaysians."
Addressing concerns about quality and experience, Warren clarified that with UberFLASH and UberTAXI, Uber remained committed to ensuring a quality experience for all riders and driver-partners. The e-hailing company will maintain its high standards for driver-partners and vehicles allowed on the app, including requiring drivers to pass a background check. All of the other features that have contributed to great Uber experience – such as the mutual rating system and the customer support infrastructure – remain available and in effect as part of this rollout.
All UberFLASH rides will be priced the same as an uberX and riders will be able to see the fare upfront before requesting a ride. UberFLASH riders are expected to experience a shorter wait time, since they can expect to be picked up by any vehicle on the network that is nearest to them, including taxis. As for UberTAXI, pricing will be based on SPAD's taxi meter rates.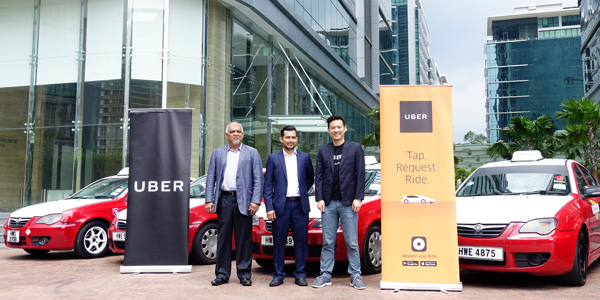 Uber expects this to be a win-win-win for all parties involved. Riders will benefit from an even faster pick-up experience. Taxi drivers will benefit from the power of Uber's technology to efficiently match them to rides, giving them the potential to earn more money through increased efficiency (less time spent idling, more time spent earning ride fares). Other driver-partners on Uber will also benefit as greater efficiency decreases waiting times, which in turn, increases rider demand for ridesharing services.
Warren said, "We have only touched a sliver over the overall pie – there is still a lot more room to grow, effectively growing the pie for all."
How to use UberFLASH/UberTAXI
Launch the Uber app
Type in your destination and confirm your pickup point
Select UberFLASH/UberTAXI
Request your ride and wait for the nearest available vehicle
Enjoy your ride at the same affordable fare as an uberX for UberFLASH!
Or the option of UberTAXI with SAPD's taxi pricing.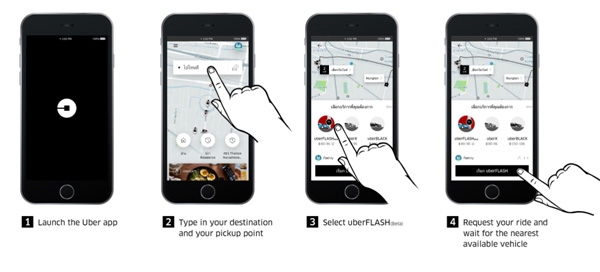 For those who clearly prefer UberBLACK or uberXL, those services still remain available as dedicated offerings. For more information on UberFLASH and UberTAXI, please visit www.uber.com.
appcabridingservicesharingspadtaxiuberuberflashubertaxiuberx