Sony enhances consumer communication possibilities with the world's first smartphone featuring real-time 3D capture
Malaysia (15 September 2017) — Sony Mobile Communications ("Sony Mobile") announced today the Xperia XZ1, the world's first smartphone featuring real-time 3D capture. The newest flagship leverages Sony's legacy of developing forward thinking camera innovations, together with its history of craftsmanship to offer a total entertainment experience packaged up in a timeless design.
Also announced was the Xperia XA1 Plus, the latest addition to the company's super mid-range family that offers exceptional performance with a 23MP camera, 5.5" Full HD display and immersive audio performance with Sony technologies.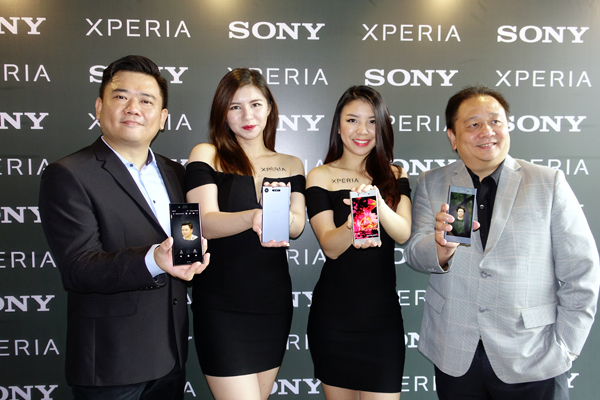 "We have brought the best of Sony technology together to fit the way people live today – instinctively turning to the phone in their hand to share the moments that matter with the people who matter to them. This is especially true in a fast-changing, creative and smartphone-centric region like Asia," said Andrew Cheong, Country Director, Sony Mobile Malaysia. "The introduction of the Xperia XZ1 in Malaysia is so meaningful. It promises the experiences people are seeking and helps them share those experiences with others. The 3D Creator, for example, opens a world of possibilities across gaming, AR, VR and more. We are tapping into the power of our technology portfolio to help create the future of communication, and that is very exciting."
"At Sony, we are committed to enhancing consumer communication possibilities. Which is why for the Xperia XA1 Plus, we integrated the best of Sony technology as well as the features and designs that Xperia customers have come to love from our previous models to provide added performance without compromising on cost," he added.
Xperia XZ1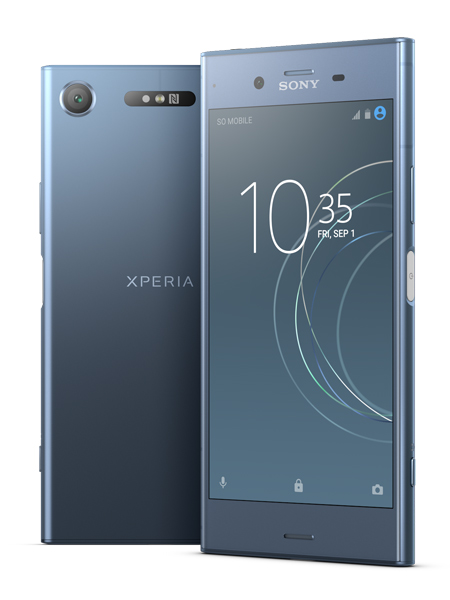 The Xperia XZ1 draws inspiration from Sony's most inventive products developed over the decades such as the Cyber-shot™, α™, BRAVIA™, VAIO®, Handycam®, and Walkman®, the Xperia XZ1 presents the very best of Sony technology in a single device. It showcases Sony's core expertise in camera technology and image sensing, with a combination of four inventive new camera focused features – the 3D Creator, Super slow motion video, new smile Predictive Capture and Autofocus burst from Motion-Eye™ camera. Together with support from a 5.2" Full HD HDR display, High-Resolution Audio and a unique OmniBalance approach to a unibody design, the Xperia XZ1's innovative appeals lies in its ability to marry the best of Sony's hardware and software into a single unit.
The 3D Creator is Sony's pioneering in-house algorithm built on the strength of its Motion-Eye™ camera technology and proprietary IP. With the capability to scan objects and people in 3D and then share across different platforms and media, the 3D Creator is a step forward in Sony' push towards expanding the possibilities of communication and social and virtual sharing.
Xperia XZ1 incorporates the latest Motion-Eye™ camera built using know-how from Sony's 'α' and Cyber-shot™ camera ranges, for capturing life in ways no other smartphone can.  Its memory-stacked Exmor™ RS image sensor pushes motion capture to the next level and produces exceptional image quality. You can create sensational videos from your everyday moments by recording in 960 frames per second, providing stunning Super slow motion video playback. Plus new Predictive Capture stays one step ahead and automatically starts buffering images when it detects action or even a smile, before you press the shutter button. So you can find a moment you may have missed from a selection of up to four shots. Its new Autofocus burst intelligently follows your subject, adjusting the focus to make sure your action shots stay sharp. Rounding off the premium camera experience is the first-class 13-megapixel front camera with a 1/3" sensor and a display flash so you'll get outstanding selfies in any light.
Sony audio expertise also lets you immerse yourself in the truly authentic sound of High-Resolution Audio with Xperia XZ1, enabling you to enjoy every nuance and detail in a track as if you're right there with the artist. Thanks to Sony's DSEE HX you can also enjoy more of your music in near High-Resolution with its upscaling capability. Enjoy your music and movies with or without headphones using the evolved stereo speakers with S-Force Front Surround, bringing you 50% more sound pressure than previous Xperia models. Plus the built in Digital Noise Cancelling (DNC) technology reduces exterior noise by up to 98% when paired with DNC headphones for undisturbed listening.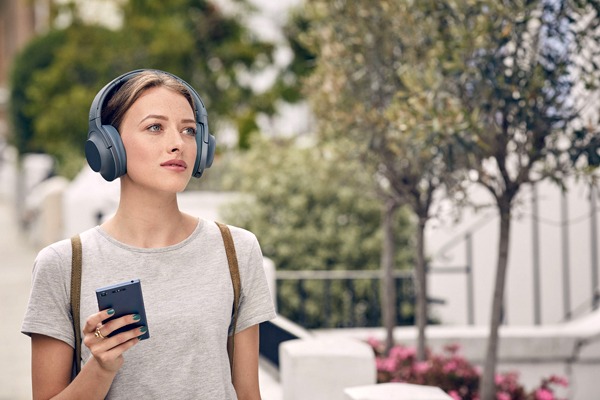 Every aspect of Xperia XZ1 is unified to you and encased in a timeless design built with Sony craftsmanship. The exterior has our signature flagship loop surface with a seamless metal body for a premium, understated look and refined feel in your hand. It's designed with active usage in mind, and has been constructed with a full body joint structure that is strong against any twist and bend. Equally tough against outside elements, Xperia XZ1 is water resistant, dust-proof and reinforced with Corning® Gorilla® Glass 5 on the display so it's tough enough to take on your day. For a personalised touch, the integrated fingerprint sensor recognises you intuitively, giving it that unique and secure assurance.
Wrapping up the premium design are four new colours, each inspired by natural light and the beautiful arrival of the changing tones as morning arrives; Moonlit Blue, Venus Pink, Warm Silver, and our classic Black.
Xperia XZ1 is powered by the cutting-edge Qualcomm® Snapdragon™ 835 Mobile Platform with X16 LTE, designed to provide blazing fast Gigabit LTE downloads speeds (up to 1Gbps) and performance to enjoy a modern lifestyle whilst working or having fun. The Snapdragon 835 Mobile Platform is engineered to support stunning graphics, smooth performance and enhanced battery efficiency. Perfect for smooth, responsive gameplay of your favourite PlayStation®4 games using PS4 Remote Play.
File transfers are also super-charged thanks to the USB 3.1 connection which is 10 times quicker than USB 2.0 with a transfer speed of up to 5Gbps. Keeping your XZ1 powered with all day reliable battery, it has plenty of power on a full charge. But on days when you're using extra energy, Smart Stamina works ahead of time to keep you powered up by estimating how long your current battery will last based on how you normally use your phone. And if it thinks you're going to run out, it will prompt you to activate Stamina mode which cuts energy consumption so your battery lasts longer. Its charging technologies, Battery Care and Qnovo Adaptive Charging, help the battery stay healthy to give you a longer battery lifespan.
Xperia XA1 Plus
Sony Mobile today also launched its Xperia XA1 Plus with camera expertise taken from Sony's digital camera division to deliver a leading rear camera that offers 23MP high resolution with a large 1/2.3" Exmor™RS for mobile sensor.  It features a bright F2.0 lens to offer stunning high resolution images even in low-light. You're guaranteed a superfast journey from launch to capture in 0.6s and incredibly fast and accurate Hybrid Autofocus, so even the most spontaneous moments are always in focus. Xperia XA1 Plus also features an 8MP 23mm wide-angle lens front camera to give you high quality images that capture all the action, even in a group selfie.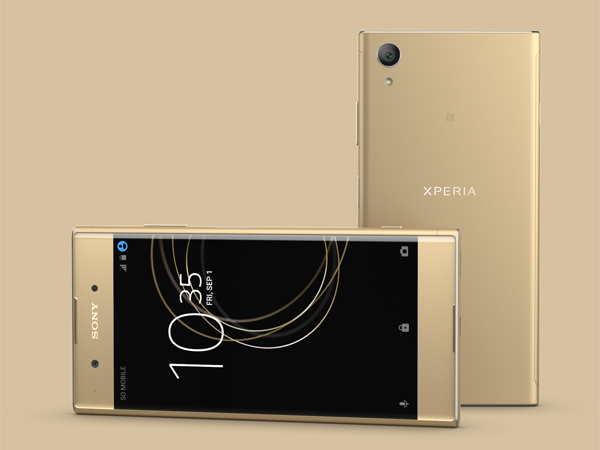 Where the Xperia XA1 Plus also shines is with its beautiful 5.5" Full HD display. It provides bright, vivid colours and detailed images, perfect for watching your favourite movies. Making it the perfect entertainment all-rounder, it offers fantastic audio quality to match what's on the screen.  With ClearAudio+ Sony audio technology and Smart Amplifier you get sound that is always loud and clear. You can even customise your sound experience and adjust settings to suit your own personalise listening tastes.
Xperia XA1 Plus is designed to make a statement and comes in three stunning colours, Gold, Blue and Black so you can stand out from the crowd. Designed to know who you are, an intuitive finger-print sensor is included on the power button to give you personalised security whilst also contributing to a seamless feel in the hand that fits like a glove thanks to its sleek, rounded form and narrow borders. In keeping with Xperia style, Sony craftsmanship is also clear to see with the diamond cut-like finish on the top and bottom, along with the choice of materials such as the aluminium sides and matt finish which create a premium look.
Entertainment lovers and multi-taskers alike will love the all-day battery and power efficient performance. Stamina Mode extends the battery lifetime just when you really need it, whilst Qnovo Adaptive Charging technology and Battery Care work together to maintain the long-term health of the battery by monitoring its health and adjusting the charging current accordingly to avoid damage and maximise its lifespan. Quick charging is also supported to give you that boost of hours of power in just minutes of charging. Making sure the performance is smooth and quick, its power-efficient MediaTek Helio P20 octa-core processor will be providing a seamless experience whether you browse the web, watch a video or play your favourite game. Adding to the swift performance is Sony's Smart Cleaner which automatically deactivates unused app and clears the cache to give you the fastest, most optimised performance.
Availability
Xperia XZ1 is available in Malaysia from end-September 2017, and will ship with Android™ 8.0 Oreo. Meanwhile the Xperia XA1 Plus will be available from October 2017. For more information, visit www.sonymobile.com.
3D3d creatorandroidappexmormotion eyesmartphonesonyxa1xperiaxz1