Procurehere offers all businesses greater freedom to adopt e-procurement
Kuala Lumpur (25 September 2017) — Businesses of all sizes in Malaysia as well as globally can now unlock more value by adopting e-procurement. Privasia Sdn Bhd, a subsidiary of information technology outsourcing and consultation company Privasia Technology Berhad, today officially launched its standalone e-procurement application Procurehere with the mission of automating procurement processes and propelling business excellence globally. While Procurehere has been available since 2002 as part of a business software suite, Procurehere Version 7.0 – the latest version of the enhanced cloud-based platform, is offered independently, unlike similar services currently offered on the market. The centralised and automated e-procurement platform allows businesses to manage all types of purchases, tenders and communications with potential vendors on one single platform.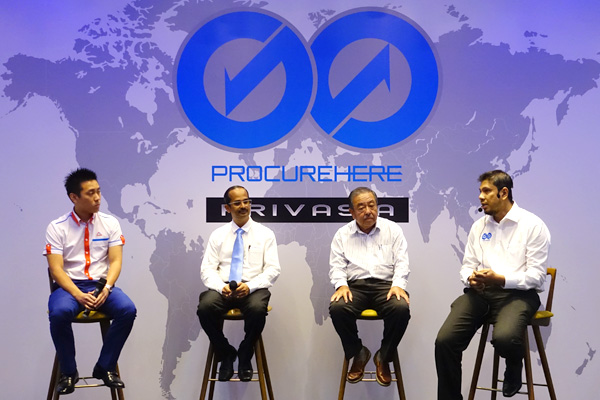 "Businesses and governments worldwide have realised the importance of automating and bringing business processes onto the cloud. In Malaysia, the Government has identified growing the adoption of e-procurement as one of the six key focus areas of the National e-Commerce Strategic Roadmap, in order to double Malaysia's e-commerce growth rate and reach a GDP contribution of RM211 billion by 2020. To improve the feasibility of adopting e-procurement among businesses of all sizes, we decided to offer Procurehere as a standalone platform based on market demand," said Puvanesan Subenthiran, Group Chief Executive Officer and Managing Director of Privasia Technology Berhad. The roadmap recommends e-procurement, one of the major components of e-commerce, as the key to ensuring transparencies in the way business decisions are made, helping to reduce costs and errors, increase productivity and eliminate paperwork.
"We realise that one major hurdle in the widespread adoption of e-procurement is simply lack of knowledge about how easy it is to adopt, and just how much it can benefit any business. To break through this barrier, our team is working closely with partners in Malaysia as well as globally to capture opportunities, reach more potential customers and grow market share for Procurehere. One of Procurehere's key strengths is that is suitable for everyone, in Malaysia and globally, so it is crucial to get the word out. In 2016, we invested in enhancing Procurehere, such as for cloud hosting and to improve response times. This year, we are investing in reaching out to potential customers who can benefit from this platform but have never considered e-procurement. Procurehere can be adopted by anyone, anywhere in the world within just three working days," added Puvanesan.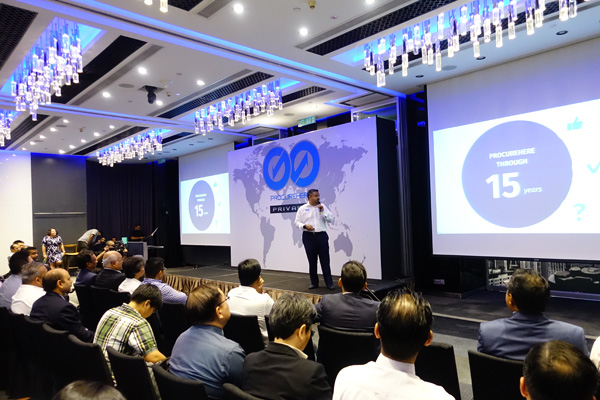 Five key benefits of Procurehere
The latest version of Procurehere has five key benefits:
Saves time: Procurehere comprehensively reduces sourcing time for clients, as less time is spent on the overall procurement cycle.
Saves money: With Procurehere, businesses can achieve an average 17% cost savings per project or event by using e-sourcing, and will benefit from significantly improved efficiency with its automated processes. There are no additional costs incurred including no requirement for IT infrastructure or training expenses.
Work on the go: Clients are able to make the most of Procurehere's secure cloud-based software, which is accessible to them anywhere and anytime. The mobile application that will be available on Google Play and Apple's App Store enables any management team to have simple oversight and approval over the procurement process, while being backed up by a 24/7 online knowledge base and customer support team. Clients can also request for training if required.
Streamline workflows: Clients can establish team networks for easy collaboration, which in turn can reduce time for approvals from weeks to mere hours.
Increase oversight: With Procurehere, businesses can have full control and detailed oversight of the procurement process with a comprehensive audit trail, which in turn helps to eliminate maverick buying, enhance regulatory compliance and improve business transparency.
In the past 15 years, Procurehere has recorded total spending of USD1.2 billion from a portfolio of 50 clients running 2,000 transactions on the platform. Currently, Procurehere's clients include AXA Affin General Insurance Berhad, Indah Water Konsortium Sdn Bhd, Malaysia Airports Holding Berhad, SME Bank Malaysia Berhad and Westports Malaysia Sdn Bhd.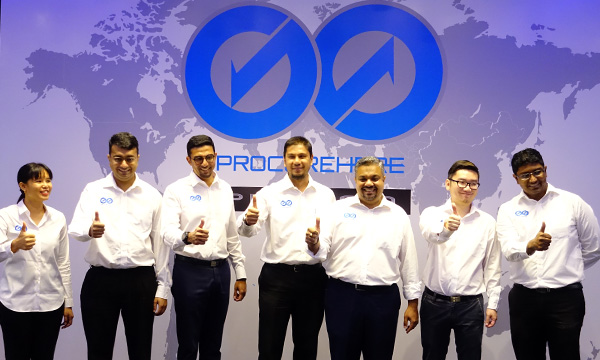 Businesses can use the focused, easy-to-use and affordable Procurehere platform for e-sourcing and requisitioning simply by subscribing, with the choice of a USD499 fee per event, a USD199 fee per user/month, or an unlimited user package. For suppliers, they can register for free to view any events to which they have been invited to participate.
For more information about Procurehere or to sign up for your free trial, log on to www.procurehere.com or call the Procurehere service desk at 1800 88 7748.