Microsoft launches the new Surface Pro in Malaysia
Kuala Lumpur (26 September 2017) — Microsoft has reinvented the modern workplace concept with the launch of Microsoft's brand-new Surface Pro. Tagged as Microsoft's "most versatile laptop" the device which is the latest generation of its iconic Surface product line, has been redesigned from the inside out to deliver better performance and battery life than ever. The Surface Pro, together with Microsoft 365, is a complete, intelligent, and collaborative modern workplace solution that enables everyone to be creative and work together, taking productivity to the next level.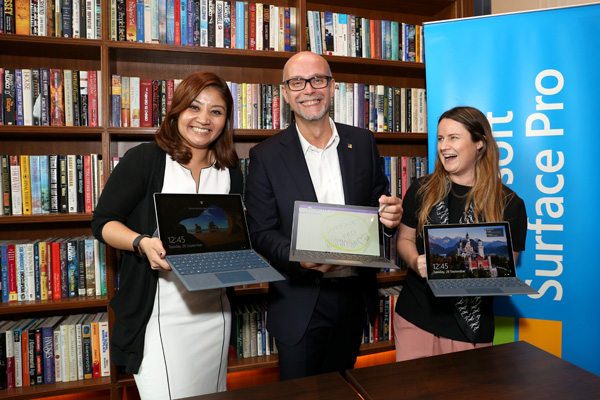 "There are three fundamental aspects which are critical in molding the next generation workplace- people, place and technology. The world is constantly changing, and we are constantly on the move, with our mobile devices. At Microsoft, we're constantly pushing boundaries and with the introduction of the Surface Pro, we're taking consumers to a whole new level of the definition of a powerhouse laptop and a mobile creative studio in one thin, lightweight device", said Michal Golebiewski, Chief Marketing & Operations Officer, Microsoft Malaysia.
Most Versatile Laptop
The new Surface Pro has been redesigned from the inside out to give people more performance and fifty percent more battery life than the Surface Pro 4. Everything has been streamlined and refined — from softer, rounded edges to cameras built to fade into the bezel. At just 8.5mm thin and starting at 0.766 kg the new Surface Pro is lighter than the bag it will be carried in, and packs the power of a 7th generation Intel® Core™ processor into a new fanless, 2 whisper-quiet design.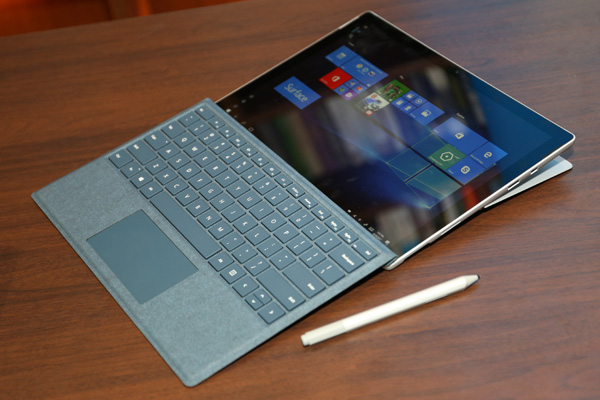 The Surface Pro brings creativity to live in a highly portable form factor. The high-resolution 12.3" PixelSense™ Display is engineered to work with the new Surface Pen, the fastest digital pen ever, to deliver an amazing inking experience with a new hinge that adjusts to 165 degrees, people can now put Surface Pro into Studio Mode, creating the optimal position to write or sketch.
Make the world your workplace
With the mobile revolution in full swing, today we can work from anywhere. Mobility is key. The three critical aspects in the new world of work are people, place and technology. Employees in the new world of work have the capabilities to work flexibly and productively in the digital modern work place, they are empowered with technology and their offices support a collaborative, dynamic workplace design. The new Surface Pro is the ultimate work companion to allow the world to work in new ways within the modern workplace. With its long-lasting battery life, Microsoft's new Surface Pro takes on a whole new meaning of a true companion.
Our recent Workplace 2020 study revealed that mobile professionals are seeking the ability to access information and data on mobile devices, cloud-based productivity tools and realtime collaboration capabilities for better collaboration and productivity.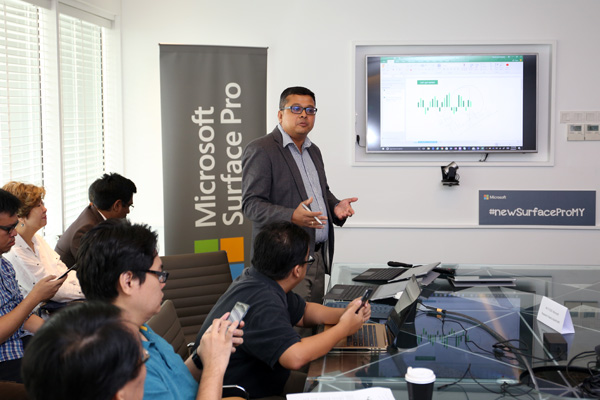 "Malaysian employees feel the most important way to improve collaboration and increase their level of productivity is through better PCs (55%) and better mobile devices (34%).
At Microsoft, we believe nothing should stand in our customers ways to bring their ideas to life. We built the Surface Pro because we believe the right technology can help people push the limits of what's possible. Modelled after whether it be a student or an employee, the Surface Pro and Microsoft 365 present businesses with an opportunity to create a new culture of work that unlocks creativity and enhances teamwork while also delivering simple management and intelligent security. Together, it's a solution that makes your modern workplace a reality", said Michal Golebiewski, Chief Marketing & Operations Officer, Microsoft Malaysia.
Putting the wOw factor in Office
Microsoft Office 365 Suite, a suite of enterprise grade applications designed to help you and your teams work creatively, work together effectively and work without boundaries. This cloud based suite of applications includes collaborative office applications such as Office Web Apps, Office desktop applications, SharePoint, Lync Online, and One Drive appeasing from students all the way to employees. Microsoft's set of tools in this suite enables just anyone to work from virtually anywhere. Photo Journalist
Gadgets, Photography, Automobile, Lifestyle
hybridintellaptopmicrosoftnotebookofficesurface prosurface pro 4windowsworkplace