Meizu PRO 7 and PRO 7 Plus officially launched in Malaysia
Meizu, a leading consumer electronics company and smartphone manufacturer, has officially introduced its PRO 7 and PRO 7 Plus smartphones with unique dual-screen feature to the Malaysian market today.
The PRO 7 Plus is the first line of Android smartphones to pack MediaTek's updated 10-core tri-cluster chipset, the Helio X30. The silicon is based on the more advanced 10nm process for better efficiency, and it features newer ARM cores, a more powerful GPU plus a faster Cat 10 LTE radio.
Stunning Display with Innovative Fenetre Screen
Meizu PRO 7 is offered in two sizes: The standard model comes with a 5.2-inch 1080p Super AMOLED screen, and the PRO 7 Plus features a 5.7-inch Quad HD Super AMOLED screen which provides 430 nits brightness.
Continuous innovation is what Meizu strives for. The fenêtre display of the PRO 7 makes it truly unique. A stunning AMOLED screen combined with a matching UI brings you an all-new experience.
The Fenêtre display notifications free you from the hassle of managing all your notifications. The secondary screen on the back panel shows you the other side of things, allowing a new form of communication between you and other people. The music player function of the fenêtre display brings you the music that you truly love, without any distractions from things around you.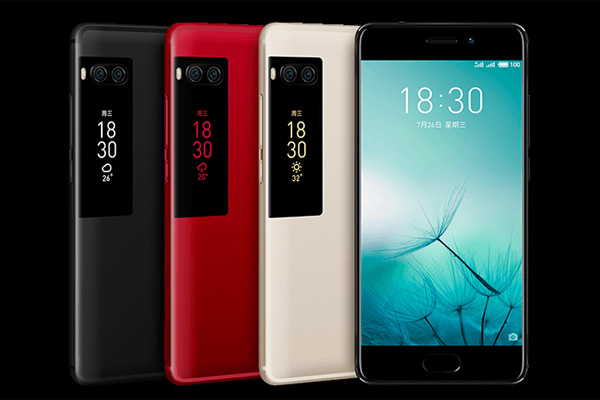 Unique Omni Dimensional Design
Meizu's design concept and pursuit of perfection can be seen throughout the highly-detailed brushed texture1, the enhanced edge processing of the antenna, and the new sensor and receiver design. Meizu have refined the essence of existing products with breathtaking and elaborate detail.
Meizu creates a new design philosophy called Omni Dimensional for the PRO 7 series. Meizu relentlessly pursues craftsmanship. The stunning brushed black color has been created using forging technology at micron level and countless times of polishing and brushing. Combined with the two-in-one sensor/receiver, the Meizu PRO 7 looks amazing with a texture as smooth as jade.
Splendid Dual Camera that deliver Phenomenal Pictures
Both versions come with a 16-megapixel f/2.0 front camera, plus a 12-megapixel f/2.0 dual rear camera based on Sony's IMX386 sensors with 1.25 um pixels; one for capturing color and another is a monochrome sensor.
The dual-camera gives the PRO 7 enhanced night image quality, richer detail, and an all-new blurring mode, so that each shot is a work of art. A single lens of the Sony IMX386 on PRO 6 Plus would be enough to amaze people, but the PRO 7 aims higher. The customized dual 12-megapixel camera allows you to record the most beautiful with little effort. Perfected algorithms and the all-new upgraded picture processing chip are a breakthrough for the PRO 7.
The addition of a blurring option allows you to enjoy the shooting effects of an SLR camera. The color and monochrome combination dual-camera of the PRO 7 allows for stunning night images. Color is captured by the color lens while the monochrome lens captures detail, significantly increasing quality.
With multi-frame noise reduction algorithms, even a dark environment becomes ideal for shooting. Taking pictures deep in the night is not a problem anymore. The built-in monochrome lens of the PRO 7 brings great detail and layering effects. Black-and-white photography has never been easier.
The combination of a dual-camera and fenêtre display creates greater selfie possibilities. Careful tuning of beautification algorithms make your selfies look even more amazing. Your selfies can be immediately shown by the fenêtre display with great clarity.
The amazing 16-megapixel front camera reveals every single detail in a smile. The four-in-one algorithm is activated automatically in dark environments, doubling its photosensitive performance, so that you can shine as always.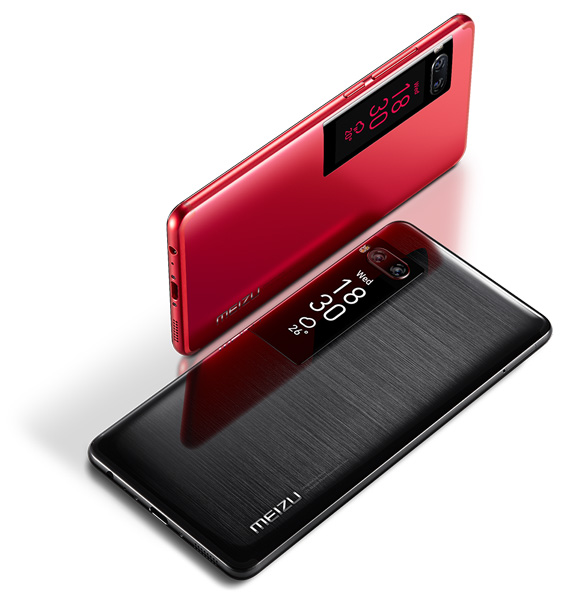 Flagship Performance with Long-Lasting Endurance
The PRO 7 features a Helio P25 processor of high performance and low power consumption, and the PRO 7 Plus has a more advanced 10 nm Helio X30 processor, which greatly increases the performance while reducing power consumption at the same time. Whether it's a phone call or a powerful game, the PRO 7 Plus won't let you down.
The PRO 7 equipped with a built-in 4G & WiFi signal amplifier, which significantly improves the signal receiving capability of the PRO 7 in a 4G/WiFi environment and effectively reduces the signal blind area.
The PRO 7 series feature a minimum storage of 4GB RAM + 64GB storage, coupled with LPDDR 4X and eMMC5.1/UFS 2.1 technologies. This endows the PRO 7 to provide a super smooth user experience.
Flyme 6 OS features a self-developed intelligent thinking engine that studies users' habits to provide a highly efficient solution based on using scenarios. It shortens the startup time of commonly used applications, and smartly searches the background processes to release system resources and make your mobile phone system more intelligent and flexible.
Both PRO 7 and PRO 7 Plus come in at 7.3 mm thick, but the PRO 7 Plus packs a larger 3,500 mAh battery — an extra 500 mAh than its smaller sibling. The PRO 7 Plus also features Meizu's new mCharge 4.0 fast-charging tech, which uses a high-power charger at 5V/5A. This feature allows a depleted PRO 7 Plus to reach 67 percent charge in just 30 minutes.
Sticking to its roots as a former MP3 player manufacturer, Meizu is throwing in a dedicated audio DAC, Cirrus Logic CS43130, into both the PRO 7 and PRO 7 Plus. Characterized by high dynamic and low distortion, it ensures that every detail in sound is pure, natural, and pleasing to the ear. All to give you that ultimate audio experience.
Not to mention they still feature the conventional 3.5 mm headphone jacks, leaving your USB-C port available for more important uses such as charging and data transfer. Both phones support lossless music formats like FLAC and APE out of the box.
Price and Availability
The Meizu PRO 7 will be retailed at RM1,899, while the PRO 7 Plus's retail price in Malaysia is RM2,799.
Bundled with 4GB RAM and 64GB of storage, the PRO 7 will be offered in three color options: Red, Gold and Black. The PRO 7 Plus which is available only in Black will be packed with 6GB of RAM and a whopping 128GB of ample memory for media storage.
The preorder for Meizu PRO 7 and PRO 7 Plus will start from September 15 to 20 at Meizu Malaysia's e-commerce partners such as Lazada, 11 Street and Shopee.
For the PRO 7, the preorder package comes with a FREE Meizu Bluetooth earphone E51 worth RM299. As for the preorder package for Meizu PRO 7 Plus, you will receive a complimentary Meizu Premium gift box and a Meizu Bluetooth earphone E51 that's worth a grand total of RM498!
The Meizu PRO 7 series will be officially available in the Malaysian market from September 21 onwards at all local key brand store, shop in Shop and authorized dealers nationwide. For every purchase of Meizu PRO 7 series smartphone, you will get a FREE Meizu Premium gift box worth RM199 (first come first serve while stock last).
Meizu Malaysia will be organizing a roadshow event at 7 shop in shop and brand store from September 22 to 24. Do come over and hands on the new PRO 7 and PRO 7 Plus yourself!
For more information on Meizu products, log on to www.meizu.com and Meizu Malaysia official Facebook. Photo Journalist
Gadgets, Photography, Automobile, Lifestyle
amoledandroidcirrus logicdual camerafenetreflyme 6 oshelio p25meizupro 7pro 7 plussmartphone