Make Life Cinematic with Soundbar Sound+ and 4K Ultra HD Blu-ray Player
Kuala Lumpur (26 September 2017) — As a leader in home entertainment, Samsung offers top-notch products and services that enable consumers to enjoy true life-like sounds and picture quality at home. To further augment consumers' entertainment experiences at home, Samsung Malaysia is proud to announce that its new Soundbar Sound+ (HW-MS751) and 4K Ultra HD Blu-ray Player (UBD-M8500) have made their way into Malaysia, giving audiophiles and movie buffs a chance to have an enhanced music and cinematic experience, all from the comfort of their homes.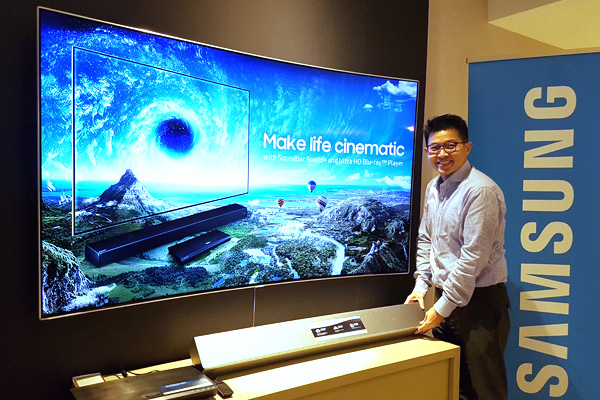 "Samsung's complete home entertainment ecosystem provides its consumers with three essential elements: ease of use, theatre-quality sound and ultimately, the best cinematic experience. Alongside with Samsung QLED TV, we are ushering in a new era of home entertainment with Soundbar Sound+ and 4K Ultra HD Blu-ray Player, which is setting a new standard for home cinematic experience," said Jimmy Tan, Head of Consumers Electronics Business, Samsung Malaysia Electronics.
Expand Your Sound Stage
The Soundbar Sound+ offers listeners an expanded sound stage to create a rich and immersive surround sound environment. The 5 channel (front left/front right/center/top left/top right) soundbar boasts a total of 11 speaker units, each with dedicated amplifiers, including 3 wide-range tweeters, 6 woofers, and 2 vertical wide-range tweeters.
The vertical tweeters are situated on top of the unit and spray audio vertically to expand the sound image, making it feel as though you are watching a larger screen than you really are.
Additionally, the vertical tweeters feature 'Height Channel Up-mix' technology, which allows you to enjoy a 3D surround sound as if you are actually experiencing sound of a flight or a bird over the sky.
Deep and Detailed UHQ Audio Upscaling
The Soundbar Sound+ features an Ultra High Quality (UHQ) 32-bit audio, which provides a crisper sound and allows listeners to experience audio that is nearest to its original recording quality. Samsung's new Soundbar Sound+ not only upscales any music content to 32-bit detail sound, it also reproduces deep and detailed bass to as low as 35Hz.
Samsung's long-excursion technology increases the depth of the speaker movement, thereby allowing them to deliver more powerful bass. Moreover, by replacing the traditional subwoofer with 6 (2" x 4.3") woofers, Samsung's 'multi-speaker control' technology enables the multi-array speaker units to move simultaneously, further deepening bass reproduction capabilities.

To reproduce such deep and detailed bass from its compact 3-inch body, Samsung put advanced acoustic technologies from its own Audio Lab to work. The company's proprietary distortion cancelling technology eliminates low frequency distortion by predicting the distortion at the end of the speaker movement and pre-adjusting upfront. The resulting lows are smooth and distortion-free, meaning listeners can enjoy bass-heavy content as it was meant to be heard.
However, to fully enjoy one's listening experience, audio systems must provide clear and accurate highs together with distortion-free lows. Samsung's new Soundbar Sound+ easily accomplishes this through 3 wide range tweeters that create wider sound dispersion from the source (cross-over range 600Hz ~ 20kHz), resulting in consistently great sound no matter where one sits.
A Streamlined Audio Experience
Samsung One Mount Kit allows audiophiles to quickly mount the soundbar directly with their TV without the need to drill any hole to the wall. The cable included in the One Mount Kit enables a single cord connection by having the TV power cord going directly into the Soundbar Sound+, leaving your living room looking neat and uncluttered.
To facilitate a more intuitive user experience, the Soundbar Sound+ allows users to conveniently control both their TV and the soundbar, including advanced audio settings, all through a single remote. The Soundbar analyses the sound and sets various modes automatically according to the sound characteristics, such as movie or music.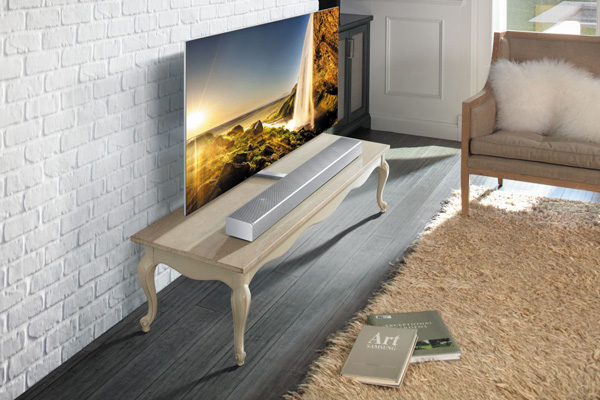 "The Soundbar Sound+ delivers clear, crisp, immersive sound yet with improved space constraints from subwoofers," Tan added. "It is the perfect partner to Samsung's QLED TV and 4K Ultra HD Blu-ray Player and Samsung will continue to expand its influence in the audioindustry by leveraging our technological prowess to produce exceptional sounding audio equipment designed for the consumer's lifestyle."
True-to-life stunning 4K resolution
Additionally, viewers can complement the Soundbar Sound+ with Samsung's 4K Ultra HD Blu-ray Player, to enjoy their latest films and shows in a truly cinematic fashion. Samsung's Ultra HD Blu-ray Player is the ultimate UHD content player that maximises your TV, while boasting incredibly lifelike pictures when paired with a TV with HDR support. Movie lovers can enjoy the latest movies in True 4K, UHD level, as the 4K Ultra HD Blu-ray Player shows every detail as the director intended, from the darkest to the brightest scenes, while expressing a full color range that human eyes can recognise.

The new Soundbar Sound+ and the 4K Ultra HD Blu-ray Player are now available at all Samsung Brand Stores and authorised dealers nationwide at a recommended retail price of RM3,499 and RM1,799 respectively.
For more information, please visit www.samsung.com/my/audio-video. Photo Journalist
Gadgets, Photography, Automobile, Lifestyle
4Kaudioblu-rayentertainmenthomeplayerSamsungsoundsoundbaruhd