Make a date with Hatsune Miku on 16 DeC!
Kuala Lumpur (20 September 2017) — Fans of global sensation Hatsune Miku can now meet their virtual idol "live in person"! Astro in partnership with Crypton Future Media, INC is bringing the highly anticipated, Hatsune Miku Expo 2017 – to Malaysia (#MikuExpoMY). This first of its kind concert performance is for one night only on 16 December at the Axiata Arena Bukit Jalil.
The teal-haired 16-year-old cyber celebrity from Japan has over 2.5 million fans globally and 80,000 loyalists in Malaysia. Hatsune Miku has collaborated with Pharrell Williams, supported Lady Gaga on her ArtRave tour and has a repertoire of hundreds of thousands of songs in multiple languages.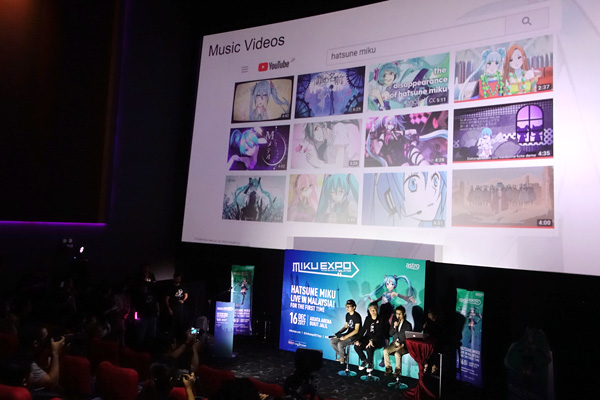 Henry Tan, Astro Chief Operating Officer said, "Astro is excited to bring the first ever Hatsune Miku live concert to Malaysia. This ground-breaking concert is the only performance in Southeast Asia this year, so be sure not to miss this sensational experience. As the voice of the future, Hatsune Miku brings forth a new and novel experience where her songs and performances are crowd sourced from millions of fans globally.
The Hatsune Miku Expo 2017 in Malaysia, has already caught the interest of many fans since it was announced at the Hatsune Miku event "Magical Mirai 2017" on 31st August 2017, coinciding with her 10th anniversary celebration in Japan. On concert day, fans can expect official merchandise booths, cosplayers, and other fun activities at the venue before Hatsune Miku takes the centre stage."
Hatsune Miku is a unique content that has a strong following internationally as she transcends culture, language and borders.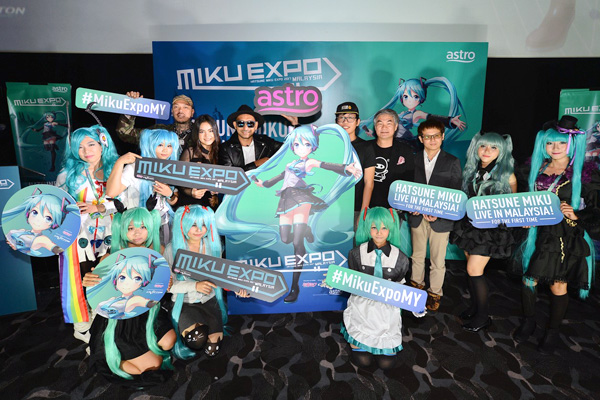 Kimitaka Nishio, CEO Office Manager at Crypton Future Media, said "Three years ago, Hatsune Miku Expo kicked off in South-East Asia with a historic live performance and exhibition in Jakarta that set the foundations of this fan-centred event celebrating collaborative creativity.
This year, after 48 performances in 7 countries around the world, we are happy to be back in the region for Hatsune Miku Expo 2017 in Malaysia. We know Hatsune Miku already has a strong fanbase in the country, but we also hope to introduce her and the culture around her to many more people in the area."
YouTube sensation, Chaleeda Gilbert and Malaysian superstar, Zizan Razak will open the concert for Hatsune Miku.
*Please refer to the appendix for Zizan's and Chaleeda's profile
The Hatsune Miku Expo 2017, will be held at the Axiata Arena Bukit Jalil on 16th December 2017 at 8PM. Ticket Prices are RM169, RM269, RM339 and RM439 (excluding ticket fee and GST). Ticket sales will commence on Sunday, 8 October at 10AM online through www.myticket.asia. Get the latest news via mikuexpo.com and fb.com/mikuexpo2017mys.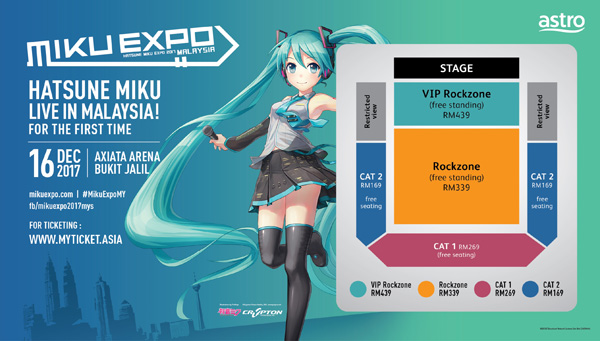 Hatsune Miku Expo 2017 In Malaysia Ticket Pricing

10 Fun Facts about Hatsune Miku
Hatsune Miku was released on 31 August 2007 and her voice was sampled from Japanese voice actress, Saki Fujita.
Miku's name comes from putting together the words: First(Hatsu), Sound(Ne), and Future (Miku).
Hatsune Miku isn't a digital persona for a real singer. She's actually a synthesised character, called a Vocaloid. Not only is her image on stage generated by computer, but her singing voice is totally synthesised, too.
As her voice can be synthesised, Hatsune Miku sings in multiple languages and has hundreds of thousands of songs available to date!
None of the songs that Hatsune Miku sings and performs actually come straight from Crypton Future Media. Instead, creating her songs is a widespread fan effort, with devotees around the world using her program to write and orchestrate songs for her.
Miku's outfit design is partly based on a very popular synthesiser keyboard. The colours, and some of the motifs on her clothes are inspired by that instrument.
For a "vocaloid-opera" performance called "The End", famous Louis Vuitton designer, Marc Jacobs has created a dress specifically for Hatsune Miku.
Hatsune Miku has worked with the biggest acts in the world, from opening for Lady Gaga, to appearing in Pharrell's music video and singing alongside Japanese artists like Bump of Chicken and Namie Amuro.
Hatsune Miku made television history when she was the very first virtual singer to appear on a major U.S. late night talk show, The Late Show with David Letterman on Oct. 7, 2014, as the musical guest.
There are other characters similar to Hatsune Miku from Crypton Future Media such as Megurine Luka, Kagamine Rin, Kagamine Len, KAITO and MEIKO. However, Hatsune Miku remains the most popular in the market and became the world's first virtual idol.
Promo video
astrochaleeda gilbertconcertcryptonhatsune mikujapanesemikuexpomodelshowcasesingervirtua characterzizan razak