Hisense Malaysia brings HD Thrills to Malaysian GP F1NALE with Max Verstappen
Sepang (30 September 2017) — Hisense, China's leading electronics manufacturer and Global Team Supplier to Red Bull Racing is bringing world-class high definition excitement to the Malaysia Grand Prix F1NALE at Sepang International Circuit this weekend, with a showcase of its latest 4k ULED TV 65" Series 8 for F1 fans at the Hisense booth. The Hisense experience was further amped up with a special appearance by Red Bull Racing driver Max Verstappen at a gathering for key dealers and members of the media this afternoon.
"As a Global Team Supplier for Red Bull Racing since 2015, we're excited to be here in Sepang again for the F1 Malaysia Grand Prix, especially at this historic F1NALE event. Last year's F1 Malaysia Grand Prix was momentous for Red Bull Racing, with their first 1-2 finish in almost three years and we're hoping for another fantastic race performance and result from Max Verstappen and Daniel Ricciardo. With Malaysian fans being delighted with such thrills coming from Red Bull Racing on the track, we wanted to offer them even more excitement off the track at our booth at the F1 Fan Zone for the first time. Of course, this also serves as a great place for Red Bull Racing fans to meet and get to know each other," said Mr Andy Huang Yuan Xin, Managing Director of Hisense Malaysia.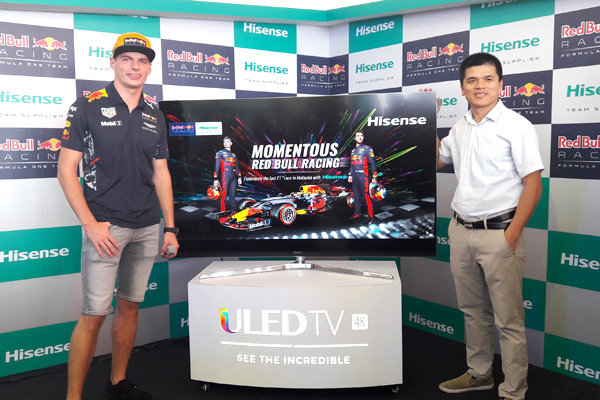 "Additionally, like all the F1 fans here this weekend, Hisense understands the impact of a truly immersive viewing experience and we're proud to showcase our latest innovation in high definition viewing – the 4k ULED TV Series 8, right here at our booth. We're also delighted that Max could join us this afternoon to celebrate the magic of F1 with all the guests," Huang added. The patented ULED TV technology takes the core LCD TV technology even further, with all 8.3 million pixels on a ULED TV bringing viewers the best colour, contrast, resolution and motion.
"When I'm at home the high-definition Hisense screen of my TV is great for watching football or when I'm gaming, the picture is super sharp. I know the engineers really appreciate the 4K technology of the Hisense super-screen in our AT&T Operations Room at the factory, and the clear focus of the screens in garage and pit wall, which give us a picture-perfect view of the action and data delivery we rely on to compete to our best at grands prix," commented Max Verstappen, Red Bull Racing's F1 driver who met with Hisense's guests at their tent on Saturday afternoon.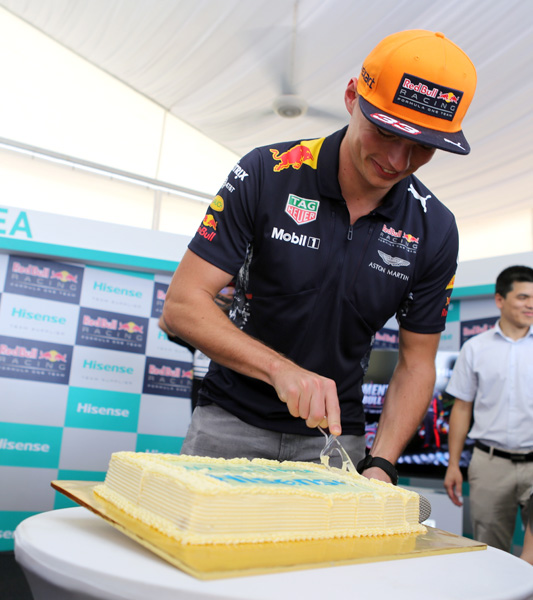 At the Hisense booth located at the entrance of the circuit's trade and vending area, fans can enjoy an immersive experience driving a Red Bull Racing F1 car using the PlayStation® 4 and Hisense screens at the Game Area, besides standing a chance to win posters autographed by Max Verstappen.
They will also be able to explore the 4k ULED TV Series 8 and the full range of other Hisense television models and electronic appliances such as refrigerators and portable air-conditioners up close. Fans of Red Bull Racing can share the experience of their favourite team as the innovative Hisense technology is also enjoyed at the team's garage at various racetracks as well as at the factory at their Milton Keynes headquarters. Members of the public can even buy a tv on the spot and have it delivered to their doorstep.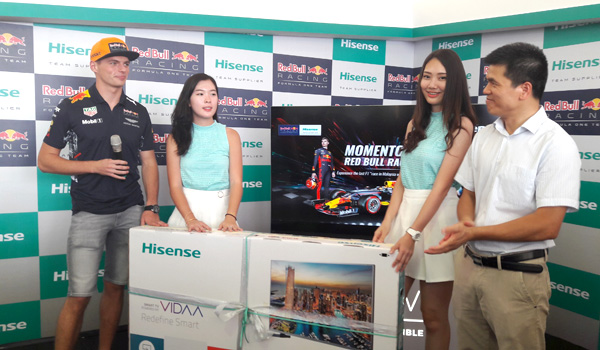 To make the Hisense treat even more memorable over the weekend, there will be appearances by Hisense mascot Harley at the special photo booth area, free merchandise, plus free flow of popcorn to round up the experience, all happening at the Hisense tent at Sepang International Circuit from 29 September to 1 October 2017.
For more information on Hisense Malaysia, please visit our official website www.hisense.com.my. Photo Journalist
Gadgets, Photography, Automobile, Lifestyle
f1f1naleformula 1hisensemax verstappenred bull racingsepangtv