Epson Malaysia launches New Breakthrough Technologies in Enterprise Printing Solutions to drive Business Growth
Epson, a world leader in digital imaging and printing solutions, today launched the new WorkForce Enterprise WF-C20590 that reinvents office inkjet printing at ultrafast speeds. The new Replaceable Ink Pack System (RIPS) printer – the WorkForce Pro WF-C869R, was also launched at a two-day business event Epson Malaysia held at the Sunway Pyramid Convention Centre in Bandar Sunway.
With the launch of the WorkForce Enterprise and WorkForce Pro printers, Epson aims to revolutionise the enterprise segment through inkjet printing. The company is focused on strengthening its position in the medium to large enterprise segment, where inkjet printers are gradually replacing laser printers.  Driven by its leadership in printing technologies and as part of Epson 2025 vision, Epson will continue to lead the way through continuously innovating and investing in R&D in inkjet technologies. The company forecasts spending 54 billion yen on R&D in FY2017, which is 5.2% of its forecast revenue and approximately US$1.4 million a day.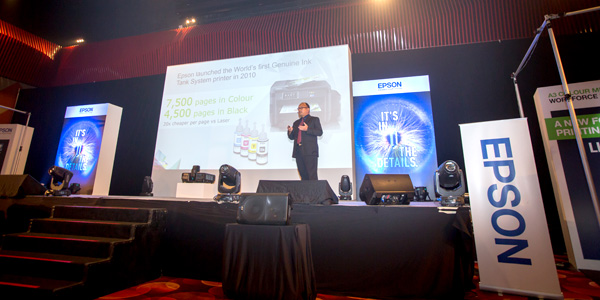 Deemed a new force in enterprise printing, the WorkForce Enterprise printer is faster than laser printers and offer greater cost savings in terms of maintenance and overall cost of ownership.
The WF-C869R brings together Epson's revolutionary PrecisionCore technology and RIPS to offer a product delivering extremely low costs per page at professional printing quality. These printers are really a new force in enterprise printing.
Speaking at the launch of these enterprise printers, Daisuke Hori, Managing Director, Epson Malaysia said: "We see inkjet as the future of business printing and this year to be the tipping point as many more businesses make the switch away from laser printing. The WorkForce Enterprise printer will be the catalyst for this."
Elaborating further, Danny Lee, General Manager, Sales & Marketing, Epson Malaysia said: "The new WF-C869R brings a new level of productivity and cost efficiency to our customers. The RIPS printer continues to surpass laser printers in terms of environmental impact and cost savings it brings, as well as the overall total cost of ownership with the minimal maintenance needed. Businesses can look to lower operational costs and enjoy high quality inkjet printing with the new Replaceable Ink Pack System printers."
Breakthrough High-speed Linehead Inkjet with the New Workforce Enterprise WF-20590
A new force in enterprise printing, Epson's WF-C20590 enterprise printer, prints at breakthrough printing speeds of up to 100 pages per minute (ppm), one of the fastest speeds in inkjet printing, reinventing business printing in the office and ushering new levels of productivity.
Epson's pioneering PrecisionCore linehead technology, a first of a kind innovation measuring at 43mm wide and containing approximately 33,500 nozzles, consists of a fixed print head that prints at ultra-fast speeds of 100ipm for both simplex and duplex. Without the moving print head, banding is now greatly minimized, and prints are high quality and laser sharp.
The all-new printing mechanism consists of an electrostatic transport belt in the print pass that ensures the paper is completely flat for stable paper feeding, ensuring the smoothest of gradients and consistently sharp images while delivering at ultra-fast speeds. Due to its stable print feeding and smart design, the printer is able to print on a wide range of paper types of up to 350gsm, including paper of irregular sizes.
The revolutionary WorkForce Enterprise series drives productivity and drastic energy savings of up to 75% less power consumption when copying compared to an average laser printer, resulting in lower electricity costs and higher efficient operation.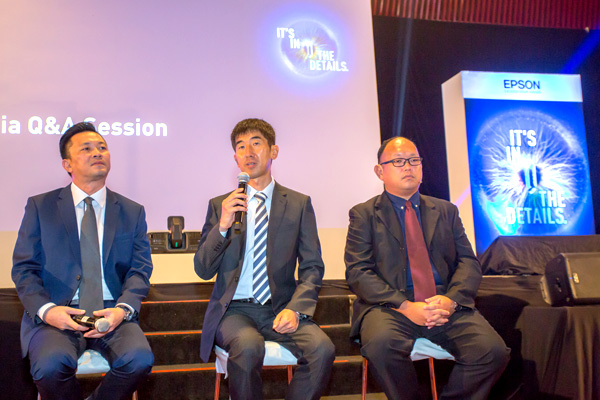 As there is no heat involved in the printing process with the PrecisionCore Thin Film Piezo technology, printing at 100ppm uses 1.2kWh, which is less than half of a competitive laser MFP. Without use of heat, there is also minimal warm up time with fast first page out printing compared to laser printers.
Ultra-high capacity ink cartridges yield up to 100,000 pages in black and 50,000 pages in colour each, enabling uninterrupted downtime and a lower total cost of ownership and greater cost savings. With the high yields and high volumetric efficiency, there is reduced frequency of consumables exchange compared to toner replacements of a laser printer. The high capacity paper feed unit with option for up to 5,350 sheets for input and paper output capabilities of up to 4,000 with the sheet finisher unit support high volume printing.
The WorkForce Enterprise continues to deliver high quality prints at its high speeds. Its self-maintaining printhead monitors nozzle health and automatically detects and adjusts print head performance, eliminating the issue of clogged ink nozzles. The printer's DURAbrite Pro inks deliver professional high quality prints and are fade-resistant, water-resistant and fast-drying for high speed printing.
The WorkForce Enterprise lowers total cost of ownership due to having fewer moving parts than colour lasers, resulting in fewer components required for standard maintenance and dramatically reduced downtime as well as cost of service.  For example, only a set of paper feed rollers will need to be replaced after extended use for the inkjet printer, compared to the multiple fuser, drums, rollers and print head parts of the laser printer, amongst others.
New Replaceable Ink Pack System, the WorkForce Pro WF-C869R, unveiled
The WorkForce Pro WF-C869R delivers high-speed and high-quality printing while drastically reducing printing costs with its high capacity ink packs for businesses.
The high page yields and extremely low cost per page of the WF-C869R can help businesses significantly minimise running costs when compared against a laser printer. The WF-C869R printer's revolutionary Replaceable Ink Packs comes with the option of standard ink packs that deliver uninterrupted printing – up to 22,500 pages in black and 22,000 pages in colour, as well as large ink packs printing up to 86,000 pages in black and 84,000 pages in colour before needing to be replaced, helping businesses save on running costs.
The WF-C869R is equipped with Epson's PrecisionCore technology to print at fast print speeds of up to 35ppm for both black and colour prints, at 4,800 x 1,200 dpi resolution prints for special media and 600 x 600 dpi for standard prints. As the PrecisionCore printhead does not use heat to print, the WF- C869R has no need for warming up time and has a fast first page out of 6 seconds.
The WorkForce Pro WF-C869R uses less consumables and packaging waste compared to laser printers, which help to maintain office productivity with less printer maintenance and downtime. The ultra-long-life consumables of the WF-C869R only require periodic replacement and consist of the ink packs, maintenance box and paper pick-up rollers, compared to the laser printer consumables which consist of toner cartridges, photoreceptor, waste toner box, transfer units and fusing units.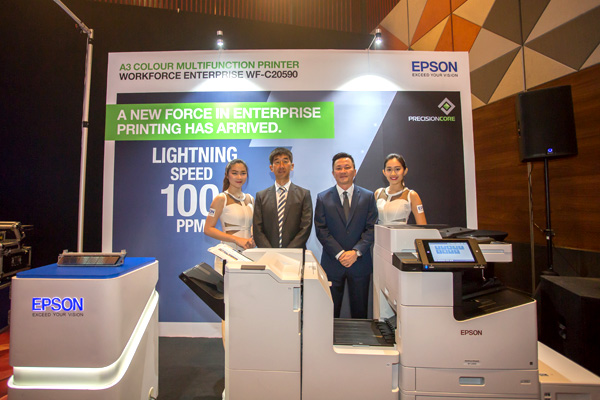 The versatile WF-C869R printer can print paper of different types and sizes with its wide range of media compatibility ranging from 64 to 256gsm. Its rear tray supports the use of special media such as photo media for photo quality pictures, and different sized paper can be placed in the different cassettes for automatic selection. Epson's dual CIS technology allows duplex scanning in a single pass for improved speed and office productivity.
With Epson Connect, documents can be printed directly to smart devices or online cloud storage services via Epson iPrint, and scans can be sent directly through email or cloud storage services. Near Field Communication (NFC) enables users to conveniently print or scan by touching a compatible device to the printer.
Epson Device Admin enables easy monitoring, managing and configuring of the fleet of printers easily within the network. Epson Print Admin provides the features required to monitor and cut printing usage while ensuring secure or confidential printouts are not left at the printers. The WF-C869R printer is also compatible with 3rd party software, Papercut MF, to provide similar functionalities as Epson Print Admin.
The Epson WorkForce Pro WF-C869R is Energy Star Compliant, bringing users significant energy savings as it uses no heat in the printing process, unlike conventional laser printers.
For more information, please visit www.epson.com.my. Photo Journalist
Gadgets, Photography, Automobile, Lifestyle