U Mobile and Mineski Events Team together with Logitech G establish Malaysia Esports League, the Biggest DotA 2 League in the Country
Kuala Lumpur (17 August 2017) — Mineski Events Team (MET), the premiere esports organiser in Southeast Asia, together with U Mobile and Logitech G announced today the launch of the inaugural Malaysia Esports League (MESL). Aimed at bringing Malaysian esports to the next level, this year's MESL will feature one of the world's leading game titles, DotA 2.
MESL is set to be the biggest DotA 2 esports league in Malaysia with a total prize pool of RM500,000 – the highest recorded ever for a local DotA 2 tournament. The champion team will also receive an extra RM50,000 if the players are active U Mobile customers. On top of that, the launch of MESL will provide local esports athletes a stable platform to hone and showcase their talents, while setting up an international-level esports foundation locally with the support of MESL's sponsors:
Title Sponsor: U Mobile
Official Gaming Gear Sponsor: Logitech G
Official Broadcaster: eGG Network
Official Streaming Partner: Twitch.tv
The league will kick off on 2 September with qualifiers covering Peninsular & East Malaysia. The top 16 teams from each qualifier will head on to face-off in the group stages of the league for a duration of 3 months. The top 8 teams there will then advance into the playoffs stage, culminating with the MESL grand finals at the end of it all to decide the best DotA 2 team in Malaysia.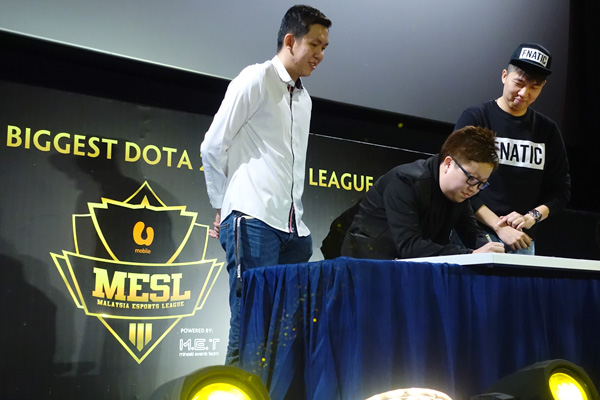 All games from the group stages up till the Grand Finals will be aired on Astro's eGG network and Twitch.tv, so esports fans will be able to tune in to follow their favourite teams, all in High Definition (HD). U Mobile customers can also stream the games for free on Astro GO via Video-Onz™, the telco's service which offers free unlimited data for video streaming.
"We have been seeing phenomenal growth in esports not just globally but also in Malaysia during the recent years, and the launch of MESL is naturally the next step in our continued commitment towards the Malaysian esports community. Through our efforts with MESL, we hope to develop more young talents and icons like Mushi, Ohaiyo and Midone, who will be eager to grow their gaming careers professionally. This is a huge stepping stone for players to penetrate the highest level of DotA 2, such as 'The International', where every player dreams to be at someday," said Kenchi Yap, Managing Director of Mineski Events Team.
Jasmine Lee, Chief Marketing Officer of U Mobile, echoed Kenchi's enthusiasm and shared that U Mobile is very excited to be the title sponsor of MESL. She said,"U Mobile is driven by our customers' passions and esports is definitely something our customers love that are very digitally savvy, so this fits in perfectly with their lifestyle. We are already very active on the music platform with our sponsorships for G-Dragon's and Ed Sheeran's concerts in Kuala Lumpur. However, you will see us becoming increasingly active on the gaming platform too as it fits into our customers' total lifestyle. With esports becoming more popular in the country, U Mobile is delighted to play an active role in putting Malaysia on the map for esports and also to give non-professional e-gamers a chance to hone and showcase their skills."
KP Sim, Logitech Country Manager of Singapore, Malaysia, Philippines and Brunei also added, "As one of the main sponsors, we are very thrilled to be part of this momentous milestone in the esports industry in Malaysia! We applaud Mineski Events Team and U Mobile for developing our very own league, the Malaysia Esports League. Developments like these are very valuable to us, as we serve to nurture the local esports community in Malaysia. As an industry leader in gaming gears, we hope to grow the influence of our sponsorships to inspire more budding talents to pursue their ambition in gaming."
"We are pumped to be part of the vibrant esports scene in Malaysia since we launched eGG Network as a dedicated esports platform in 2016. Today, we are excited to take our commitment to the next level as the official broadcaster of MESL. Astro has a proven track record as the broadcast partner for major sports leagues in Malaysia, namely SepakTakraw League, SS Purple League and M-League. With eGG Network broadcasting in seven countries, we are excited to bring coverage of MESL among esports fans throughout the region on the big screen," said Lee Choong Khay, VP of Sports Business, Astro.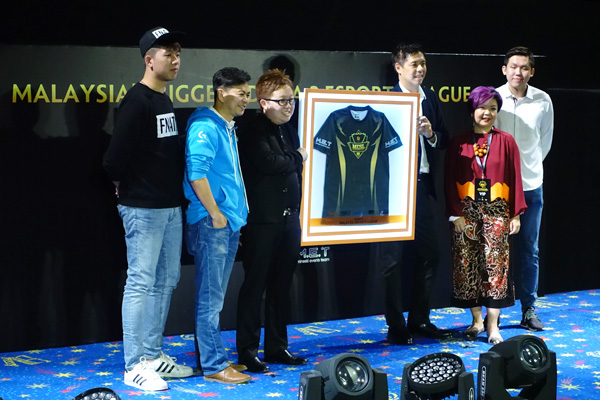 MET is proud and honored to welcome U Mobile, Logitech G, eGG Network and Twitch.tv to jointly present the MESL to all local DotA 2 players and esports enthusiasts.
All players interested in participating in MESL can begin registrations for the qualifiers starting from today. To do so and to find out more information on MESL, please visit www.mesl.my.
arenadota 2esportsgaminglogitechmineskitournamettwitchu movile