ShopBack expands 9.9 Cashback Day to feature Comprehensive E-Commerce Offerings in Malaysia
Kuala Lumpur (16 August 2017) — ShopBack Malaysia, the leading e-commerce Cashback platform today announces that the third 9.9 Cashback Day celebration will be held from August 21st to September 9th, expanding from one week to three weeks in light of the rising trend in new online services and diversified product offerings in the country.
"In the first half of Q3, ShopBack Malaysia has welcomed around 20 Cashback partners including Uniqlo Online and Digi Postpaid, tripling the number of new partners we got in the last quarter. In addition, we also launched two verticals namely Insurance as well as Mobile and Internet Plans on our platform. In light of the extensive range of products and services, we are glad to extend 9.9 Cashback Day into a three-week online event and believe it will be boosted by the SEA games and Merdeka Day spirit this month," said Alvin Gill, Country General Manager of ShopBack Malaysia.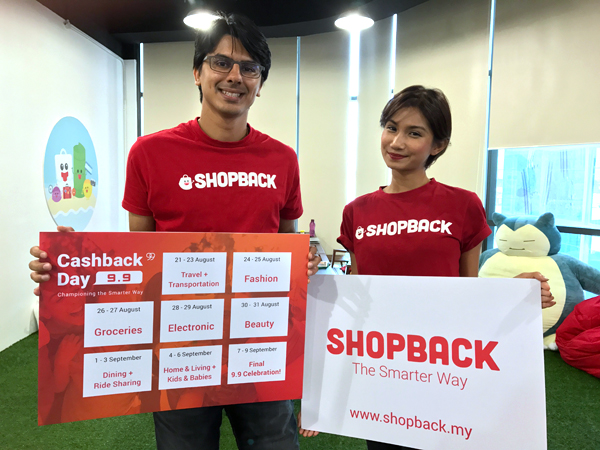 He attributed the boom of e-commerce businesses to the government's continuous encouragement and efforts. "In Malaysia, shoppers are able to evaluate and subscribe to different Internet plans online, and even purchase insurance at their leisure time via HLATouch (Hong Leong Assurance). This won't be made possible without the support from agencies like Malaysia Digital Economy Corporation (MDEC), the e-commerce enabler in the country that pulls together e-commerce companies and facilitates B2B initiatives in order to amplify the market growth."
However, he also pointed that there's a gap between consumer's knowledge and available services, as many are unaware that they can make table bookings online and get instant discounts on dining bill, or rent a lorry via thelorry.com.
"The awareness level can be increased through promotional efforts and campaigns such as 9.9 Cashback Day and the upcoming #MYCYBERSALE. 9.9 Cashback Day is an annual event that we organise to celebrate ShopBack's presence in the region with our top 20 partners from Electronics, Fashion, Food, Travel, and other categories offering up to 99% Cashback to Malaysians. We look forward to reshaping the idea of online shopping and Championing the Smarter Way by highlighting a myriads of elevated ways to live, travel, shop, and eat this year."
Thematic campaigns to entice shoppers with specific interest
On top of 99% Cashback, shoppers can also expect extraordinary deals from RM0.99 onwards, exclusive flash sales and coupons from online stores like Lazada and Qoo10, and RM 999 Super Cashback on smartphones during final celebration coupled with a complimentary mini photobook from Photobook Malaysia for every purchaser.
Commenting on the tips of reaping Cashback benefits, Muhammad Syafiq, one of the frequent shoppers expressed, "If you have heard of Malay proverb 'Sikit-Sikit, Lama-Lama Jadi Bukit' – that's how I got my family trip's expenses covered a few times using the accumulated amount of Cashback I earned. I am glad that Cashback is made available in Malaysia by ShopBack and in view of the challenging economy today, cash savings like this might come handy one day."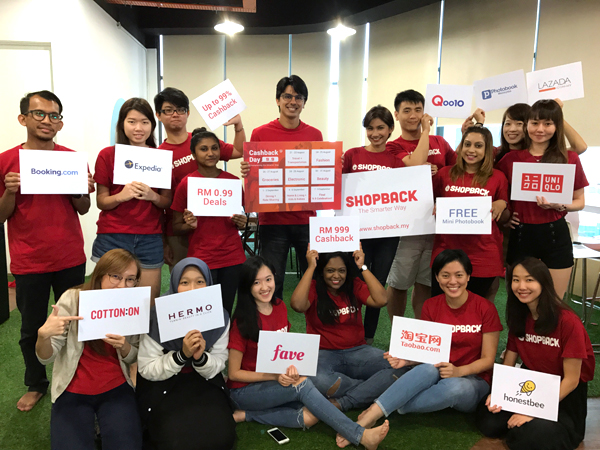 According to ShopBack Malaysia's data, it has enabled local online users to save RM13.5 million from its web and app thus far, with the top user obtaining RM19,375 Cashback since 2015.
The 9.9 Cashback Day celebration will be kick-started by ShopBack Malaysia's travel and transportation partners – AirAsiaGo, Booking.com, Expedia, Malaysia Airlines – from August 21st to 23rd as it is the most popular category among local users. Full lineup of events will be as per below:
"The thematic approach allows us to sharpen our reach to shoppers with specific interests. For instance, families with children will be more interested to shop in the home and kids category. We hope to leverage thematic campaigns to educate them on the other services available on our platforms. This helps to guide them into a smarter way to live, travel, shop, and eat as they can optimise their time while getting discounts and Cashback from us," Alvin added.

Other countries that will be running the 9.9 Cashback Day celebrations are Indonesia, the Philippines, Singapore, Taiwan, and Thailand. In Malaysia, ShopBack collaborates with a total of over 500 international and local partners including Fave, Hermo, honestbee, Grab, Senheng, Uber, and Zalora to reward shoppers a percentage of their spending back in cash form whenever they make a purchase. Since May 2017, it has also strengthened its payment system by implementing OTP (one-time password) for a more secured payment process.
For latest updates, please visit ShopBack Malaysia's website or follow its official Facebook page.