LG "About Life and All its Perfection"
Kuala Lumpur (1 August 2017) — LG Electronics (M) Sdn Bhd (LG) today announced its 2017 Roadshow at Pavilion Kuala Lumpur, featuring an introduction to LG's newly launched first in the world and in Malaysia Picture-on-Wall SIGNATURE OLED W7 and Inverter NatureFresh Campaign through LG's latest Inverter refrigerators line-up. The roadshow reveals a wide range of world-recognised and award-winning technologies such as LG SIGNATURE 4K OLED TV, Smart InstaView™ refrigerator, LG Smart Inverter Linear refrigerators and TWINWash™ washing machine.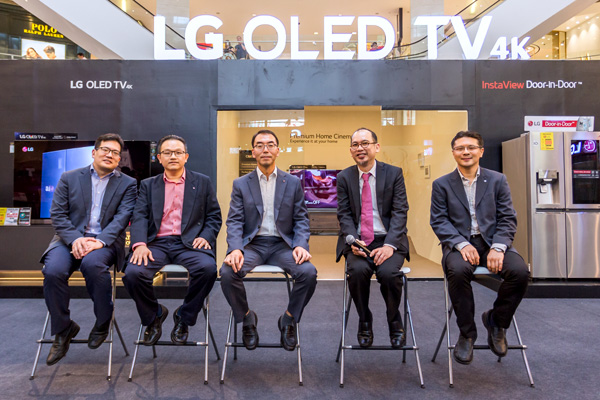 "LG takes pride in offering the best innovations to achieve world-renowned recognitions. With that, LG showcases its understanding in creating technologies that provide consumers beyond convenience and comfort – products with improved innovations suited for next generation digital lifestyle," said David Oh, Managing Director of LG Electronics (M) Sdn. Bhd. He added that the LG brand was honored with a stunning 21 CES Innovation Awards for 2017 across multiple categories including products from both Home Entertainment and Home Appliances and Air Solutions divisions.
LG's Picture-on-Wall SIGNATURE OLED W7
The "Wallpaper" design is only possible with the uniquely efficient technology of the LG OLED display technology. The sleekest television set to complement your wall, the LG SIGNATURE OLED TV W7 adds a touch of sophistication to your living room while delivering unparalleled performance.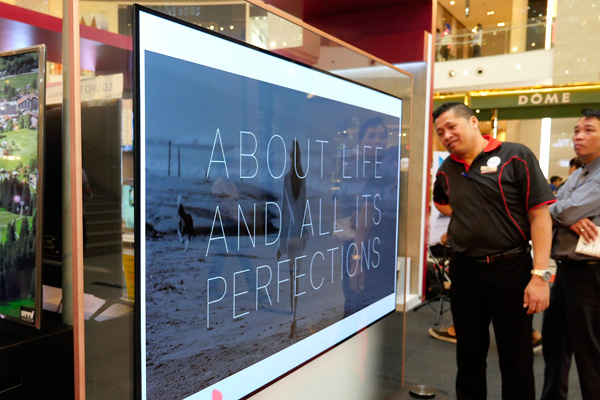 An award-winning TV, the LG SIGNATURE OLED TV W-series won more than 20 awards at the recent 2017 Consumer Electronics Show (CES), including the coveted CES Best of Innovation Award in its 77-inch class. Its Picture-on-Wall design, the LG SIGNATURE OLED TV W7 strips away unnecessary elements to emphasise the beauty of the screen alone, leaving just an ultra-thin panel that is only 3.8mm thin in the 65-inch model. The thinness enables the TV to be directly mounted on the wall with minimal gaps, using only four (4) magnetic brackets. The result is a TV that looks like a piece of art masterpiece.
Taking a step further to create a state-of-art home entertainment, the LG SIGNATURE OLED TV W7 offers the support of Dolby Atmos®, a world renown 360 degrees surround sound effect known widely in cinemas and production studios. Consumers can now bring this cinematic experience back to home comfort. Coupled with the support of widest range of HDR formats, including the premium HDR content mastered by Dolby VisionTM, the LG SIGNATURE OLED TV W7 delivers an unrivaled viewing experience.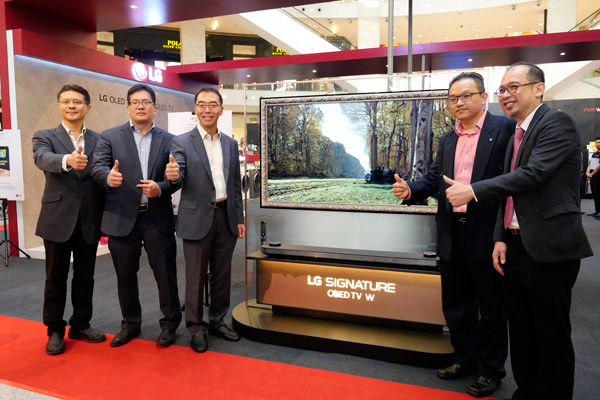 LG's OLED display technology is able to provide viewers with the perfect coloration with the perfect black. Its self-lighting pixels are unlike conventional TVs that require a back light. These pixels can switch on and off easily, providing a pitch black background to enhance the displayed colored images. This provides a seamless expression that enables an infinite contrast ratio.
With that, LG incorporated both innovation and design as the reflection of consumer trends that leans towards durable and premium quality living. The OLED display technology is LG's pride in presenting the next generation of TV format. This followed from an increased number of OLED display usage in various display screens such as monitors display, digital signage, and smartphones.
LG's Smart InstaView™ and Inverter Linear Refrigerators
The LG InstaView™ refrigerator is one of LG's premium Inverter Linear refrigerators. It comes with an improved accessibility with the invention of its special 33-inch tinted glass panel that allows you to see inside the easy-access door without letting the cold air out. Simply knock twice on the glass to illuminate the contents within. "Food grazing" is an experience which brings the convenience of seeing what's in the fridge without even opening the door, reducing cold air loss to help keep food fresher, longer. LG's Door-in-Door® with the ColdSaver™ Panel significantly reduces cold air loss by keeping it where it matters most — on the inside. More cold air means more peace of mind that food will stay fresher for longer.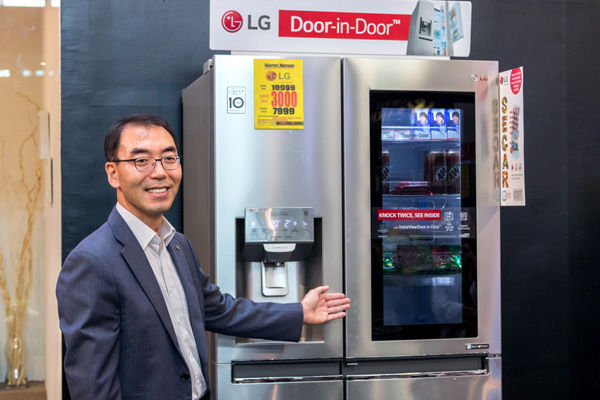 LG Smart InstaView™ also reduces up to 42 percent less fluctuation to maintain temperature of food, longer lasting freshness. Compared to regular inverter compressors that have a higher fluctuation of +1 degrees, the LG Smart InstaView™ inverter linear compressor lowers the fluctuation by half (+0.5 degrees). This enables food to stay fresher, for a longer period of time.
LG's 2017 Roadshow features the Inverter Linear campaign which introduces the first-of-its-kind Malaysian Vegetable Orchestra performance by the Malaysian Buskers Club, using solely vegetables as instruments. This unique demonstration highlights the prolonged freshness of foods with the help of LG's Inverter Linear refrigerators and its Hygiene Fresh+™ filtration system. The Hygiene Fresh+™ feature eliminates contaminated air inside the refrigerator, and maintains the daily freshness of food for the whole family. LG's Hygiene Fresh+™ acts like an interior air purification system that employs a multi-layer filter to help sterilise and remove bacteria, viruses, mold spores and odors from within the fridge.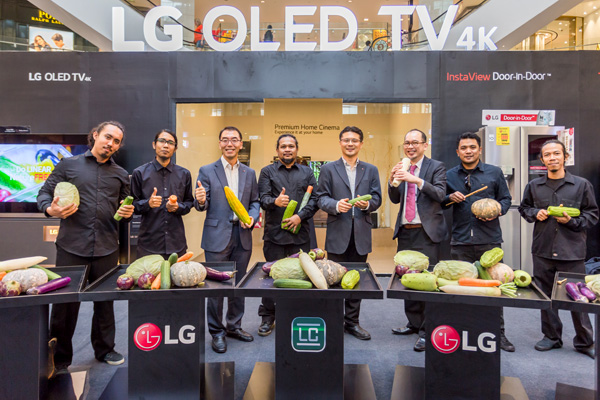 The roadshow also features other notable products namely LG's top-load and front-load washing machines, LG TWINWashTM, LG Super UHD TV with Nano Cell technology, 4K monitors and gaming monitors. Head over to Pavilion Shopping Mall Kuala Lumpur from 1 August to 8 August 2017, to experience LG's newly introduced innovations. For more information about LG Electronics, visit www.lg.com/my.
4Kentertainmenthome applianceinsta viewlcdLGoledrefrigeratorsignaturetv