Kuala Lumpur (21 August 2017) — One of the most influential, iconic and award-winning fashion designers in Malaysia and the region, Melinda Looi and Epson Malaysia (www.epson.com.my) – a global leader in digital imaging and printing solutions, came together on the runway of the Kuala Lumpur Fashion Week (KLFW) 2017 to showcase an innovative collaboration – THE INTERIORS.
Drawing inspiration from the decorative elements and components of interior space, THE INTERIORS collection looks at the curation of space with an eclectic mix of textures, patterns and colours. What makes this collection even more special is the use of Epson's digital textile printing for the 20 creations in Melinda Looi's 2018 collection that was first showcased at the KLFW 2017.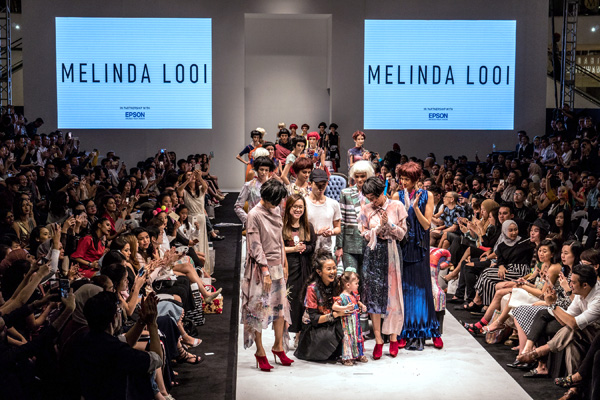 Not a stranger to using technology for her creations, Melinda Looi has been called a tech-savvy fashion brand out of Asia. Therefore, it's only natural that she wants to continue to add personal touches such as her paintings into her collection, which is why Epson came as a viable partner for her 2018 ready to wear collection.
Designed to produce high quality colour artwork that can be transferred onto textiles, Epson SureColor F-series digital textile dye sublimation printer was used by the Melinda and her creative team, to try out new, different designs, colours and effects on textile. It gave her a wide range of flexibility and speed in trying out new print ideas, without the exorbitant cost and time consuming mould or frame-making that is required for conventional textile printing.
Speaking more about how technology makes all these creative impulses possible, Melinda said: "I believe that technology adds an incredible advantage to apply innovation in the fashion industry. A number of different technologies are currently being experimented with, such as 3D printing and I did launch Asia's first 3D printed fashion collection back in 2013. We even have e-textiles nowadays, with circuits built into it."
Addressing the big trend in the fashion industry, which is 'see now, buy now', Melinda believes that digital printing makes this much easier. "We do not have to print thousands of meters of fabric, only what is needed, when is needed. In fact, I am most impressed with the quality of prints by Epson's digital textile dye sublimation printers, which is very clear, beautiful and durable on a wide range of textiles and surfaces we tried it on."
Danny Lee, General Manager, Sale & Marketing, Epson Malaysia adds: "Working with Melinda Looi, who is known for her signature avant-garde style and her penchant for marrying prints into design, was perfect to showcase the versatility and capabilities of Epson's digital textile printers and the opportunities it brings to the fashion industry"
"This collaboration continues our efforts from last year when we collaborated in a similar fashion with Zang Toi at the Malaysia Fashion Week 2016. As a leader in digital textile printing we want to support the creative industry in Malaysia to easily materialize any possible idea into a reality, and potentially, a business opportunity too." add Danny.
Seeing the capabilities of the Epson SureColour range of printers, Melinda said that it is especially ideal for Couture, which require bespoke, one-off designs. "There is no alternative to digitally printed fabrics if you really want unique prints."
Digital printing shortens turnaround time and enables printing in small volumes for customised prints, compared to traditional printing techniques, which require high volumes and long lead times. As a result, digital printing helps designers such as Melinda Looi achieve their artistic vision by translating their ideas to a range of fabrics quickly, easily and at the highest quality.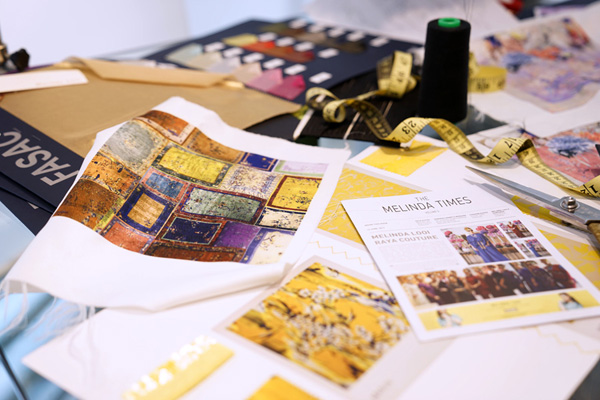 Epson SureColor F-series dye sublimation printers use Epson's proprietary technology known as Micro Piezo™ and PrecisionCore™ TFP head technology. The Micro Piezo printheads, unlike thermal inkjet systems, eject droplets of ink via mechanical pressure and do not use heat, making it compatible with a far wider variety of inks and mediums. By precisely controlling the volume of ink contained in each droplet of ink, Epson Micro Piezo printers not only generate virtually no wasted ink, they also ensure that sharp, rich and virtually grain-free images are rendered at all times.
To find out more about Epson's digital textile printing, visit pro.epson.asia.