Shah Alam (18 August 2017) — Digi recently launched the Digi Menang Bersama contest on 1st August 2017, which promises prizes of up to RM5 million to be won by using the MyDigi app and discovering the features and rewards it offers.
"The Digi Menang Bersama contest gives our customers the opportunity to 'win big and win together' with us. Not only in terms of prizes but through the digitization of transactions formerly performed in store. This enables our customers to be fully in control of their interactions – anytime and anywhere – with us and for Digi to further push the digital customer experience on the MyDigi app," said How Lih Ren, Head of iTelco at Digi.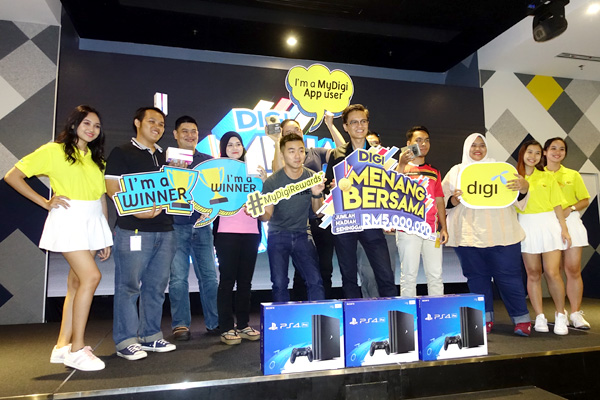 "Today, we have the highest number of mobile subscribers in Malaysia among all telcos (12 million customers). This goes to show that Malaysians love our products, they see great value in what we offer through our advanced 4G Plus network, and are eager to drive deeper with us on our digital journey as we aim to reach our ambition of becoming a digital service provider by 2020," he added.
The contest runs until 30th September 2017. Each week, participants stand a chance to win exciting prizes such as Garmin Fenix 5 Sapphire watches, DJI Spark Drones and Sony PS4 Pro consoles. 50,000 Digi Internet bonuses worth RM500,000 will also be given away to winners weekly.
To participate, eligible subscribers simply need to opt in to the Digi Menang Bersama contest on the latest version of the MyDigi App by answering a multiple choice question correctly.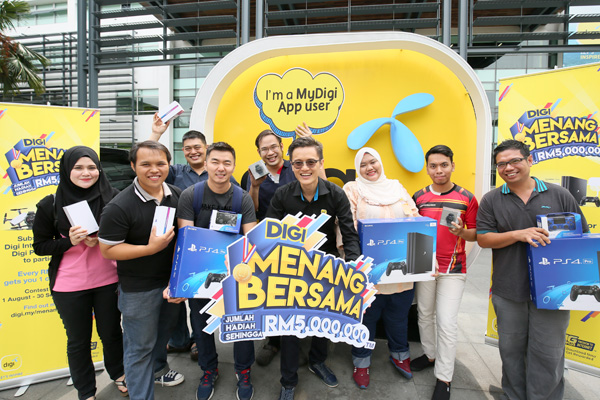 Upon successful opt-in, the eligible subscribers will earn 1 contest entry for every RM1 spent upon performing the following qualifying transactions on either a Digi Prepaid or Digi Postpaid mobile number (including Digi Broadband) for the entire contest period.
Contest entries are automatically generated for qualified transactions starting from the week that eligible subscribers opt-in. With six weeks until the end of the contest, Digi customers can opt in now by downloading the latest MyDigi app from Google Play Store or App Store to Menang Bersama with Digi!
For more information on Digi Menang Bersama Contest, log on to new.digi.com.my/promotion/menang-bersama.