"Be Cool Everyday" with Acer's Latest Innovative Gaming and Lifestyle Product Line-up
Kuala Lumpur (2 August 2017) — Acer Malaysia today unveiled its latest gaming product line-up for powerful to casual gaming, as well as a range of lifestyle devices that adds a touch of style to work on the go and to home entertainment besides offering efficient computing.
Headlining the range of new products is the highly anticipated Predator Helios 300 which features Acer's proprietary AeroBlade™ 3D fan, the latest iteration of the world's thinnest metal blade fan for advanced aerodynamics and a whopping 35% increase in airflow performance, and Acer Nitro 5 with Acer Coolboost™ technology to deliver superior cooling ability. Both devices offer a thermal solution to manage heat and keep the system running optimally at low temperatures for awesome, smooth gameplay.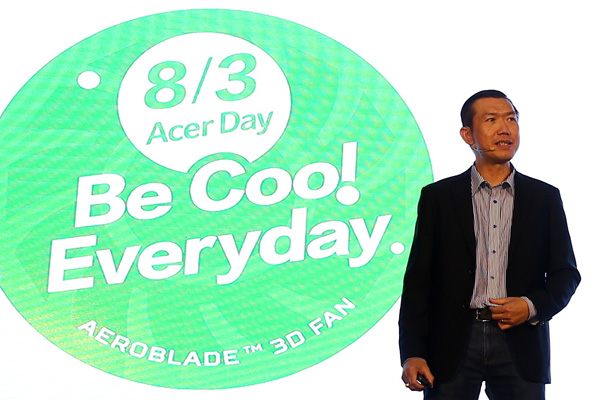 Acer Malaysia General Manager of Product, Sales and Marketing, Chan Weng Hong said, "Acer continuously offers products with meaningful innovations and superior performance, leading the industry with new technology and solutions that benefit customers. Our products are specially designed with users in mind; with improved usability to meet the real needs of our customers. We are extremely excited to introduce our new line-up of gaming and lifestyle devices with innovative features, including the all-new 3rd generation of AeroBlade™ 3D fan, Acer Coolboost™ technology and Acer LiquidLoop™ fan-less cooling system."
Acer and Microsoft have been in partnership for many years, bringing the best computing experience to consumers in Malaysia. With Windows 10, customers can now be empowered to create – especially with new features unveiled as part of the Creators Update.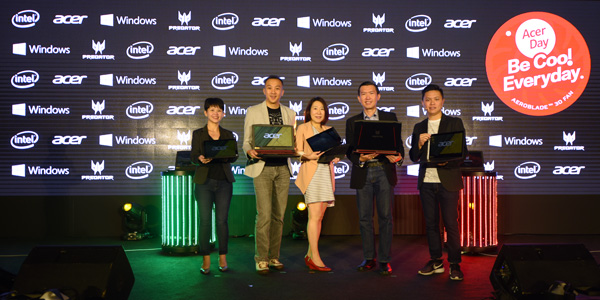 "Creativity has led the inspiration of our world's greatest inventors, architects, educators, entrepreneurs, and students, delivering advancements that move our world forward. Whether you sculpt in 3D or code, design new worlds or buildings, compose symphonies of music or science, or create ideas or possibilities – we want to empower the creator in each of us. We want Windows to be the place you love to create and play, with the tools to help you make your mark on the world," said Elsie Chong, Director, Multinational Accounts, Consumer and Devices Sales for Southeast Asia, Microsoft Asia Pacific.
As with all updates, the Windows 10 Creators Update is rolled out to existing Windows 10 customers, which provides customers with new features and security measures at no cost to them. All six new models launched will be shipped with Windows 10.
Predator Helios 300 – A Highly Accessible Powerful Gaming Laptop
The Predator Helios 300 is armed with a dual fan system that features the all-new AeroBlade™ 3D Fan with the world's thinnest metal fan blade at only 0.1 mm, to boost the thermal system and keep the laptop running at optimal temperatures. With the preloaded PredatorSense application, gamers can monitor and control their gaming experience from one central interface. Featuring Windows 10, gaming is made better and more social than ever.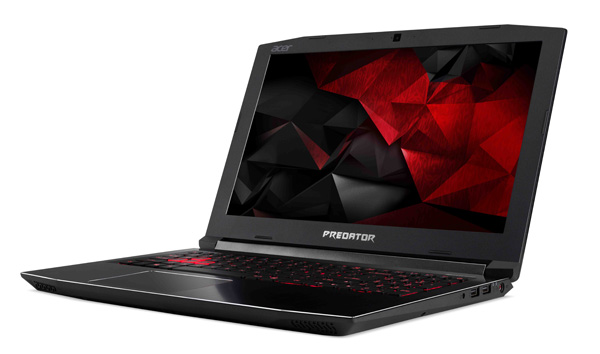 With an overclockable NVIDIA® GeForce® GTX 1060 GPU, 7th Gen Intel Core i7 (7700HQ) desktop processor and 8GB DDR4 at its core, Predator Helios 300 offers outstanding gaming and entertainment performance. This tastefully designed laptop comes with a fast 256 GB SSD and a 1TB HDD. The red metal chassis and iron red backlit keyboard provide a hardcore yet edgy look and feel to the Predator Helios 300. Users are able to upgrade memory and storage components with ease through the access compartment opening on the bottom of the laptop.
Designed as a gaming device in mind, the Predator Helios 300 is ideally suited for first-person-shooter (FPS) games. Its 15.6-inch FHD IPS display provides vibrant, vivid visuals, while Dolby Audio™ Premium and Acer TrueHarmony™ deliver immersive audio with crisp, rich surround sound quality. Skype for Business Certification ensures clear and lag-free conversations while providing a great Cortana with Voice experience.
The Predator Helios 300 connects wirelessly through fast 2×2 802.11ac technology, and it includes a Gigabit Ethernet port for those preferring a hard-wired ultra-fast connection. It also comes with a USB 3.1 Type-C port, a USB 3.0 port (featuring power-off USB charging), two USB 2.0 ports and an HDMI 2.0 connection.
The Predator Helios 300 is priced at RM5,999.00.
Acer Nitro 5 – Dream Machine for Casual Gaming
The Acer Nitro 5 comes in a matte black chassis with a hairline finish, demonstrating a sophisticated and stylish design. Powered by 7th Gen Intel® Core™ i5 or i7 processor and up to NVIDIA® GeForce® GTX 1050Ti graphics, the Nitro 5 supports up to 16GB of DDR4 2400 MHz memory and features Windows 10, the best Windows for gaming.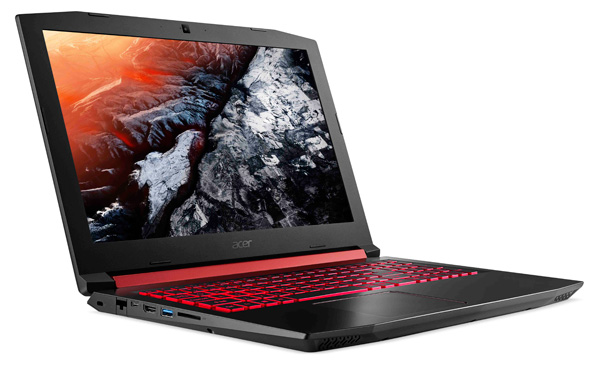 The Nitro 5 sports dual fans with Acer Coolboost™ technology to deliver superior fan speeds and cooling ability, keeping the system running optimally. It also allows users to manually control the cooling process when an added boost is required for heavy use, to deliver a smooth gaming experience.
Fast and reliable wired connections are made possible with the Gigabit Ethernet port, whereas blazing-fast wireless connectivity is achieved via the 802.11ac 2×2 MIMO wireless technology. There is also a comprehensive selection of ports available, including one USB 3.1 Type-C (Gen 1) port, one USB 3.0 port, two USB 2.0 ports, and an HDMI 2.0.
The vibrant 15.6-inch FHD (1920 x 1080) IPS display offers great visual while uncompromised audio quality for an immersive experience during gameplay or when watching movies, is enabled by its Dolby Audio™ Premium and Acer TrueHarmony™ technology.
The Acer Nitro 5 is a laptop that has managed to finely balance powerful features with sharp and stylish design for a great casual gaming experience. The Core i5 model with GTX1050 graphics is priced at RM3,299.00 while the Core i7 version with GTX1050Ti graphics is priced at RM4,699.00.
Acer Swift 3 – Stylishly Solid Performance in An Ultra-slim Form
The Acer Swift 3 which was introduced to Malaysians last year now comes with a brand new design in Stellar-Blue and Salmon Pink colors and a new 15.6" option.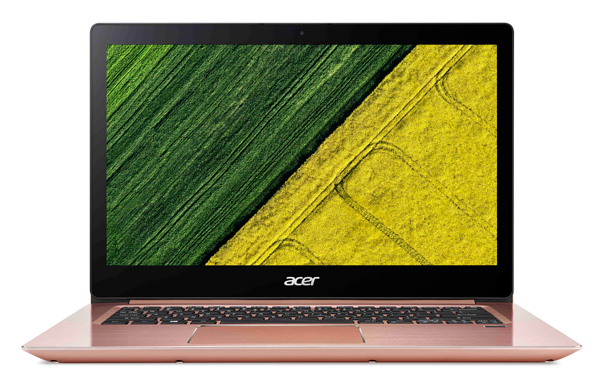 The laptop features up to 256GB SSD and up to 8GB DDR4 memory for concrete performance in a small package. With battery life of up to 10 hours and the latest 2×2 MU-MIMO 802.11ac wireless technology, users can accomplish all the tasks fast and securely as well as play while on the move. Its bright and vivid 14-inch or 15.6-inch Full HD IPS glass display makes viewing the screen easy when sitting in a cafe. The Swift 3 also features Acer Fingerprint Reader paired with Windows Hello to offer a fast, convenient and secure way to access user's Windows account, password-free!
The new range of Acer Swift 3 is priced from RM3,399.00 to RM3,899.00.
Acer Switch 5 – Quiet and Reliable with Acer LiquidLoop™ Cooling Innovation
Built on the industry-leading innovation of its predecessor, the Switch Alpha 12, the Acer Switch 5 is powered by up to 7th Gen Intel® Core™ i7 processor to deliver the top-of-the-line performance for serious tasks, presentations and entertainment on the go.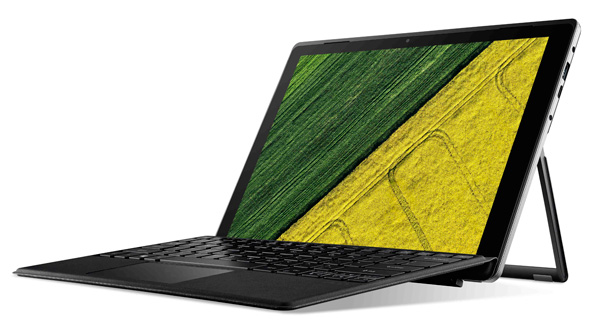 The 2-in-1 laptop provides a fan-less, quiet computing experience through Acer LiquidLoop™ cooling technology. Acer's patented auto-retracting kickstand allows for easy single-handed adjustments to the viewing angle. It also supports Windows Hello with a fingerprint reader for fast and secure access.
The Switch 5 is bundled with an Acer Active Stylus Pen on the touch screen for users to sketch, take notes or annotate documents or photos with Windows Ink, an amazing way to capture thoughts and express ideas. All these great functionalities are complemented by an excellent 10.5-hour battery life to ensure long lasting performance from day to night.
The new Switch 5 is available in two models, with either i5 processor paired with Windows 10 Home or i7 processor paired with Windows 10 Pro. The two models are priced at RM3,999.00 and RM4,999.00 respectively, with the keyboard dock included together.
Acer One 10 – A Mode for Every Moment
Powered by Intel® Atom™ x5 processor and Windows 10, the Acer One 10 is a convertible laptop that allows users to choose from four easy modes to suit usage needs — Laptop mode for typing, Pad mode for touch screen use for presentation, and Tent and Display modes for entertainment. The latch-less magnetic hinge design enables users to snap the tablet and keyboard together or pull them apart effortlessly.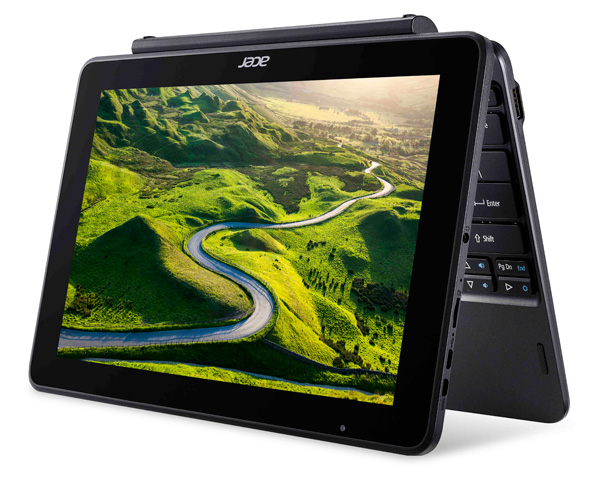 The Acer One 10 is equipped with a HD (1280 x 800) 10.1" IPS display that gives users consistent details and colour saturation when viewing the screen from wide angles, hence everything looks crisp and clear. With fast 802.11b/g/n wireless LAN connectivity and battery life of up to 10 hours, this convertible laptop definitely offers high productivity and enjoyable entertainment on-the-go.
The Acer One 10 is priced at RM1,099.00.
Acer Aspire U27 and Aspire Z24 – Quietly elegant, ultra-slim, space-saving device for home
The 27-inch Acer Aspire U27 and 23.8-inch Aspire Z24 all-in-one (AIO) desktops are powered by 7th Gen Intel® Core™ i7 and i5 processor respectively to provide a powerful and responsive Windows 10 experience, while adding a touch of style to the home environment.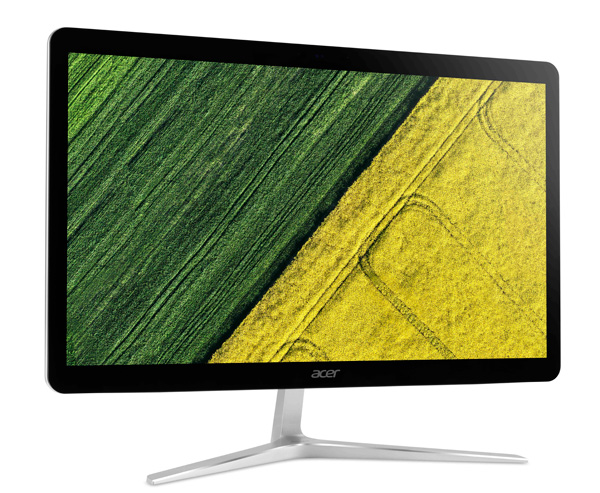 The 2017 iF Design Award-winning Acer Aspire U27 boasts an ultra-thin 12 mm chassis with an elegant diamond-cut v-shaped metal stand which is not only solid and space-saving, but is also elegantly sleek. It features Acer LiquidLoop™ fan-less cooling system which allows for quiet operation and smooth computing performance. The product's lifetime is extended by the absence of fan clogging dust, and it is energy efficient thanks to the self-driven circulation.
At 11 mm thin, the Aspire Z24 comes with a beautifully shaped rear cover. Armed with NVIDIA® GeForce® 940MX graphics and 16GB Intel® Optane™ Memory, it provides extra power for a wide range of activities, while an optical drive is also available.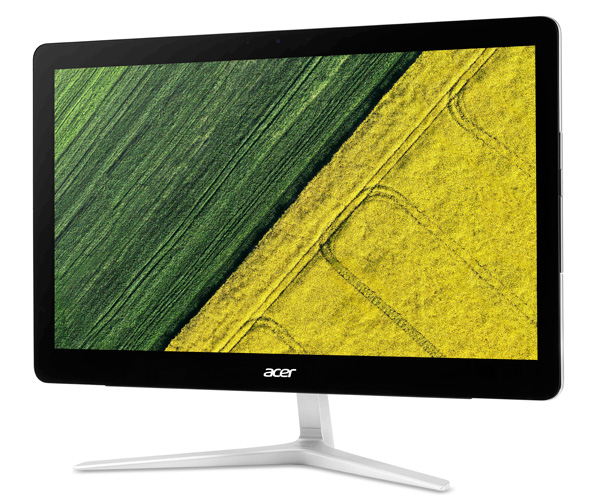 With Full HD wide viewing angle display (1920 x 1080), the Aspire U27 and Aspire Z24 feature Acer ExaColor™ technology which corrects colours and adjusts saturation and contrast for vibrant and accurate picture quality, a great benefit for those who enjoy digital photography, casual gaming, social media and content via HDMI input. Dolby® Audio™ Premium provides superior sound while enjoying movies or light gaming. Both AIOs are equipped with Acer's BlueLightShield™ and Acer Flickerless™ technology, which help minimize eye strain and cut down on eye fatigue. An ingenious leather cable management holder keeps the workspace neat and clutter-free, while a screen that tilts from -5 to 25 degrees allows for easy adjusting of viewing angles for maximum comfort when browsing, watching movies, and taking video calls.
The Acer Aspire U27 is priced at RM6,499.00 while the Aspire Z24 is priced at RM4,699.00.
All the above devices are available for purchase immediately at all authorised Acer resellers nationwide, except the Swift 3 which will be available in mid-August 2017.
"Be Cool Everyday" and Enjoy Fabulous Prizes and Freebies1 from Acer!
In conjunction with Acer Day, which is themed "Be Cool Everyday", the public can now participate in exciting daily online challenges to collect points and stand a chance to win fabulous prizes comprising Acer Nitro 5, Swift 5 and Spin 5 laptops, among others!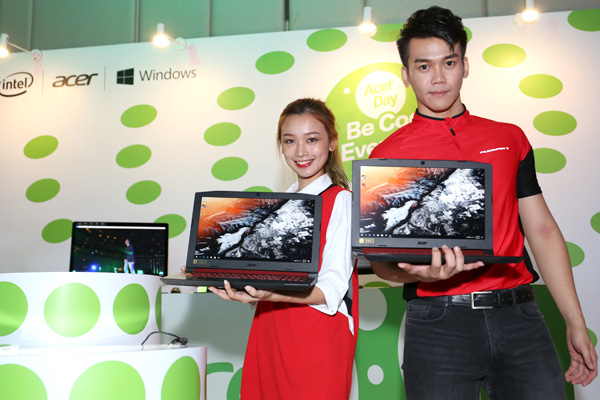 From 3 August till 30 September, customers will receive shopping vouchers to the value of RM50 for purchase of select Acer models worth below RM2,999.00. For purchases of select models worth between RM3,000.00 to RM3,999.00, customers will be rewarded with Microsoft Office 365 software, whereas for purchases of select Acer models above RM4,000.00, customers will receive a 1TB Hard Disk Drive, free-of-charge!
Those interested can visit www.acer-day.com/my for more details on the Acer Day "Be Cool Everyday" campaign.
For more information on the Acer products, please visit Acer Malaysia Facebook or call Acer's Product Infoline at 1800-88-1288 (9am – 6pm, Mondays to Fridays).
Aceracer dayaspiredesktopgaminghelioslaptopnitronotebooknvidiapredatorswift