AMD elevates Gaming Performance in Malaysia
Kuala Lumpur (4 August 2017) — Advanced Micro Devices today strengthened its commitment towards the gaming community by showcasing the power of AMD Ryzen™ CPUs and Radeon™ GPUs through two leading products: Acer Aspire GX281 and OMEN by HP Desktop. The showcase, in partnership with HP and Acer, was held in conjunction with 'We're in the Game', a week-long AMD roadshow being held at Plaza Low Yat.
Packed with the latest AMD Ryzen™ processor, and impressive graphics, the Acer Aspire GX281 delivers premium performance for faster and smoother gaming and entertainment experiences. The high-performance OMEN by HP Desktop is equipped with dual AMD Radeon™ RX 580 GPUs (In CrossFire™) that provide the graphics horsepower to run the most demanding games at maxed out settings and resolutions higher than 1080p.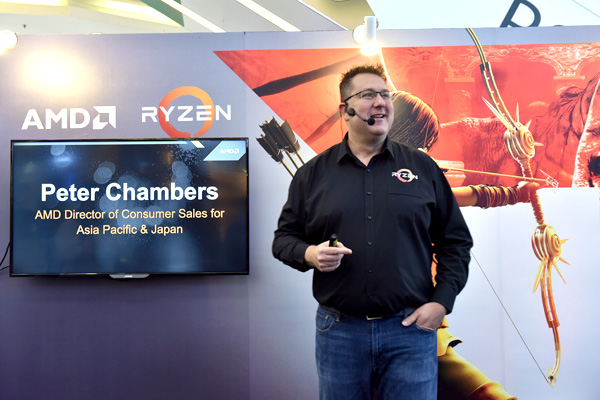 "At AMD, we work closely with our partners to develop advanced high-performance products for the gaming community. For gamers, performance and power are key to gaining the ultimate gaming experience. With that insight in mind, our dedicated research team has developed products, such as Ryzen™ CPU series and Radeon™ RX GPU, to deliver the ultimate gaming experience. Through our partnership with Acer and HP, we hope to bring the gaming experience to a whole new level." said Peter Chambers, AMD's Director of Consumer Sales for Asia Pacific and Japan.
Earlier this year, AMD announced the arrival of its Ryzen™ CPU. Best known for delivering high performance for an uninterrupted gaming and entertainment experience, Ryzen™ CPUs features up to 8 cores with 16 threads for the most ambitious competitors. The Radeon™ RX 500 series GPUs are built on 2nd generation "Polaris" architecture and represent an updated product definition for 2017 that includes higher clocks, an updated FinFET 14nm process, and the latest advances in Radeon Software.
The new lineup of Acer's series showcased today features more options to a variety of users. Offering smooth gaming performances and visually enhanced graphics, Acer's GX281 desktop, powered by AMD's Ryzen™ 7 1700x and RX 480 also gives users the ability to multi-task in an ever-demanding world.
"Acer products offers premium performance with essential features and great designs. They are always developed with users' needs in mind. These new devices will help cater to diverse needs of users, from class assignments to everyday computing." said Johnson Seet, Director of Products, Acer Sales & Services Sdn Bhd.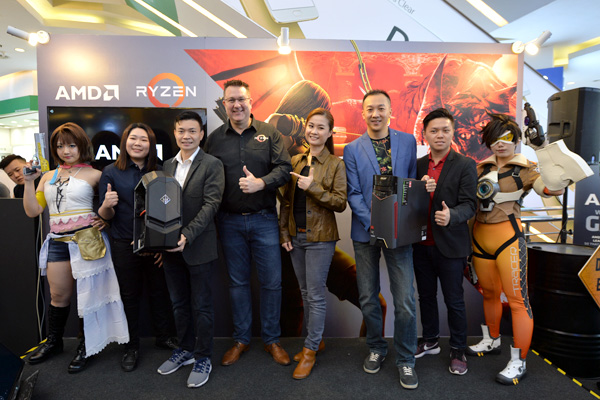 Designed to be taken into virtual battle, the latest addition to the OMEN by HP Desktop, on the other hand, is designed for hard core gamers with features to enhance usability and functionality. Armed with AMD's Radeon™ RX580s in CrossFire™, gamers may look forward to visually stunning graphics at maxed out settings, along with overclockable AMD Ryzen™ CPUs for raw computing power to handle serious multi-tasking.
Both the Acer and HP products are available at authorized resellers nationwide starting from today. Photo Journalist
Gadgets, Photography, Automobile, Lifestyle
amdcpugaminglaptopmulti corenotebookperformanceprocessorryzen