Academy of Esports Iskandar Puteri kicks off with a DotA 2 Training Bootcamp
Kuala Lumpur (21 August 2017) — The Academy of Esports (AOES), Iskandar Malaysia's first Esports education institute, was officially opened for registration from aspiring gamers and game enthusiasts; taking the future of Esports in Malaysia a step higher. During at an at Makespace, Kuala Lumpur, AOES offers certification-level education and is powered by Iskandar Investment Berhad (IIB), a key player in Iskandar Malaysia's transformation into a regional metropolis of international standing.
Kieran Lam, CEO of Academy of Esports, said, "We at AOES, are excited to be the first to launch Malaysia's full-fledged professional Esports education facility, which would enable passionate aficionados to further their career in the Esports industry. All these wouldn't be possible without IIB's assistance and continuous support in making our dream a success."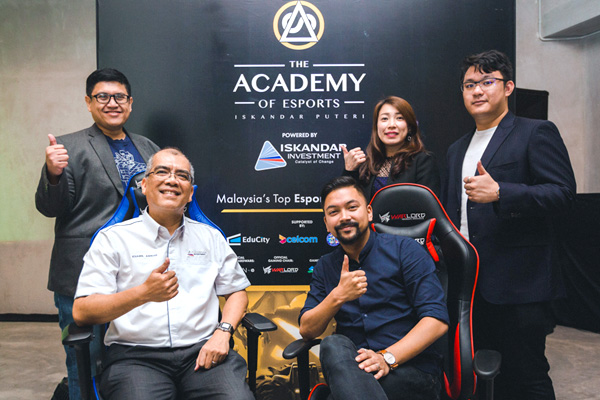 IIB's President and CEO, Datuk Ir. Khairil Anwar Ahmad concurred. "The establishment of AOES is a great advantage to all Malaysians as this is our first step in positioning Iskandar Puteri, at Iskandar Malaysia as the Esports hub of Southeast Asia. The idea of a full-fledged Esports Academy for local Malaysian talents to be discovered, polished and trained is certainly an idea whose time has come. As a Catalyst of Change for Iskandar Malaysia where education is one of our promoted sectors, the development of AOES fits very well into IIB's DNA." Datuk Ir. Khairil further added, "This initiative is one of IIB's place-making activities to establish Iskandar Puteri as the preferred destination for sports, education, lifestyle, investments and careers. IIB welcomes potential partners to join us in this new Esports hub."
The one-of-its-kind academy will kick off with a one-week, free-of-charge DOTA 2 Training Bootcamp from October 9 to December 23. The Bootcamp will be a prelude for would-be students of the academy to experience and learn the training routine of professional DOTA 2 players through the development of a winning mind-set of insights, inspiration, advice and tools; crucial elements that will improve their winning chances in the next tournament. With classes from Monday to Saturday afternoon, the Bootcamp will include programmes such as Personality Test, Scrims / Skirmishes, Post-Game Analysis & Replays, MMR/PUB and a Tournament; all overseen by reputable coaches, the likes of Wilson "ShenGG" Quak, Muhammad "Groov" Yusuf and Kieran "ZergRush" Lam, along with industry experts.
As the academy offers programs that has been endorsed and recognised by experienced players and coaches, it serves as a great platform for Esports enthusiasts in terms of career pathways, giving them the opportunity to look beyond being just professional gamers. Future students will be able to work on their gaming techniques as the bootcamp will aid them in developing soft skills such as critical thinking, problem solving, strategic planning, teamwork, conflict management, communication skills and many more.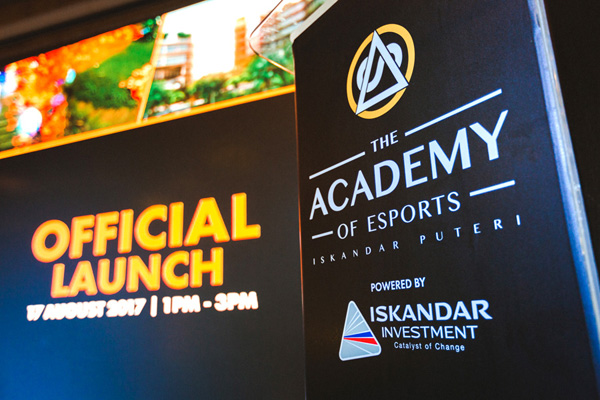 Hasnul Hadi Samsudin, of the Malaysia Digital Economy Corporation expressed, "We are pleased Malaysia is establishing a facility uniquely for gamers. The Esports is, undeniably, a growing industry and AOES will aid tremendously in providing these gamers with a solid future career in Esports."
Meanwhile, Kym Lim, Managing Director of Hewlett-Packard (HP) Malaysia, said that, "Malaysia has a good talent pool that will build a solid foundation for it to be the Esports hub of the region. HP is proud to be part of this journey and to support the growth of the local Esports community. We are confident our newly launched OMEN devices with enhanced functionality and usability will provide them the technology to succeed."
The event received overwhelming support, attended by Esports enthusiasts, DOTA professional gaming teams, DOTA gaming coaches as well as Malaysia's Department of Skills Development (DSD), Ministry of Education and Iskandar Investment Berhad representatives.
The Academy of Esports, open to Malaysians as well as international students, is proudly powered by Iskandar Investment Berhad. For more information and enrolment, please visit www.academyofesports.com.my or www.facebook.com/academyofesports.