9 to Whenever: Productivity in a New World
Cyberjaya (10 August 2017) — Workplace culture was the theme of discussion for Cyberview's second edition of its 'Starter Kit' series.
The speaker line-up consisted of individuals in both the startup and corporate spaces who shared their experiences and views in their respective workplace practice.
"In this day and age of the smartphone and the Internet of Things, many things have shifted as to fundamentally transform the business landscape. And with it also the way we work," said Mohd Najib Ibrahim, Acting Managing Director of Cyberview Sdn Bhd.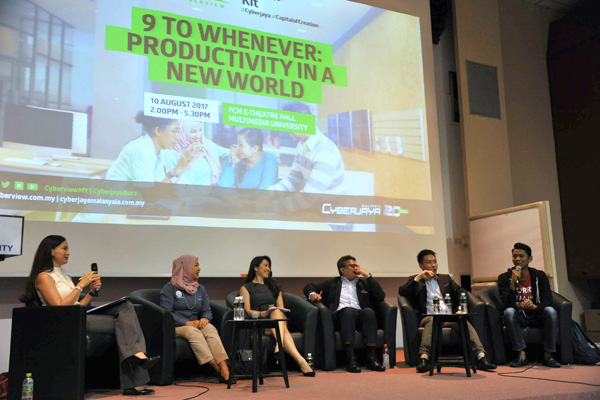 According to Mohd Najib, elements like open offices and flat organisation structures are fast becoming the norm with many corporations evolving and embracing these qualities.
Moderated by television personality Daphne Iking, the panel session consisted of Kimberly Wan, Co-founder and CEO of Otomate Me; Nadhir Ashafiq, Co-founder and Executive Director of The Lorry.com; Wilson Beh, Director of Finnext Capital; Siti Mariam, Head of Corporate Strategy of Setia Haruman Sdn Bhd; and Mahmood Razak, Head of Group Strategic Communications of DRB-Hicom.
Iking kicked off the panel session with a question on how corporate workplaces are seen to be more beneficial to employees, especially for new joiners who have just started to explore their career options.
The panellists debated and discussed on the concept of opportunities presented to fresh graduates in the workplace of their respective fields. Panellists that represented corporate workspaces were of the view that joining organisations that have been around for some time would be reflected in the established structure which would contribute to the development of individuals.
"A structured organisation would allow individuals of different personalities to flourish. For example, if you are a person who is guided by structure, then you would thrive with clear KPIs and defined roles in an organisation. Having said that, people who are more free-spirited can also influence a structured workplace," said Mahmood Razak, Head of Group Corporate Communications of DRB-Hicom.
"At the end of the day, it is about fitting your personality in the workplace culture and ultimately making it work," added Mahmood.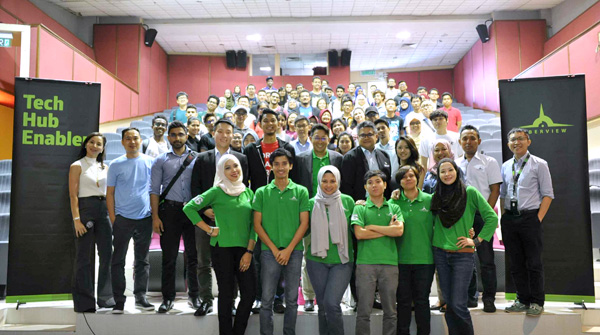 According to Siti Mariam of Setia Haruman, "In a more structured environment, there would also be more seasoned leaders in place to guide the young."
Kimberly Wan of Otomate Me and Nadhir of TheLorry.com said more often than not, being part of a startup means that the contribution of the team would be more impactful with the opportunity to be involved in various aspects of the business.
"Being part of a startup provides the opportunity for team members to wear different hats at any given time on any given day," said Nadhir.
According to Nadhir who has had a taste of the corporate life as an investment banker, "From my experience, I was a subset of a bigger agenda in my previous corporate workplace. But in a startup, you are the agenda."
"Being a startup also means that no two workdays of yours are completely similar. You will face different situations every day in which you will be given the opportunity to look at issues at hand and think of innovative and original ways in addressing them," said Wan, who launched an automated bespoke  subscription service Otomate Me late last year.
Nadhir and Wan are both alumni of the Cyberview Living Lab Accelerator (CLLA) Programme which is run out of CoInnov8, Cyberview's collaborative working space.
"I think it is important to a certain extent to strike a balance between the two workplace styles. Only then can we achieve optimum productivity," said Wilson Beh of Finnext Capital, which is the appointed programme manager by Cyberview to run the day-to-day operations of its CLLA Programme.
"The thing to note here is that workplace cultures have evolved into what they are today primarily because of technology. Our devices have changed – mobility has given us flexibility and opened up traditional workplace cultures," said Mohd Najib.
According to Mohd Najib, the one element that ensures the continuity of both workplace cultures – be it in a corporate-heavy or startup-based environment, is innovation.
"We must continue to look ahead and move forward, evolve and grow with the times," added Mahadhir.
The 'Starter Kit' series falls under the Cyberview Living Lab Talent programme with a focus on talent development and engagement. This latest 'Starter Kit' session was held at Multimedia University with 100 students in attendance.
"The 'Starter Kit' platform is created by Cyberview as a way to engage with the younger generation – to connect them with industry movers and shakers, to learn from and with them, and to inspire them. It is important to empower our future generation in guiding them to reach their full potential," said Mohd Najib. Photo Journalist
Gadgets, Photography, Automobile, Lifestyle
Businesscyberviewindustryiotpanel discussionproductivitystarter kit