The Most Used App You've Never Seen Before
Kuala Lumpur (18 July 2017) — At a media briefing today, Uber Malaysia revealed several smart innovations that can provide driver-partners with a better driving experience, earnings and flexibility. Uber Malaysia is determined to help driver-partners to take control of their time and schedule with the tools they need to make the most of every mile.
"The driver app consists of everything that is needed to manage their business at their fingertips," said Leigh Wong, Head of Communications for Malaysia and Singapore. "Drivers are able to decide how, where and when they earn." The driver app is available in nearly 50 language settings making it versatile for drivers to understand and navigate in any of the Uber cities worldwide. The revamped version of the app was launched in September 2015.
Flexibility is key
Uber discovered that most of its driver-partners are family-oriented and desire a sense of autonomy and control over their lives. "It is understandable as we find most of our driver-partners want the flexibility to earn while having time to spend with their families and also manage other daily tasks." Thus, the app acts as a guide for drivers. It is always available and works to the driver's time; whenever drivers are ready, all they need to do is open up the app and 'Go Online'.
Time is money
The features in the app help drivers make the most of their time behind the wheel. "Because time is money, and Uber recognises that, the features are designed to accord drivers the efficiency to earn the most in the time that they have," added Leigh. With intelligent dispatch, trip requests come in and it often matches the driver's current location and intended destination. The app also prompts drivers when there's a new request within the current trip's drop-off area, enabling them to shorten the wait time prior to a new request. A live heat map showing hotspots also encourages drivers to make maximum profit at a certain time of day. Turn-by-turn navigation within the app also ensures the route is not only easier to reach, but more time-saving.
Know your earnings
Wouldn't it be great to know your earnings at your fingertips? Uber's driver app tracks earnings in real time, but that's not all. Drivers are also able to get detailed reports of their weekly earnings, and how their driving patterns are compared to city averages. "The data drivers see on the app enables him or her to decide their driving pattern, and the potential they have to earn," said Leigh, "There are no surprises – drivers know exactly what their take-home amount is with a detailed breakdown."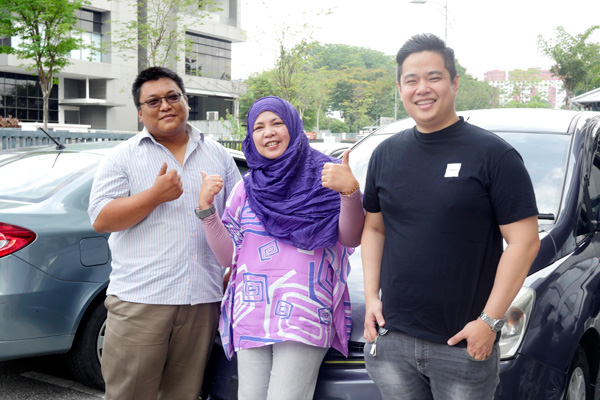 The Uber experience
A driving experience is great for Uber when both driver and rider are happy. With Uber's driver app, as also in the rider's app, ratings goes both ways; both riders and drivers rate each other after every trip. "There are wonderful things riders say because of the experiences that they get during a trip. Affirmation encourages, whereas constructive feedback ensures improvement. Either way, it's a sign of progress, keeping in mind that the quality of service should always be upheld," added Leigh.
Driver partners themselves can attest to a variety of experiences on the platform. Zaiton Alwi, 57, a part-time female driver partner who was also present today said, "Meeting people while driving keeps me young at heart," she said. Zaiton is a retiree with grown up kids, and uniquely, a former professional musician. "I still wanted to make use of my time well and found that driving with Uber was just the right fit. The flexibility to do it whenever I wanted to and earn at the same time is the reason why I chose to drive with Uber. In fact, anyone can do it if you had a car!" she quipped.
Uber's driver app has been proven to be easy to use used by millions of drivers in over 75 countries, providing a unified yet highly-personalized experience to each of its users. "Our driver-partners are pivotal to the entire Uber experience. This is why we are constantly striving to make driving better for them. With the features provided on the Uber driver app, each of them is their own boss. That, there, is the power of choice at the touch of a button," Leigh concluded. Photo Journalist
Gadgets, Photography, Automobile, Lifestyle