Schneider Electric introduces a new family member of the Compact NSX range of circuit breakers, the new Compact NSXm
Kuala Lumpur (20 June 2017) — With a focus on improving the efficiency and safety of electrical professionals, Schneider Electric™, the global specialist in energy management and automation, today announces the release of the new Compact NSXm circuit breaker and switch disconnectors. Offering robust power protection and easy installation with a Compact NSXm circuit breaker brings "efficiency that clicks" to the workday.
"In Malaysia, the number of electrical-related accidents remains high. According to the Energy Commission, over 340 accidents were registered between 2010 and 2015 with many occurring at the workplace. The new Compact NSXm circuit breaker is designed for users to monitor both energy and power, enhancing business performance in a remarkably compact device," said Soo Pow Leong, Country President of Schneider Electric Malaysia.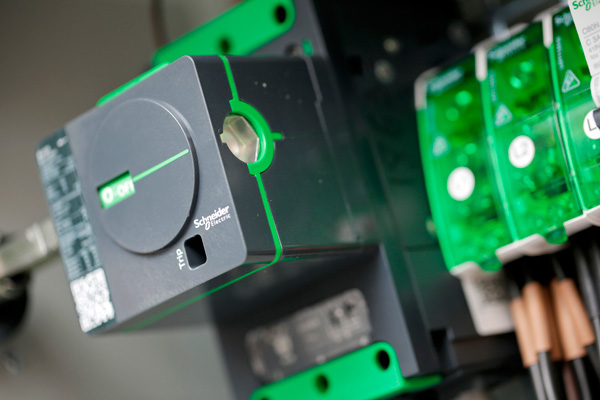 The Compact NSXm circuit breaker:
Is suited for low-voltage switchboards and panel boards, machinery, and control panels
Is a 3-pole or 4-pole unit with thermal (overload) and instantaneous (short circuit) sensing elements in each pole
Is designed to be flexible and offers built-in DIN rail and plate mount capability, while field-installable options such as rotary handles let customers easily configure the product to their specific needs.
Come with a variety of pre-wired auxiliaries for maximum customization.
Compact NSXm circuit breakers also feature EverLink™ creep-compensating technology. This patented technology ensures a lasting connection by mitigating the loosening effects of heat cycling or vibration. In addition, it shortens assembly and cabling time, and eliminates the need for compression lugs. EverLink technology is ready for use with all cable types, including flexible cables.
Innovation at Every Level of Circuit Breaker Ensures Safety
"Built with over 60 years of innovation and leadership in the production of industrial circuit breakers, the new Compact NSXm circuit breaker helps reduce the risks that electrical professionals in Malaysia are exposed to in their everyday work", added Soo Pow Leong, Country President of Schneider Electric Malaysia.
Lehdi Kismoune, Product Certification Manager, Schneider Electric "This circuit breaker is going to change the way people work."
"Top to bottom, it's made to improve your efficiency, increase safety, and let you get every job done quickly. In the field, it's going to be a pleasure to work with because of the one-click, externally visible and spring type auxiliaries and the EverLink connectors, which we think is a real game changer for panel builders and installers. OEMs that offer it in their products will know they're giving their customers the best choice, and consulting engineers will appreciate the remarkable discrimination and cascading to put together bids that win more projects and deliver better results."
The Compact NSXm circuit breaker is available from 16A to 160A, with five levels of breaking capacity: 16, 25, 36, 50, and 70kA at 415 volts. It is a Schneider Electric Green Premium product, which guarantees compliance with the most up-to-date environmental regulations.
For detailed information on the new Compact NSXm circuit breaker, including technical specifications, please visits Schneider-electric.com.my/compact-nsxm. Photo Journalist
Gadgets, Photography, Automobile, Lifestyle