Say Hello to the OnePlus 5 – Dual Camera. Clearer Photos.
Malaysia (28 June 2017) — Brightstar Distribution Sdn. Bhd., OnePlus' authorised distributor in Malaysia, today announced the availability of the OnePlus 5 in Malaysia. With the latest device in its lineup of premium flagship smartphones, OnePlus is further demonstrating its mission to share the best technology with the world.
The OnePlus 5 features the highest resolution dual-camera system on a smartphone today for clearer photos than ever before. Dash Charge, OnePlus' industry-leading charging technology, gives users a day's power in half an hour. The Qualcomm® Snapdragon™ 835 platform, coupled with up to 8 GB of RAM, provides a smooth user experience at a lower power consumption rate. The OnePlus 5 also supports 34 GSM network bands, keeping users connected around the world.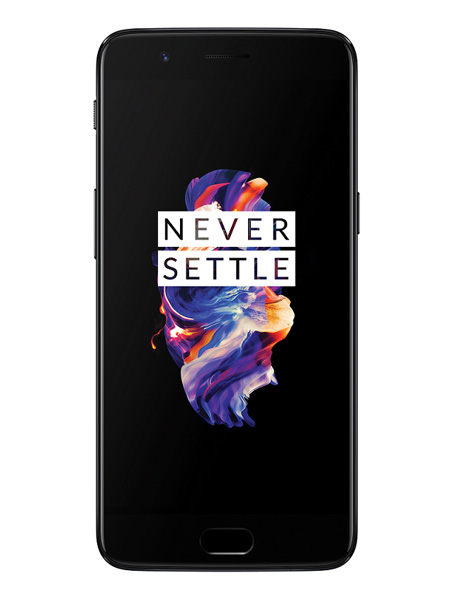 Attention to Design Detail
At 7.25 mm, the OnePlus 5, available in Midnight Black and Slate Gray colors, is the thinnest OnePlus flagship ever. The aluminum unibody features a continuous hard line around the edge of the phone. The Horizon Line, a key element of OnePlus design, casts one half of the phone in light and the other in shadow, offering an elegant, streamlined appearance. The minimalistic design is further reinforced by a new crescent-shaped antenna that blends seamlessly into the top and bottom edges of the phone. Rounded corners and edges makes the OnePlus 5 feel more comfortable in the hand.
Dual Camera. Clearer Photos.
The OnePlus 5 features the highest resolution dual-camera system on a smartphone today. A tailor-made 16 MP sensor is supported by a 20 MP sensor with a telephoto lens to accurately determine the distance between the sensor and objects in the environment. A large f/1.7 aperture allows for faster snaps and helps compensate for stuttering to improve image stabilization.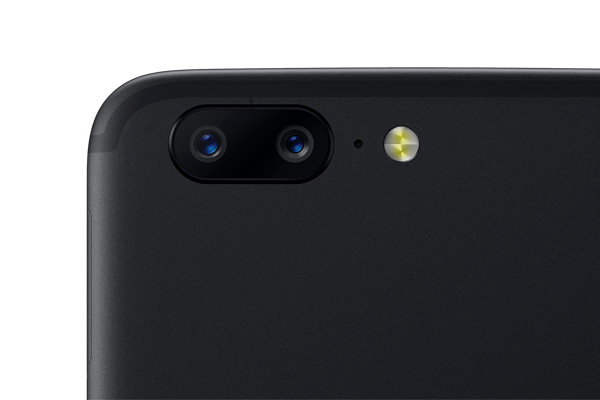 In Portrait Mode, the two sensors work together to create a focal separation between faces and backgrounds, while a custom software algorithm makes your subject clear and well-lit. This results in a professional depth-of-field (bokeh) effect that keeps faces sharp in front of a blurred backdrop. Smart Capture combines optical zoom with multi-frame technology to let you zoom in with greater clarity, while Fast AF uses the dual-camera system to more accurately calculate depth to speed up auto-focus by up to 40 percent.
The all-new Pro Mode gives smartphone users powerful DSLR features such as ISO, white balance, shutter-speed, focus and exposure modification, as well as an on-screen histogram and RAW image file support for complete control of post-shot editing.
A Day's Power in Half an Hour
First introduced with the OnePlus 3, Dash Charge is the fastest charging solution on the global market. A quick half-hour charge gives the OnePlus 5 enough power for the day. By carrying more current and shifting the power management from the handset to the adapter to keep the phone cooler during charging, Dash Charge can continue to fast charge the OnePlus 5 even when using GPS or playing graphically intensive games. The 3,300 mAh battery also lasts up to 20 percent longer than the OnePlus 3T.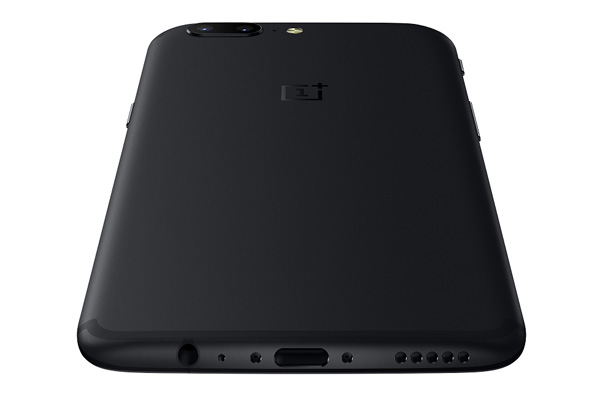 Smooth Experience
Through a combination of powerful hardware and intelligent software, the OnePlus 5 provides a truly seamless smartphone experience.
The OnePlus 5 takes advantage of the top-of-the-line Qualcomm® Snapdragon™ 835 platform that provides powerful performance while drawing up to 40 percent less power. With up to 8 GB of LPDDR4X RAM, the OnePlus 5 can run a large number of apps in the background without a single second of lag. The combination of UFS 2.1 and a new two-lane ROM results in 26 percent faster storage performance in everything from installations to loading apps and games.
OnePlus' custom operating system, OxygenOS, is designed to refine stock Android's core functionalities with features and optimizations that add value to the user experience. New updates to the OnePlus 5 include Reading Mode, which utilizes an ambient sensor and gray-scale mapping to make reading as comfortable as reading an actual book. Gaming Do Not Disturb Mode allows users to play their favorite games without being disrupted by notifications or accidental hardware button presses. With App Priority, the OnePlus 5 loads your most-used apps more quickly to further improve performance.

Pricing and Availability
Customers are able to secure their units through an early pre-order via RedClicks in Lazada (Slate Gray with 6 GB RAM / 64 GB storage –https://goo.gl/btPWtC & Midnight Black with 8 GB RAM / 128 GB storage –https://goo.gl/dJ8AQZ) and DirectD (www.directd.com.my) from now until 6th July 2017. Delivery of pre-orders is estimated within 5 workings days after availability 8th July 2017. Online pre-booking customers will get 1 complementary accessory. For more details please visit the DirectD.
The OnePlus 5 will be available for direct purchase through Brightstar Distribution Sdn Bhd authorised retailers on July 8th onwards.
You can visit www.brightstarcorp.com.my/oneplus5 for more information and retail availability.
The Midnight Black version (8 GB RAM / 128 GB storage) will sell for MYR 2,688. The Slate Gray version (6 GB RAM / 64GB storage) is MYR 2,388. Retail recommended price inclusive of 6% GST. Photo Journalist
Gadgets, Photography, Automobile, Lifestyle
androiddual cameradual lensimage stabilizationoneplusoneplus 5oxygenosphotographyqualcommsmartphone