honor 8 Pro Set to Surprise Malaysians this July
Kuala Lumpur (20 June 2017) — honor Malaysia today confirms that it will be introducing its smartest device to-date, the honor 8 Pro this July. Delivering maximum performance in a minimalist package, the stunning new flagship device sets the standard in every way – with cutting-edge processing power, long lasting battery life with two days of regular use, 5.7-inch Quad HD display with 515ppi resolution and colour gamut nearing cinematic standard and boasts a dual-lens camera that is packed into an impossibly thin 6.97mm body.
The honor 8 Pro continues to push boundaries in all fronts. The device is built with precision to match consumers ever growing demand today. With its bold tagline, "Born for Speed" we are excited to introduce yet another honor must have to the Malaysian market," said Matthew Ng, Deputy Country Director, HUAWEI Consumer Business Group (Malaysia).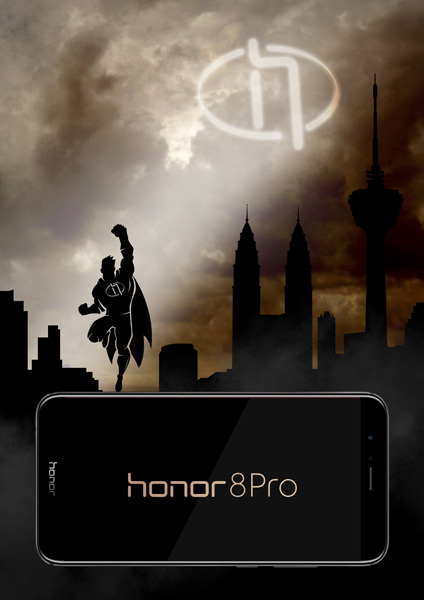 In efforts to make it a darling amongst game enthusiast, the honor 8 Pro enables the most demanding of games to run at high frame rates with minimum lag and continues to charm even in 3D – making it the perfect mobile gaming machine.
The honor 8 Pro is designed for stunning multimedia experiences. Together with honor's partnership with Jaunt Inc., the device will bring high-quality virtual reality (VR) content followed by exceptional graphic processing powered by Vulkan API.
Additionally, honor 8 Pro's combination of cutting-edge hardware and software culminates in its 12-megapixel dual-lens camera. The two lenses work in tandem to always deliver the perfect shot: the monochrome lens captures a black-and-white image with incredible depth of detail while the RGB lens ensure faithful and vivid color reproduction – and sophisticated software brings the best of two worlds together. The camera's wide aperture range (f/0.95–f/16) delivers DSLR-like depth of field effects for both photo and video shooting.
The honor 8 Pro will feature next-generation technology, improved speed, and an inspired design.  Pricing of the honor 8 Pro and the pre-order sale dates for Malaysia is yet to be determined. To receive more news on the honor 8 Pro, visit the Facebook page at www.facebook.com/HuaweiHonorMY.