Epson launches new Interactive Ultra-short Throw Projectors that bring enhanced collaboration to meetings and classrooms
Malaysia (7 June 2017) — Epson announced today the launch of its new high-end ultra-short throw projector, the EB-1450Ui, that comes packed with smart innovative features, bringing enhanced collaboration and productivity for corporate or education environments. Features include interactive whiteboard sharing, multi-location interactivity and remote desktop connectivity amongst others.
The new EB-1450Ui offers a dynamic interactive experience with an in-built 50-page digital interactive whiteboard that comes with enhanced sharing features, enabling up to 15 laptops and mobile devices within the network to view and co-create live drawings and images in real time for active collaboration. Users can scan a QR code to join, and easily access the shared whiteboard via their device's web browsers.
With the PC-less interactive functionality feature, users can write on any image projected from a non-PC source such as smart devices, document camera or Blu-ray player. Photo slide shows can also be loaded from a USB memory key in PC-free mode. Drawings on images can be conveniently shared through email, printed or saved to a PC or network drive after the meeting.
The EB-1450Ui projector delivers a dynamic viewing experience with WUXGA beyond Full HD resolution of 1920 x 1200, and an increased brightness of 3,800 lumens. The projector comes with longer lamp life of 5,000 hours in standard mode and 10,000 hours in Eco mode.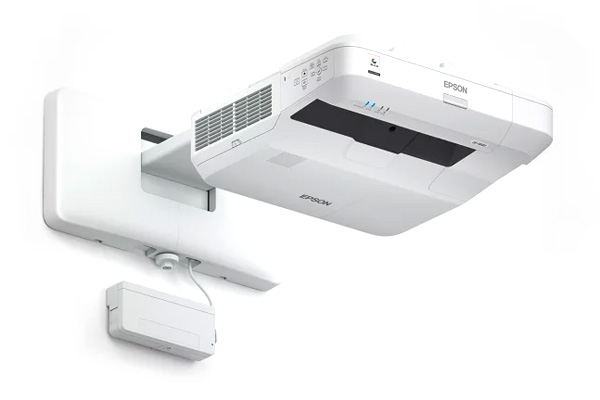 With Epson's Easy Interactive Tools 4.20 software, the projector supports up to six fingers and dual interactive pens for drawing simultaneously, enabling multiple users to write on the board at the same time for increased collaboration and participation. Users are able to select, swipe, pinch in/out and rotate images with fingers.
The projector supports seamless interactivity across dual screens. Two projectors can be paired side by side to create an ultra-wide interactive screen of up to 177-inch for the classroom or boardroom, for a larger-than-life interactive presentation. Each projector supports up to 100-inch screen size, which is much bigger than typical flat panels. Optional table mount is also available for users to create an interactive table top. With Microsoft Office Ink, users can write or draw on Microsoft PowerPoint, Excel or Word documents when connected to a PC, and the annotations can be conveniently saved in Microsoft Office file formats.
The EB-1450Ui brings advanced connectivity for ease of presentation. The Multi-PC Projection software enables up to 50 laptops and mobile devices to connect to a single projector. A host moderator PC can choose to project up to 4 screens from connected users at the same time for sharing of content in a classroom or meeting room. Users can also make use of Microsoft Remote Desktop connectivity of the projectors to conveniently access remote PCs in other locations and project content from them.
The multi-location interactivity feature allows for real-time synchronised interactivity on up to four projectors in different locations. This feature can be integrated with a video conference system for live drawings to be shared during video calls, powerfully enhancing long-distance meetings and training sessions. The projectors can also send live drawings to other projectors via a DVI video output for more audience to view the drawings.
The EB-1450Ui comes with multiple connectivity options, including two HDMI ports, one of them MHL-enabled for mirroring of Android mobile devices using MHL cable. It also comes with in-built Wi-Fi connectivity, enabling users to easily project images, documents and files from Andriod, iOS smart devices or laptops directly using Epson's iProjection app.
"With this new ultra-short throw interactive projector, once again, Epson has delivered smarter interactive projector technology to enhance the collaboration experience and productivity of users. With the innovative multi-location collaboration feature, we aim to transform the way people connect and communicate across geographies," said Danny Lee, General Manager, Sales & Marketing, Epson Malaysia.
View product video here: Photo Journalist
Gadgets, Photography, Automobile, Lifestyle