Celebrities Anzalna Nasir and Mira Filzah launch official shops on Shopee to celebrate Raya season
Kuala Lumpur (8 June 2017) — Anzalna Nasir, face of YouMe&Hunny's Raya 2017 Collection, has launched her official shop featuring 12 distinctive looks that spell feminism and bravery. "Today, e-commerce presence is crucial for any fashion brand. I'm excited to have the YouMe&Hunny Raya 2017 Collection on Shopee, as it provides me with access to more than 3 million users. As Shopee doesn't charge commission, I can pass on these savings to my fans," said Anzalna.
Actress Mira Filzah, who is also a successful entrepreneur behind the popular MF Shawls brand, has chosen to launch her much anticipated Raya collection on Shopee. "When planning to launch my Raya collection, I wanted to work with an e-commerce platform that can deliver added value to my fans. With Shopee, fans of MF Shawls can enjoy free shipping for items purchased on my official shop. In addition, I love how Shopee is expanding the reach of Muslimah brands across the nation, and I am excited to be a part of this initiative," said Mira.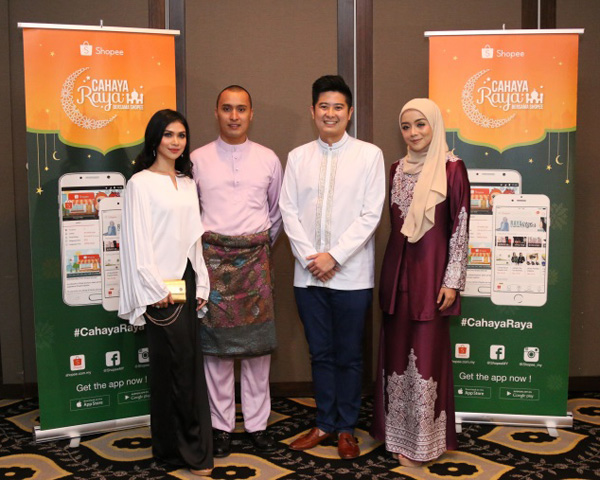 "As the 'Cahaya Raya Bersama Shopee' campaign continues to cater to Raya shopping needs, we are proud to announce that two multi-talented local celebrities, Anzalna Nasir and Mira Filzah, have chosen Shopee as their preferred e-commerce platform to launch their exclusive Raya collections," said Ian Ho, Regional Managing Director of Shopee.
Find Anzalna Nasir and Mira Filzah's official shops on the Shopee app, or visit www.shopee.com.my/anzalnanasir/ and www.shopee.com.my/mirafilzahofficial.
Shopee Welcomes the Second Half of 2017 with USD 3 billion Annualised GMV
Shopee, the largest e-commerce platform in Southeast Asia and Taiwan, has achieved over USD 3 billion in annualised Gross Merchandise Value (GMV) across the region in the first half of 2017. To date, Shopee Malaysia has garnered over 3 million downloads, making it one of the fastest growing e-commerce platforms.
"Shopee is committed to helping local entrepreneurs succeed in mobile commerce at zero cost. Regionally, this commitment saw us achieving over USD 3 billion in annualised GMV. Locally, the success can be seen from our 'Cahaya Raya Bersama Shopee' campaign that continues to outperform expectations. Our sellers are breaking new ground in sales, driven by the increasing number of Malaysians who shop online during Raya season," said Ho.
Shopee's tremendous growth is also validated by the increasing number of established brands that joined the platform, including Nestle, Unilever, L'Oreal, Oppo and Huawei. Despite being one of the youngest players in the e-commerce industry, Shopee offers more than 100 million product listings to date across the region. In Malaysia, Shopee has expanded the team to more than 200 employees as the business continues to grow.
Cahaya Raya Bersama Shopee continues to run till 30th June 2017. Watch out for the Last Minute Raya Sale that will take place from 15 to 18 June 2017 with deals up to 90% on all categories. In addition to various Raya discounts and promotions, buyers can enjoy Shopee's Lowest Price Guarantee and free shipping on a wide range of products. For more information, visit www.shopee.com.my.
Shopee is available to download for free from App Store and Google Play. Photo Journalist
Gadgets, Photography, Automobile, Lifestyle
campaignfashionhari rayamarketplaceonlineRamadanshopeeshopping