U Mobile and Sun Life Malaysia enters into Telco-Assurance Partnership making Mobile Service Provider first to offer Life Microinsurance
Kuala Lumpur (18 May 2017) — U Mobile and Sun Life Malaysia today announced their partnership to provide telco-assurance to U Mobile's base of over five million customers. The collaboration is significant for two reasons. Firstly, it will be the first time that life insurance is offered to mobile customers in Malaysia via a telco service provider. Secondly, it is also the first time Malaysians will be able to apply, subscribe and manage their life insurance coverage entirely via their mobile phone, if they are a U Mobile customer.
During the Memorandum of Understanding (MoU) signing ceremony, U Mobile's Chief Executive Officer, Wong Heang Tuck, shared that the telco is very driven by its customers' passion and has an unlimited list of ideas on how to benefit customers. He pointed out that insurance coverage is just one of the many services the telco will be launching this year. "We believe that all our customers would want to have unlimited peace of mind during their time of need. As a start, we will be partnering with Sun Life Malaysia to offer life microinsurance which provides necessary and adequate protection at low monthly premiums."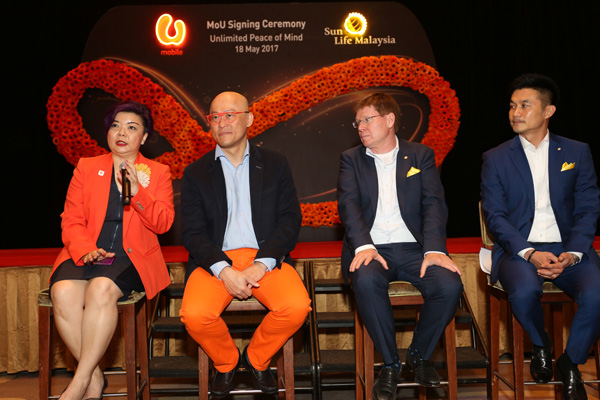 Heang Tuck added that Sun Life Malaysia is the ideal life insurance partner, "Sun Life Malaysia not only shares our challenger mindset, but also has extensive expertise in insurance product innovation which we can tap into. Together, we will be able to offer products that are suitable yet financially accessible."
Also present at the signing ceremony was Raymond Lew, Chief Executive Officer and President / Country Head of Sun Life Malaysia. He echoed Heang Tuck's enthusiasm about the partnership, and stated that five out of every 10 Malaysians do not have life insurance coverage . The collaboration with U Mobile not only increases the awareness of the importance of life insurance among Malaysians, but also increases the accessibility for customers to purchase insurance products.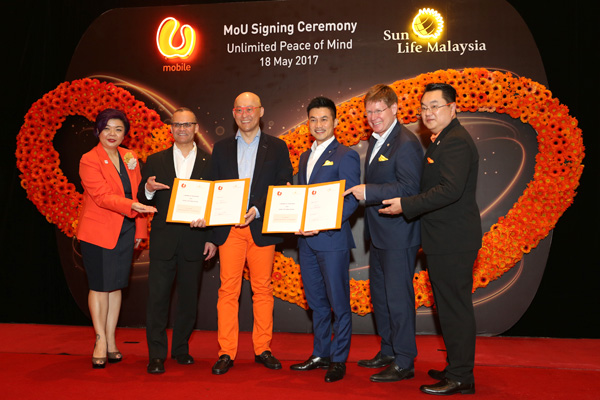 "Sun Life Malaysia's vision is to provide lifetime financial security to more Malaysians through our multi-channel distribution strategy, and we have identified telco-assurance as a key digital channel. Today's partnership marks our foray into telco-assurance and we are very excited to offer microinsurance products that are cost-effective and accessible while also supporting our government's objective to achieve an insurance penetration rate of 75% by 20202," Mr Lew added.
U Mobile will be making Sun Life Malaysia microinsurance products available to its customers from October 2017. For more information, visit the U Mobile website at www.u.com.my. The MoU signing ceremony between U Mobile and Sun Life Malaysia took place today at Berjaya Times Square Hotel.
collaborationinsurancemicroinsurancepartnershipsun lifetelcotelecommunicationU Mobile