The Moto G5 Plus: Premium for All
Kuala Lumpur (29 May 2017) — Highly anticipated and much sought after, the all-new Moto G5 Plus has finally made its way to Malaysia, offering uncompromising user experience and supreme performance. Being the first in its series to sport a head-turning metal design that looks as great as it performs, the fifth-generation Moto G5 Plus is priced at RM1,299 and is exclusively available on Lazada Malaysia immediately today.
Flaunting a combination of customer-demanded features which include a fast processor, great battery life, rapid charging, fingerprint reader, and advanced camera features, all built into a premium design, the Moto G5 Plus is an unexpected combination of functionality and affordability — simply because Motorola believes that different is better.
Lydia Foo, Country Manager for Lenovo Malaysia, said that the Moto G series has been an ultimate favourite for Moto fans around the world for many years. Ever since its official introduction at Mobile World Congress earlier this year, Malaysian customers have been asking on the availability of the Moto G5 Plus in Malaysia.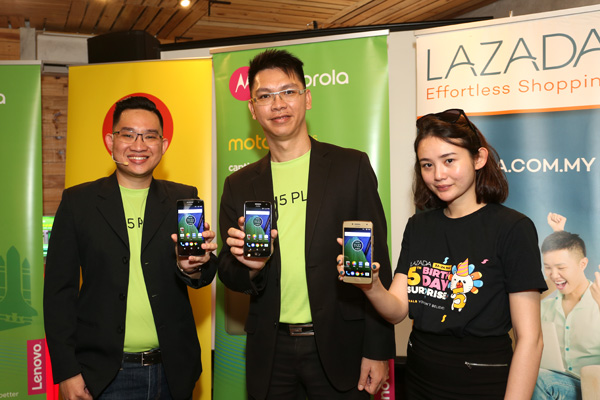 "The Moto G5 Plus takes premium up a notch with its metal design which the brand believes will extend both a premium experience and value to Malaysians. Today, we are excited to share that it is finally available in Malaysia, and those who are interested can visit the Lazada Malaysia website to pre-order," said Foo.
"Those who pre-order the phone on Lazada from now till 4 June will be entitled to a complimentary Moto Care Card, flip case and screen protector worth RM298," she added.
"Lenovo has embarked on an exclusive partnership with Lazada Malaysia since 2015, enabling consumers to conveniently access products from their official online shop-in-shop via Lazada. The launch of Moto G5 Plus on our platform is timely especially as we're in the midst of our Riang Ria Raya Campaign, happening from now until 30 June. We look forward to strengthening our collaboration with Lenovo in the upcoming months by providing our customers exclusive offers and promotions and a variety of products, all available just a click away", said Hans-Peter Ressel, CEO of Lazada Malaysia.
Premium look with metal design
The Moto G5 Plus is the first ever Moto G series phone that flaunts a premium looking durable metal casing in a high grade aluminium finish. The new 2017 design language is inspired from the premium Moto Z family and comes with a high-grade aluminum finish that's been diamond cut and bead-blasted to perfection. The device comes with a 13.2cm (5.2) screen in full HD with 1080p and Corning® Gorilla® Glass 3.
Most advanced camera in its class
The Moto G5 Plus will bring out the photographer in you by offering the most advanced camera in the series. Featuring an amazing camera sensor with Dual Autofocus Pixels, the Moto G5 Plus allows you to lock onto your subject in the blink of an eye, so you never miss a shot. This 12 MP camera with a circular saturn ring design takes beautiful photos even on dark, cloudy days. The large aperture f/1.7 and bigger pixels combine to let in up to 25% more light than the previous generation Moto G4 Plus.
Refined camera software with beautification mode
Moto G5 Plus comes with the beautification mode which allows you to enhance selfies by smoothing the skin to reduce blemishes or wrinkles. Perfect photographs are often ruined by people with closed eyes. Moto G Plus includes its signature "Best Shot" feature which captures multiple shots before and after the screen is touched, analyzing issues like blurred subjects or closed eyes, before recommending the best picture to keep. The camera also features a professional mode which allows adjustment of various aspects like focus, white balance, shutter, ISO and exposure compensation, making it a treat for photography lovers.
Never slow down
As our smartphones have become the ultimate device for almost all our work and play, ensuring enough speed to run multiple applications is crucial. The Moto G5 Plus utilizes the Qualcomm® Snapdragon™ 625 processor with a 2.0 GHz octa-core CPU and 650 MHz Adreno 506 GPU ensuring the content runs smoothly.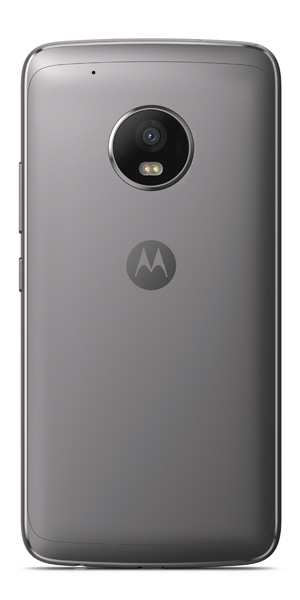 Long lasting battery
The Moto G5 Plus is built to keep up with your busiest days. With an all-day* 3,000 mAh battery, users won't have to worry about having to charge the phone mid-day. Even when you have to, the TurboPower™ charging will get you back up to speed in no time, gaining up to six hours of battery life with just 15 minutes* of charging.
Fast fingerprint reader
Keeping the information on your phone secure is very important but remembering passwords can be a pain. With the Moto G5 Plus, there won't be the hassle of constantly changing passwords for privacy and having to remember a new one every time. The Moto G5 Plus fingerprint reader makes it more convenient to lock and unlock all of your content.
Other features
The Moto G5 Plus also includes Moto Actions and a new experience: One Button Nav, which lets you quickly navigate through screens using the fingerprint reader.  Moto G5 Plus is NFC enabled, allowing for mobile payments, where it is supported. All you'll need to do is place your phone near an NFC terminal and use your fingerprint to authourise payments. It's fast and easy—and there's no need to carry cash or credit cards.
The Moto G5 Plus is available in two colour variants: Lunar Gray and Fine Gold.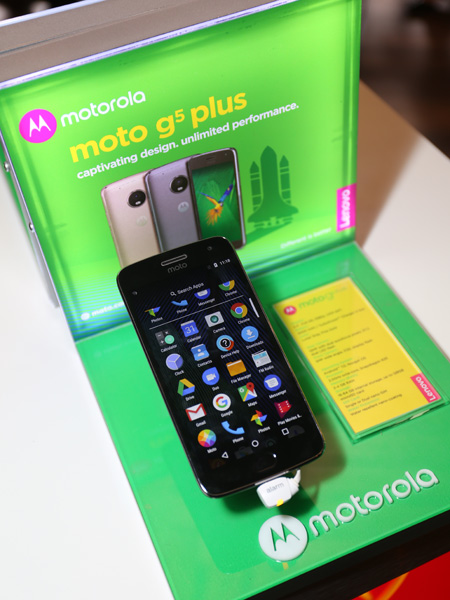 Pricing and Exclusive Availability on Lazada
The Moto G5 Plus retails at RM1,299 and will be available for pre-order from 29 May to 4 June 2017 on Lenovo Smartphone Official Store (www.lazada.com.my/lenovo-mobile), and DirectD Official Store (www.lazada.com.my/directd-official-store) on Lazada Malaysia. Units will start to be delivered from 5 June 2017 onwards.
Customers can check out the 0% installment plan offered by Lazada Malaysia as well.
Pre-Order Offers (valid from 29 May to 4 June only)

12-month extended warranty under the Moto Care Plan worth RM199
Moto Flip Case and screen protector worth RM99 (while stocks last)
Launch Offers (valid from 5 June onwards)

Moto Flip Case and screen protector worth RM99 (while stocks last)
To learn more about the Moto G5 Plus, visit the Moto Malaysia website moto.com/my or follow the Facebook page at fb.com/MotoMsia. Photo Journalist
Gadgets, Photography, Automobile, Lifestyle