Bangsar (26 May 2017) — Panasonic is proud to introduce the new LUMIX GH5 – the latest flagship model of LUMIX G Digital Single Lens Mirrorless cameras based on the Micro Four Thirds system standard.
The new 20.3-megapixel Digital Live MOS Sensor without low-pass filter combines with the new Venus Engine to achieve highest-ever picture quality in resolution, color reproduction and noise reduction even in max. ISO 25600 high sensitivity image recording. The 5-axis Dual I.S. 2 boasts even more effective suppression against blurring. The new GH5 again evolves to achieve 4K 60p / 50p ultra high-definition, smooth, video recording for the first time as a Digital Single Lens Mirrorless camera without a time limit, while the newly added 6K PHOTO makes it possible to capture unmissable moments at 30 fps by extracting the frame with the best timing out of the 6K burst file (in 4:3 or 3:2 aspect). In order to make the GH5 tough enough to withstand even heavy field use, it is composed of a magnesium alloy full die-cast front / rear frame which is splash proof, dustproof and freeze proof down to -10 degrees. An omni-directional joystick enables more intuitive and flexible operation, which is also a first on LUMIX G cameras.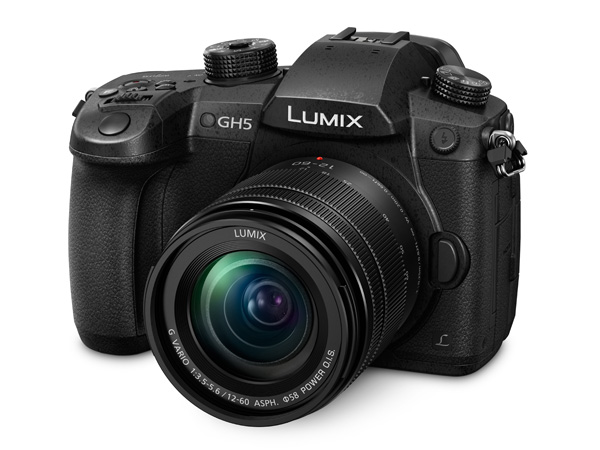 Defying all the general concepts of what a mirrorless camera can do, the LUMIX GH Series has reached a number of milestones with this introduction. Packing a host of innovative advancements in picture quality, response and performance into an unimaginably small-sized body, the new LUMIX GH5 opens the door to a new stage of photographic and cinematographic culture.
Unprecedentedly high picture quality in the history of LUMIX cameras
The LUMIX GH5 combines the new Digital Live MOS Sensor and new Venus Engine to achieve highest-ever image quality in the history of LUMIX G digital cameras. Greater detail is achieved by this new High Sensitivity MOS Sensor not only by increasing the resolution from 16.05-megapixel (GH4) to 20.3-megapixel, but also removing the low-pass filter.
The image processor Venus Engine is also new on LUMIX GH5. Multipixel Luminance Generation renders clear, sharp images by using 9x larger area of pixel information during demosaic process for precise detail reproduction. With Intelligent Detail Processing, the characteristic of every single pixel is analyzed to detect whether the pixel is located at a flat, detail or edge part of the picture. Optimum processing according to the characteristic of each pixel is then applied. This results in a high-precision yet natural image description with stunning detail suppressing false colors at its edges. On the other hand, Three-dimensional Color Control detects not only hue and saturation but also brightness, and applies optimum control according to the value of each factor. This achieves rich color reproduction from dark to bright parts of the image. The conventional Multi Process NR (Noise Reduction) is upgraded to High Precision Multi Process NR. It boasts 4x the noise identification accuracy and preserves details even after the noise reduction process. As a result, max. ISO 25600 high sensitivity photo can be clearly shot.
The LUMIX GH5 incorporates the 5-axis Dual I.S.(Image Stabilizer) 2 which has advanced to boast even more powerful and effective blurring suppression. Combining an O.I.S.(Optical Image Stabilizer, 2-axis) and B.I.S.(Body Image Stabilizer, 5-axis), it compensates for larger movements which were conventionally uncontrollable. The LUMIX GH5 includes a high-precision gyrosensor that controls both the O.I.S./B.I.S. compensation by studying the focal length and shooting conditions, making it possible to use a max.5-stop slower shutter speed. By making the most of both O.I.S and B.I.S., it is highly beneficial not only in wide-angle but also in telephoto shots and in adverse situations, such as at nighttime or with one-handed shooting.
The 5-axis Dual I.S. 2 works for both photo and motion picture recording, including 4K video. Panasonic LUMIX G DSLM (Digital Single Lens Mirrorless) Cameras offer a wide variety of digital interchangeable lenses and most of them will support the 5-axis Dual I.S. in the LUMIX GH5. The B.I.S. compensates for camera movement even when a lens without O.I.S. (e.g. a cine lens) is used.
The world's first Digital Single Lens Mirrorless (DSLM) camera recording 4K 60p / 50p and 4:2:2 10-bit 4K 30p / 25p to meet professional quality standard
The LUMIX GH Series created an epoch-making industrial sensation by achieving outstanding video recording performance with advanced features that meet professional quality levels and standards. The signal readout speed is accelerated by max.1.7x in the new Digital Live MOS Sensor, and the new Venus Engine processes the signals at a max.1.3x higher speed. This synergy realizes 4K 60p / 50p ultra high-definition, smooth, video recording for the first time in a Digital Single Lens Mirrorless camera*1.
The new LUMIX GH5 again evolves to achieve 4K 60p / 50p video recording. It is also capable of internal 4:2:2 10-bit video recording, which is a color subsampling commonly used for film production, for even more faithful color reproduction. The High Sensitivity MOS Sensor and Venus Engine realize high-speed readout of full digital signals and the image quality is outstandingly high for every single frame. 4K 60p / 50p digital signals in full resolution are read out and the images are not cropped. This enables to keep the focal length in video recording same as that in photo shooting. The rolling shutter is also suppressed with the high readout speed when recording video or using an electronic shutter. Users can freely choose the format from MOV, MP4, AVCHD Progressive and AVCHD at a variety of frame rates according to the usage [Figure#1] and there is no recording time limit for both FHD and 4K video. For the global needs of professional users, the system frequency can also be flexibly selectable between 59.94Hz  / 50.00Hz / 24.00Hz.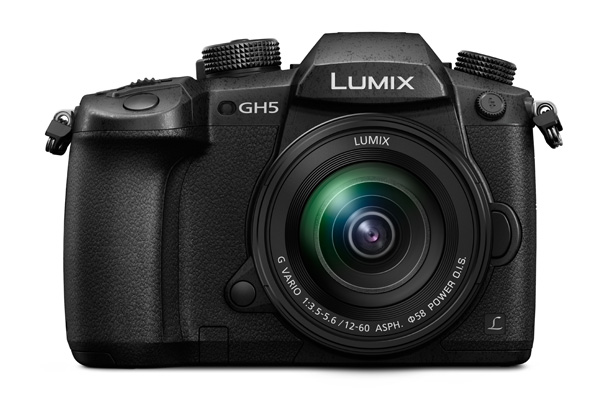 To elevate the video expression even more, a variety of effects are available on the LUMIX GH5. The VFR (Variable Frame Rate) lets users record overcranked / undercranked video in 4K (60 fps, maximum 2.5x slower) and FHD (180 fps, maximum 7.5x slower) [#Figure2]. The minimum frame rate for quick motion video is 2 fps. Time Lapse video can also be produced inside the camera. A Focus Transition function is also added, which moves the focus from subject to subject as set in advance automatically. It can add visual guidance to the target subject or motion on the static scene.
While "Cinelike D" and "Cinelike V", which have similar gamma setting characteristics for film production, are available in Photo Style for video recording, the LUMIX GH5 provides "Like709" for compatibility with HDTV. In "Like709", Knee Control is also effective. And Panasonic offers a paid software upgrade service for the LUMIX GH5 to support V-LogL video recording with the purchase of the Upgrade Software Key DMW-SFU1. Log recording offers exceptional flexibility as well as a wider dynamic range for color grading in the post-production process, and V-LogL features log characteristics with 12 stops of dynamic range. Use of Upgrade Software Key activates a LUT (Look Up Table) in the camera so users can play videos recorded in the V-LogL on the LUMIX GH5.
The LUMIX GH5 is capable of simultaneous recording/outputting 4:2:2 10-bit video data in virtually any recording mode. Users can choose to output the data with the menu or OSD information when they output video to an external monitor, or without them to the external recorder. For the terminal, HDMI Type A is provided. Plus, a cable lock holder for the HDMI cable is included in the LUMIX GH5 to prevent unplugging trouble on location.
There are a host of practical features in LUMIX GH5. In response to requests from professional users, Waveform Monitor and Vector Scope are available. It also embeds SMPTE-compliant Time Code either in Rec Run or Free Run count-up methods, which makes it easy to synchronize multiple videos or sound sources in the post production workflow. Luminance Level can be selected between 64-1023 / 64-940 / 0-1023 (10-bit). Synchro Scan mode suppresses flicker. It offers a Master Pedestal adjustment with ±15 steps. Color Bars (SMPTE / EBU / ARIB Standard) are also available.
In addition, the LUMIX GH5 incorporates a dedicated microphone to monitor and cancel the noise caused by mechanical movements inside the camera and lens such as that of B.I.S.. The result is a reduction of mechanical noise by -10dB, achieving clear, high-quality sound recording.
New AF system with advanced DFD Technology never miss a once-in-a-lifetime moment
The DFD technology calculates the distance to the subject by evaluating 2 images with different sharpness levels while consulting the data of optical characteristics of the current lens in a moment. Panasonic's combination of the Contrast AF with DFD (Depth From Defocus) technology was further advanced in LUMIX GH5 in the performance of catching and tracking the moving subject by analyzing the form, size and even motion of the subject comprehensively.
Empowered by the new Venus Engine, the time for measuring the distance to the subject achieves 6x higher-speed while factorizing the distance into in-plane or in-depth with 2x higher-performance. Plus, the motion compensation circuit is added to achieve higher tracking performance against moving subject. This makes it possible to lock onto target subjects in situations where plural subjects make complicated, unpredictable motions in such as with sports and wildlife.
The speed of sensor drive during auto focusing in photo shooting is also improved to achieve 480 fps, which is 2x faster than that of GH4. Consequently, the GH5 realizes ultra high-speed AF of approximately 0.05 sec and 12 (AFS)/9(AFC) fps high-speed burst shooting using a mechanical shutter in full resolution.
For more precise focusing, the focus areas are increased from 49 to 225-areas on the LUMIX GH5 in addition to the conventional Face/Eye Recognition, Tracking AF, 1-area AF and Pinpoint AF. Users can make a group of 225 focus areas and move or change the size of it as they like according to the composition. All focusing operations are easily controlled with the newly adopted joystick located on the thumb position without taking the eyes off of the subject even when using an LVF or releasing the finger from the shutter button. The LUMIX GH5 is equipped with AF Custom Settings with which users can set AF Sensitivity, AF Area Switching Sensitivity and Moving Object Prediction Level. Four patterns of presets parameter are also available for frequently used situations.
To avoid missing those fleeting photo opportunities, the new 6K PHOTO*3 makes it possible to capture the unmissable moments at 30 fps by extracting the frame with the best timing out of a 6K burst file (in 4:3 or 3:2 aspect) to save as an approx.18-megapixel equivalent high resolution photo. The 4K PHOTO is also upgraded to enable 60 fps high-speed capture in approx.8-megapixel equivalent resolution.
In 6K PHOTO /4K PHOTO, three exclusive modes can be chosen from depending on the situation; 6K Burst / 4K Burst, 6K Burst (Start/Stop) / 4K Burst (Start/Stop) and 6K Pre-burst / 4K Pre-burst.
The new High Sensitivity MOS Sensor helps to suppress the rolling shutter effect. Plus, the Venus Engine makes it possible to apply Post Recording Refinement over the pictures to correct distortion and reduce noise when playing back or cutting images out of the 6K burst file / 4K burst file by compensating the signal information between the consecutive frames. As a result, the picture quality of 6K PHOTO /4K PHOTO shot at high shutter speed in high sensitivity or those shot when panning are dramatically improved.
High mobility and rugged design for heavy field use
To be tough enough to withstand even heavy field use, the main structure is composed of a magnesium alloy full die-cast front/rear frame. Secure construction and a sealing for every joint, dial, and button make the LUMIX GH5 not only splashproof and dustproof but also freezeproof down to -10 degrees.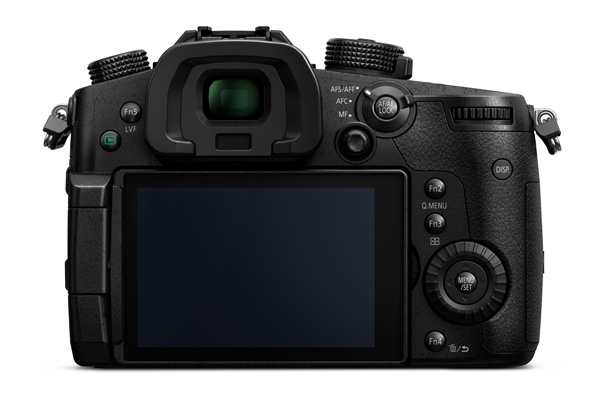 The LUMIX GH5 is equipped with a double SD Memory Card slot compatible with high-speed, high capacity UHS-II for the first time in LUMIX digital cameras. Users can flexibly choose the recording method from Relay Recording, Backup Recording or Allocation Recording. In Relay Recording, the data will be written on the SD Memory Card in the second slot when the SD Memory Card in the first slot is full. The content will be written in both SD Memory Cards in the first and second slot simultaneously in Backup Recording. In Allocation Recording, data is automatically allocated to the SD Memory Card in the designated slot by the type of content – RAW, JPEG, 6K PHOTO / 4K PHOTO, or 4K video data. For example, users can store only photos on the SD Memory Card in slot 1 and videos in slot 2. Moreover, both slots are equipped with access lamps so users can tell which SD Memory Card is under writing and which can be ejected at a glance.
The LUMIX GH5 has a large LVF (Live View Finder) with a stunningly high magnification ratio of approx.1.52x / 0.76x (35mm camera equivalent). High-precision, high-speed OLED (Organic Light-Emitting Diode) display features 3,680K-dot high resolution and 100% field of view. Adoption of OLED for the LVF achieves high speed response with minimum time lag of less than 0.01 sec as well as 10,000:1 high contrast for exceptional visibility. With an eyepoint of approximately 21 mm, it offers high visibility with comfort for users wearing glasses. It is always sharp and clear from the center all the way to the corners. Adopting a static-type touch control system, the 3.2-inch free-angle rear monitor in 3:2 aspect with 1,620K-dot high resolution features approx.100% field of view. It uses a pixel structure of RGB (Red / Green / Blue) and White to feature even higher visibility in sunny outdoor scenes. It tilts up and down by approx.270-degree which makes shooting at either high or low angles even easier.
The shutter unit is also durable for approx. 200,000 cycles. It offers the highest shutter speed at max. 1/8000 sec not only to capture spur-of-the-moment, fast moving subjects and to use a high-speed lens with a fully open aperture even outdoors for impressive defocusing. The external flash can be synchronized with max.1/250 second shutter speed.
Expandability for a variety of workflows, optional accessories
・Bluetooth 4.2 and Wi-Fi 5GHz (IEEE802.11ac) / 2.4GHz (IEEE802.11b/g/n)
The LUMIX GH5 integrates Bluetooth and Wi-Fi® connectivity to offer a more flexible shooting experience and instant image sharing with easy operation. Once the camera is connected to a smartphone or tablet installed with Panasonic's dedicated application software Panasonic Image App for iOS / Android, users can shoot, browse and share images remotely. Compatibility with Bluetooth 4.2 (called BLE: Bluetooth Low Energy) enables constant connection with a smartphone/tablet with minimum power consumption. This enables the camera to activate by simply using a smartphone/tablet or to add GPS geotag on the photos automatically. Furthermore, the settings of a LUMIX GH5 camera can also be copied and transmitted wirelessly to other GH5 cameras when using multiple GH5 cameras.
For the Wi-Fi, 5GHz (IEEE802.11ac) is effective in addition to the conventional 2.4GHz (IEEE802.11b/g/n. This provides even secure and stable connection not only with a smartphone/tablet but also with other devices on location for smooth remote control. Transmission speed of photo/video data is also increased up by using the 5GHz-band*.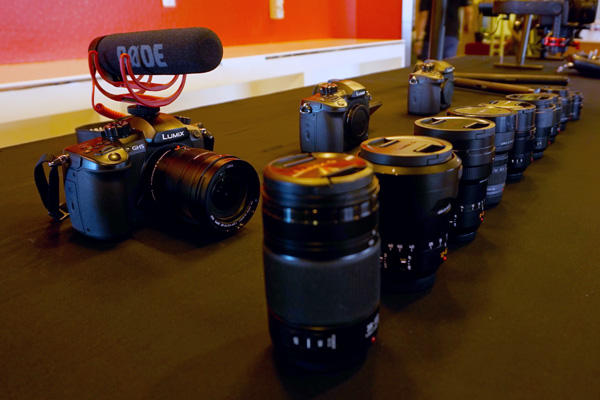 ・Battery Grip DMW-BGGH5
The LUMIX GH5 is compatible with the new Battery Grip DMW-BGGH5. By using two batteries, one in the camera and the other in the grip, the DMW-BGGH5 extends the battery life for longer shooting time. It also makes handling more comfortable even in vertical angle shooting. It also provides intuitive operation with a joystick. Exclusively designed for the LUMIX GH5, the DMW-BGGH5 perfectly matches the camera, boasting a rugged, splashproof, dustproof and freezeproof design.
・XLR Microphone Adaptor DMW-XLR1
The Microphone Adaptor DMW-XLR1 is a plug-in type adaptor for an XLR microphone to record high-quality stereo sound. It enables 4K video recording with high-res 96kHz/24bit sound*. It is ideal for lip-sync recording. Dedicated switches allows direct, quick control. MIC, LINE and Condenser are switchable.
Firmware updates
The LUMIX GH5 is ready to evolve even further. Functional upgrades are scheduled as follows:
April, 2017
Full HD 4:2:2 10bit video recording capability.
In the second half of 2017
400-Mbps 4:2:2 10-bit All-Intra video recording in 4K 30p/25p/24p and 200-Mbps Full-HD.
High resolution video recording in Anamorphic mode.
4K Hybrid Log Gamma in Photo Style mode which enables popular 4K HDR video recording.
USB tethering
A new shooting experience made possible with advanced LUMIX technologies
The LUMIX GH5 comes with the Post Focus function that enables users to select the in-focus area even after shooting. This is helpful in situations like macro shooting where strict focusing is required or for changing expressions by changing the focused subject. This function was developed by combining the high-speed, high-precision DFD (Depth From Defocus) auto focus technology and 6K PHOTO / 4K PHOTO technology. Now the Post Focus menu is available on the mode dial for users to activate more quickly.
The Focus Stacking function enables users to adjust the depth of field after shooting by combining multiple images shot with the Post Focus function in the camera. Users do not need to strictly focus while shooting as they obtain images with the level of defocusing they want or pan-focus images by simply selecting the focus area after shooting. This is beneficial when shooting macro shots of insects, small accessories and so on.
In addition, the LUMIX GH5 provides the Light Composition function as a new option of 6K PHOTO mode. The camera synthesizes the images by choosing and saving brighter pixels. This makes it possible to produce more luxurious, dramatic images of situations such as fireworks or night scenes inside the camera with ease.
Other Features
・A variety of shutter type to choose from
Users can choose shutter type and speed according to the shooting situation. Max.1/8000 sec high speed shutter can be released with mechanical shutter. The electronic first-curtain shutter can be used at a shutter speed of max.1/2000 sec with minimum shutter shock. It can also be used with an external flash. It is also possible to release the electronic shutter with no noise at max.1/16000 sec.
・Exposure / WB / Focus / Aperture Bracket
In the LUMIX GH5, a Focus Bracket and Aperture Bracket are new additions to the conventional Exposure Bracket and WB Brackets for users to choose the best shot after shooting. In Focus Bracket, max.999 images can be shot with different focus points. The Aperture Bracket lets users have multiple shots with different depths of field.
The Choice of Professionals
At an event in Kuala Lumpur hosted by Panasonic to showcase the new LUMIX GH5, award-winning documentary filmmaker and Panasonic's global brand ambassador for Panasonic LUMIX GH5, Griffin Hammond, was present to share with the guests on his masterpieces with LUMIX GH5. Griffin also conducted a live demo using the LUMIX GH5 during the event. At the same event, local film director Wong Sai Meng shared insights into the works of a cinematographer and the photography equipment that play an important role in filmmaking.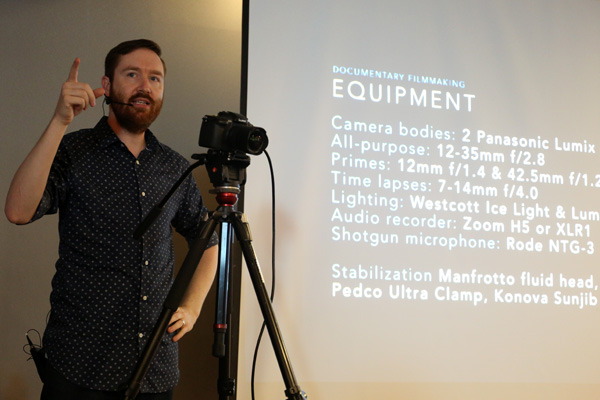 About GRIFFIN HAMMOND
Griffin Hammond is a documentary filmmaker in New York City, known for producing DIY filmmaking tutorials for indie filmmakers, and his award-winning documentary Sriracha. Since 2010, he has shot with the Panasonic GH1, GH2, GH3 and GH4 cameras. In 2016, he was appointed by Panasonic as the global brand ambassador for the Panasonic LUMIX GH5. In 2014, Griffin moved from Bloomington, Illinois to New York City to cover the U.S. presidential election for the Bloomberg Television/MSNBC show With All Due Respect.
The University of Southern California and the U.S. State Department named Griffin a Film Envoy for the 2017 American Film Showcase—a cultural diplomacy program that sends independent filmmakers around the world to teach.
He has previously worked for YouTube Next Lab, as executive producer of the YouTube channel Indy Mogul, and started his career as a video producer and social media strategist at State Farm Insurance.
Griffin studied film at New York University, earned a Masters in Communication from Illinois State University, taught video production at Millikin University, and produced an online course—Shooting Documentary Short Films.
About WONG SAI MENG
Wong Sai Meng is a Film Director who writes his own material. A founder and former creative director in an established creative agency in Malaysia, his strength lies in the ability to conceptualize creative solution through motion picture. Sai Meng has vehement passion in story-telling, creating splendid pictures. He often directs and holds the role of director of photography on his creative projects.