Malaysia welcomes the Next Innovation in TV: Samsung's New QLED TV
Kuala Lumpur (16 May 2017) – TV has been an essential part of our daily life throughout generations. The evolution of TV has redefined how the world experiences visual enjoyment at home. Samsung Malaysia Electronics today introduced the all-new premium line-up of QLED TVs that brings true colours to life, elevating your viewing experience to the next level. This next innovation in TV embodies advanced cutting-edge technology, redefining the very meaning of stunning picture quality, seamless smart TV experience and sophisticated design for every modern lifestyle.
"As the global TV market leader for 11 consecutive years, we are thrilled to be leading the TV industry into a world of Quantum dot-powered displays featuring the best picture quality with 100% colour volume for superior viewing experience. With state-of-the-art style, smart features and picture quality, our 2017 QLED line-up is truly ushering in a new era for television," said Jimmy Tan, Head of Consumer Electronics Business.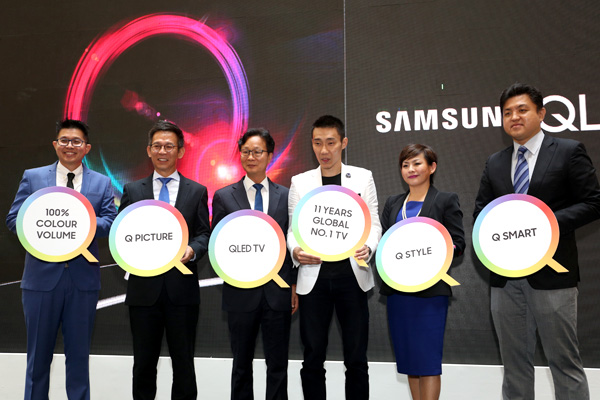 Q Picture: All Shades of Colour Brought to Life
The QLED TV is the first in the world that are capable of reproducing 100% colour volume. The rich colour volume projects nearly all the colours our eyes see every day. For example, a leaf can be perceived as different colours, from yellowish green to turquoise, depending on the brightness of the light. The Samsung QLED TV can capture even the subtlest differences in colour pertaining to brightness – something that is not easily depicted in traditional 2D colour space – thus delivering the truest HDR picture quality as the director intended.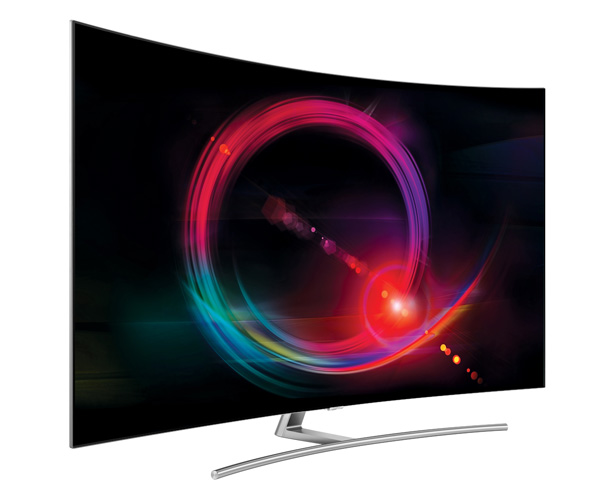 Thanks to the new metal alloy of Quantum dot material in the Samsung's QLED TV, it expresses deep blacks and rich detail no matter how light or dark the scene is, or whether the content is being played in a brightly lit or darkened room. Regardless of how wide the viewing angle may be, the display's enhanced picture quality is maintained. To put it simply, every seat is a great seat, even if you're sitting in the wings or fitting everyone into the family room for a movie night.
Q Smart: Manage All Devices and Content with Just One Remote Control
With the new and enhanced smart features, Samsung's QLED TV enables its viewers to watch what they want, when they want it – more easily and intuitively than ever before. Using the One Remote Control, it simplifies the viewing experience by removing the need for multiple remote controls. Its auto detection capabilities automatically toggle between the devices for you so you don't need to do the guesswork and only focus on one thing, fun. The One Remote Control is enhanced with voice control and an intuitive design with just a few buttons the allow users to quickly and comfortably access essential television functions and contents.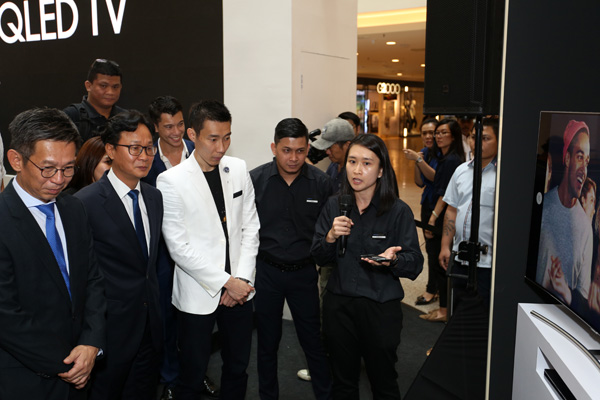 Taking seamless navigation and multitasking to another level, users can now binge-watch and binge-chat at the same time with the new Samsung Smart View TV remote app. This essential feature allows users to control the QLED TV from their smartphone with a few taps on the latest app.
Q Design: Style Living Spaces Your Way
Keeping in mind that TV should be as beautiful when turned off as it is when it is on; Samsung has designed the brand new QLED TV to be slimmer and clean that blends well into user's living room that sets a tone of exceptional sophistication. These details—an optical cable, a new wall mount, and striking design from any angle—make it a joy to look at, on or off.
QLED TV keeps your media space organized with a single, practically invisible optical cable that connects the television to the One Connect Box, creating a clean aesthetic on all sides of the device, including the back. With the nearly-invisible optical cable, the first thing you see is the TV, not a clutter of devices and wires underneath. QLED TV's No-gap wall mount minimises the space between the TV and the wall, all the while maintaining the very thin profile of the display. Once it's installed, you get a clean, minimal, and uncluttered TV view.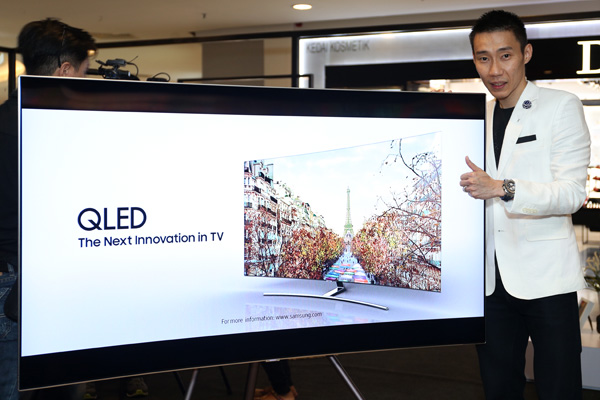 For those who do not wish to mount their TV onto the wall, there is also a range of stylish Samsung TV stands. Designed like an easel, the Studio Stand is an ideal accompaniment for any artist-inspired living space, and with the Gravity Stand, the TV can be rotated easily and allows for optimal viewing at any angle.
Since its debut at the Consumer Electronics Show (CES) and Samsung Southeast Asia (SEA) Forum this year, the ground-breaking QLED TV celebrates a major milestone in the UHD era. It achieved excellence in picture quality by integrating a new Quantum Dot (QD) material into its QLED displays that improves luminous efficiency. As a result, Samsung's QLED TV has received many international acclamations that recognise Samsung for its innovative technology in colour volume and ingenious design including the latest 'Best of Innovation' Awards in CES 2017.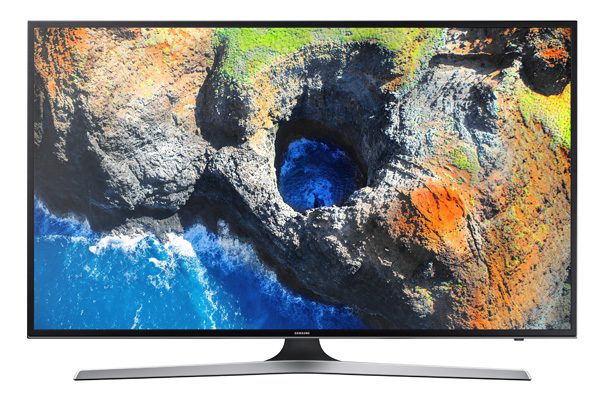 Additionally, in continuing a tradition of industry-leading technological advancements, Samsung Electronics has been recognised with the Sustainable Materials Management Electronic Challenge Champion Award in the new "Cutting Edge" category for its QLED TVs with Cadmium-free Quantum dot technology. Samsung Electronics is the first company to receive the award presented by the United States Environmental Protection Agency (EPA), to recognise companies for game-changing ideas related to sustainability in the electronics industry.
The new series of QLED TVs will be available starting 16th May 2017 onwards at all Samsung Brand Shops and authorised dealers nationwide with details as follows:
| | |
| --- | --- |
| Model No. | Recommended Retail Price (inclusive of 6% GST) |
| QA55Q7FAMKXXM | RM12,999 |
| QA65Q7FAMKXXM | RM19,999 |
| QA65Q8CAMKXXM | RM22,999 |
| QA75Q7FAMKXXM | RM35,999 |
| QA75Q8CAMKXXM | RM36,999 |
| QA88Q9FAMKXXM | RM99,999 |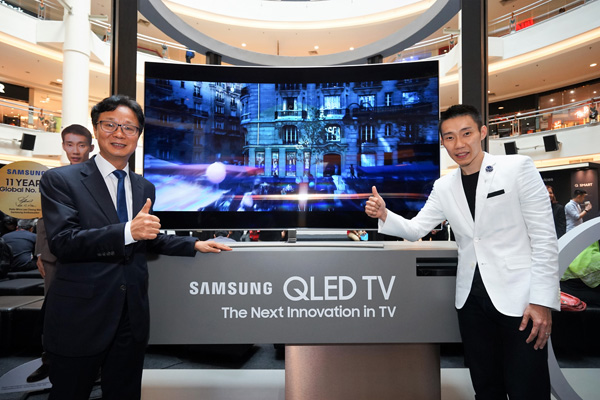 In conjunction with the launch, Samsung Malaysia Electronics is collaborating with iflix, offering 12 months of complimentary iflix subscription sponsored by Samsung with any purchase of a 2017 Samsung Smart TV. This promotion starts from 16th May till 30th June 2017.
For more information, please visit www.samsung.com/my/tvs/qled.