Garmin unveils Three New Watches for Users of All Ages
Kuala Lumpur (24 May 2017) — Keeping track of health, fitness, and wellness is not limited to a certain age group, and should begin from young, right up to adulthood. This is of course, easier said than done. With school, tuition classes and exams taking up most of a young person's day, and with professionals working long hours to climb the corporate ladder, keeping fit has become somewhat elusive for a lot of people.
Garmin, the prime player in wearables technology for sports and fitness, understands this; which is why they've made it their prime objective to assist everyone, young and old, achieve a certain level of fitness despite their hectic lifestyles, by introducing three (3) new members of their sports watch family today – the vivosmart® 3, an ultra-slim activity tracker packed with advanced features targeted at everyday active users; the vivofit® jr., a daily activity tracker made exclusively for kids to keep them fit from a young age; and the Forerunner 935, a performance running watch with enhanced monitoring tools and training features geared towards making users better athletes.
The first in the vivo range to have the VO2 max indicator only evident in higher-end Garmin watches, the slim and sleek vivosmart® 3 offers users the capability to get statistical insights on their fitness level, as well as fitness age, which is a relatable metric that translates a user's fitness level in terms of length of life. Users can influence the fitness stats through further exercise and training; making the feature a great source of motivation for achieving a certain level of fitness. To make realising that goal easier, the vivosmart® 3 also features rep counting capability available in the Strength Training activity tool, which helps keep track of reps, sets, and even rest times during exercises.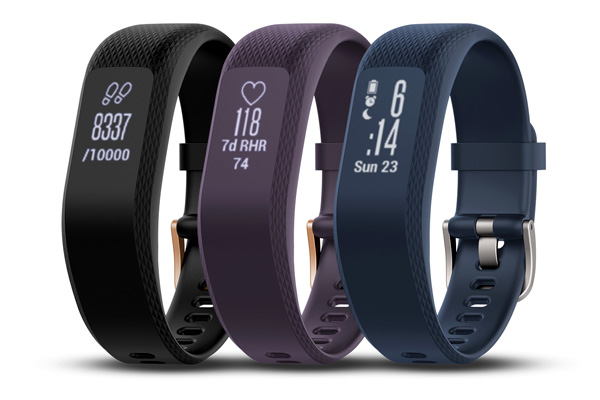 In addition to tracking steps, heart rate, calories, distance, and sleep, activity intensity is also measured by the vivosmart® 3 through Intensity Minutes, which are measured against goals recommended by leading health organisations. No worries for users in missing out on recorded activities, as Garmin Move IQTM automatically starts recording recognised activities like walking, running, biking, swimming, and elliptical training, without having the user to manually input instruction.
The vivosmart® 3 also puts emotional wellbeing at the core of its offering. Users can now benefit from the wellness monitoring tool with the all-day stress tracking feature, which not only measures stress level based on heart rate variability, but also provides accessible breathing exercise guidance if stress level ever goes high. All of the stats are accessible via the Garmin Connect™ mobile app, as the vivosmart® 3 automatically syncs with the app throughout the day to save stats. Via Garmin Connect, users can track their workouts, strength training activities, stress levels, sleep patterns and join online challenges to compete against friends and earn virtual badges.
When connected to a compatible smartphone, vivosmart® 3 can get notification alerts for emails, texts, calls, calendar reminders, app alerts, and social media updates delivered to users through vibration. Users will also benefit from the ability to control music on their smartphone via the watch, send an alert to locate a misplaced smartphone, and remotely control a Garmin VIRB camera (sold separately).
While the vivosmart® 3 is suited for adults of all ages, particularly parents who make fitness a point for the family, children are not left out in having their own activity tracker to stay on the move. Both parents and children can now benefit from the vivofit® jr. – a stylish, comfortable, and durable fitness watch made specifically for kids.
"We're excited to announce our first wearable just for kids – the vivofit® jr." said Ong Chang Seng, Managing Director of AECO Technologies, official distributor of Gamin products in Malaysia. "It was designed with kids and parents in mind, from its durable and comfortable band to its engaging app that motivates kids to get moving, while keeping parents involved."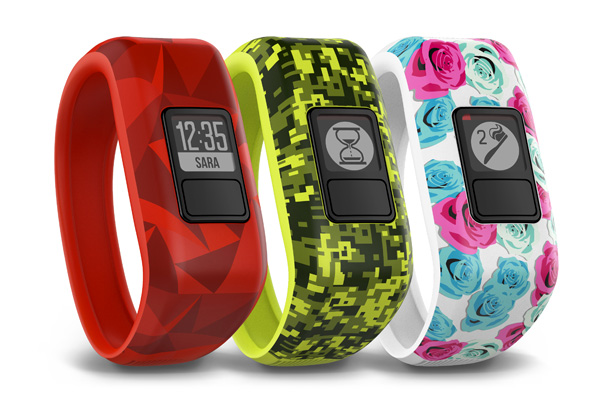 Equipped with some of the features of the vivosmart, such as step and sleep tracking, the highlight of the vivofit® jr. is that it comes with a free parent-controlled mobile app. The innovative app serves to motivate kids with fun and educational mobile adventures, family step challenges, and reward-based task completions. For parents, it includes helpful tools to motivate kids, to which they can assign responsibilities and agreed-upon rewards for completed tasks.
Parents can encourage their kids to achieve a 60-minute daily play goal through the mobile adventure feature, where with goal achieved every day, they will get to unlock fun facts on the app's adventure trail, motivating them to keep reaching their goals. Parents can teach their children the value of a healthy and fun competition too, as they can compete as a family in a daily step challenge. Through the app, parents can also assign tasks that kids complete to earn coins, which can then be redeemed for agreed-upon rewards. The preloaded tasks are managed through the parent's mobile device, and can be set to recur daily or weekly, or personalised chores can be created. To add a bit of intensity, a timer is accessible on the watch for a reminder that time to finish the task is ticking down. Parents can add multiple children and see their daily activity, responsibilities, sleep, and more when the watches automatically syncs to their smartphone.
The vivofit® jr one-plus year battery life and water resistance mean kids rarely have to take it off, and its multiple stylish and vibrant band designs mean they will rarely want to take it off. With a high-resolution, sunlight-readable display; the watch face tells time, including the date, and even reminds kids to stay active with a move bar. It can also be personalised to include a child's name.
The third member to join the family is Forerunner 935 – a GPS running and triathlon watch with new and enhanced performance monitoring tools.
"With similar features to the fēnix® 5 – our popular multisport GPS watch built for fitness, adventure and style – the Forerunner 935 is catered more towards athletes focused on performance and results," said Mr Ong. "As a top-of-the-line GPS smartwatch, the Forerunner 935 not only provides users with insights into how their body is responding to fitness, but also offers data for every activity, allowing them to automatically upload to Garmin Connect™, and is customisable with free apps, data fields and more from the Connect IQ™ store."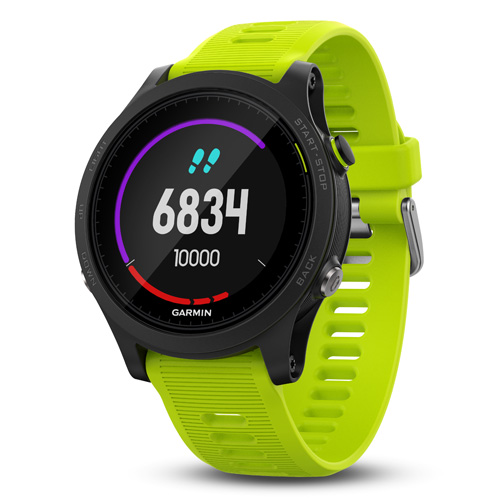 In addition to 24/7 heart rate monitoring, the Forerunner 935 includes new training features, allowing users to fine-tune exercise and recovery to be a better athlete. With technology provided by Firstbeat, it is easier for users to monitor performance and better prepare for a race or training cycle. The watch is also easily paired with the new Running Dynamics Pod, where users will now be able to see all six (6) running dynamics without the need of a chest strap. At only 49 grams, every detail in its lightweight, comfortable design was chosen with the athlete in mind.
The Forerunner 935 is compatible with the full line of Varia™ cycling awareness accessories, Vector™ pedal-based power meter system and Index™ smart scale. Installed also is the new TrainingPeaks app which allows users to download free workouts directly to their watch. Users also get better tracking capability in challenging environments with GPS and GLONASS coverage on the watch. Additionally, the watch includes ABC (altimeter, barometer and compass) sensor capabilities.
The Forerunner 935 can be automatically linked to Garmin Connect via compatible smartphones. It can last up to 21 hours of battery life in GPS mode, up to 44 hours in UltraTrac™ battery saver mode, and up to two (2) weeks in watch mode.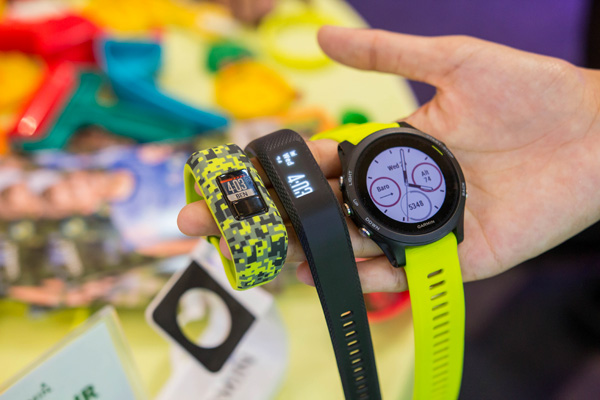 The vivosmart® 3 is available in black (small/medium and large) and purple (small/medium), and retails at RM 699.00. The vivofit® jr, which retails at RM 399.00 is designed for ages four to nine and is available in Broken Lava, Digi Camo, and Real Flower band patterns. The Forerunner 935 is available in black and yellow for RM2,449.00, and is compatible with optional Garmin QuickFit™ bands in leather, silicone, or metal.
The ever-expanding Garmin fitness segment develops technologies to enhance and promote healthy and active lifestyles. Whether users are runners, cyclists, swimmers, multi-sport athletes, or simply looking to stay active throughout the day, there is a product that can help them reach their health and fitness goals.
In line with the launch, the vivosmart® 3, vivofit® jr., and Forerunner 935 will be on sale at the East Atrium, Mid Valley Megamall from 24 to 28 May 2017. Consumers who purchase any of these three (3) watches over the five (5) day period will receive the following: a RM50 Nike Gift Card when they purchase the vivosmart® 3; a RM20 Toys R Us Gift Card when they purchase the vivofit® jr.; and 50% off Garmin QuickFit 22 bands when they purchase the Forerunner 935 (maximum of two sets per watch).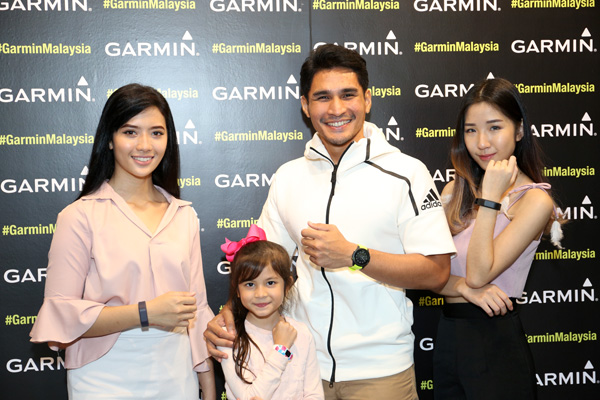 The new watches and other Garmin products are sold at Garmin's headquarters (AECO Technologies), 43, Jalan Jejaka 2, Taman Maluri, Cheras; and concept stores around Malaysia, namely Mid Valley Megamall, Digital Mall Petaling Jaya, 1 Utama Shopping Centre, Taman Lagenda – Melaka, Juru Autocity – Penang, Bukit Indah – Johor, and Kuantan – Pahang. For more information about Garmin Malaysia and its range of offerings, visit www.garmin.com.my.