Sony announces the #SonyRXMoments Instagram Photo Contest across South East Asia
Kuala Lumpur (1 April 2017) – Sony invites all users of Sony's RX series of cameras to participate in the #SonyRXMoments Instagram Photo Contest, where they stand a chance to win amazing prizes including an RX1R II, the ultimate full frame professional compact camera with a 35mm sensor. They will be tasked to put their photography skills to the test and share their best moments taken with their Sony RX premium compact camera.
To enter the contest, participants are to follow four simple steps:
Step 1: Follow the "@sonyrxmoments" Instagram account
Step 2: Take stunning photos with any Sony RX camera
Step 3: Post and share the photos on their Instagram handle with a caption tagging @sonysingapore and include the following hashtags – #SonyRX #SonyRXMoments #SonySG_RX #RXthroughmyeyes #SonyRXModel (i.e #SonyRX100M5, #SonyRX10M3, #SonyRX1RM2)
Step 4: Set their Instagram account to public
Multiple prizes are up for grabs locally and across the globe. The top 5 entries in Singapore will stand a chance to win SGD 2,000 worth of travel vouchers each. Along with other winners from across South East Asia, they will also be selected to represent their respective countries in the Global #SonyRXMoments Instagram Photo Contest. The Global First Prize winner will take home an RX1R II with a full set of accessories (worth more than USD 5,000), along with six global runner-ups who will receive an RX1R II each (USD 3,899.99). Judging will be based on their creativity, photo composition and enthusiasm for the Sony RX series.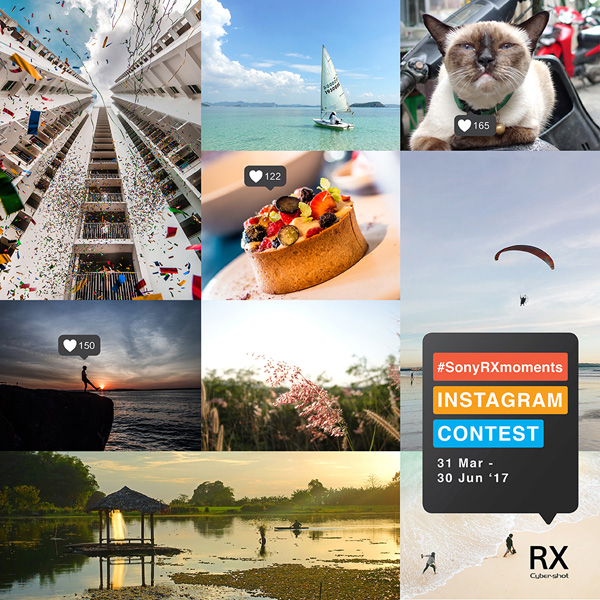 The #SonyRXMoments contest will run from 31 March to 30 June 2017. The local winners will be announced in August through the @sonysingapore Instagram account, while the global winners will be announced in September 2017 on both the @sonyrxmoments and @sonysingapore accounts, as well as on the official Sony Group websites.
For more information on the contest please visit http://s-digitalimaging.com/sg/.
The Sony RX Series
Featuring a line of premium compact cameras, the Sony RX Series aims to empower discerning photographers, enthusiasts and even professionals with high-quality shots, while fitting comfortably and conveniently in the palm of their hands.
The latest Sony RX Series includes the:
RX100 III – A versatile camera that shoots wide, close and with convenient zoom, powered by its Vario-Sonnar T* 24-70mm F1.8-2.8 lens and built-in OLED viewfinder with ZEISS® T* coating.
RX100 IV – The speed master that captures thrilling fast-action images without distortion, unveiling the wonders of up to 40x super slow motion and super-high speed 1/32000 sec.
RX100 V – A premium 1.0-type sensor compact camera with blazing-fast 0.05-second auto-focus and outstanding 4K movie capabilities.
RX10 III – The ultimate choice for zoom photography that packs a large-aperture 24-600mm F2.4-4 optical 25x zoom lens and 1.0-type stacked CMOS sensor within a sleek body, ensuring that subjects stand out beautifully even when shot in extreme close-up.
RX1R II – A palm-sized professional camera with full-frame CMOS sensor and fixed-lens design. Packed with 42.4 megapixel resolution and advanced image processing. The RXR II comes with a retractable electronic viewfinder and the world's first optical variable low-pass filter.