Kuala Lumpur (13 April 2017) — Microsoft Malaysia has launched M-Powered – a unique employment and entrepreneurship portal for persons with disabilities. The portal was launched today by YB Dato' Seri Ong Ka Chuan, Minister of International Trade and Industry II. Also present at the launch were Senator Bathmavathi Krishnan of Dewan Negara and Dr Astrid Tuminez, Senior Regional Director, Corporate, External and Legal Affairs, South East Asia, Microsoft Corporation.
M-Powered is the first of its kind portal in ASEAN that provides employment and entrepreneurial opportunities as well as learning resources via partnerships with government, corporations, academia, multilateral agencies and non-profits. It has been developed by Microsoft in collaboration with MaGIC, non-profit Dialogue in the Dark, as well universities like Sunway, Taylors, APU, UNITAR and content from MYMobile University, with support from Ministry of Human Resources, SME Corp and SME Bank.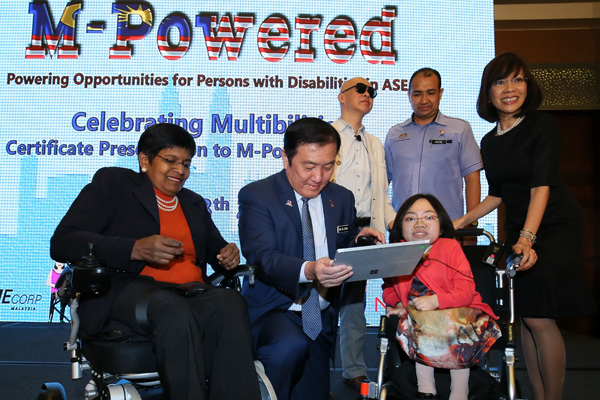 Congratulating the team on this launch, YB Dato' Seri Ong Ka Chuan said, "The government has identified inclusiveness and wellbeing as thrusts for community development in the 11th Malaysia Plan. Private public sector collaboration is an important part of realizing this vision and programs like M-Powered are the perfect role models. I congratulate Microsoft and all the partners for creating such a unique portal that encourages capacity building, employability as well as entrepreneurship and inclusiveness."
M-Powered will provide technical and soft skills learning opportunities and access to job listings to mainstream the disabled community in the economy. To date, M-Powered has several partners including Thriving Talents, Malaysian Global Innovation and Creativity Centre, Girls in Tech Malaysia, Dialogue in the Dark Malaysia, Asia Pacific University of Technology and Innovation and others who have agreed to come on board to mentor and list job openings on the portal to drive employment. Leading the mentorship and volunteering program are employees of Microsoft Malaysia that have registered on the portal.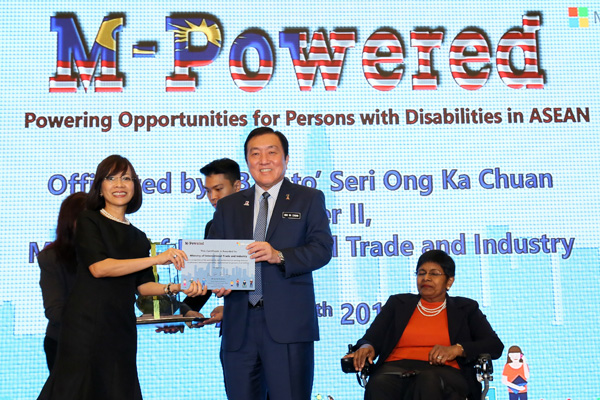 During the launch, Dr Astrid Tuminez reiterated Microsoft's commitment to partner Malaysia in her digital transformation journey.  "Our mission is to empower every person and every organization on the planet to achieve more, and we see technology as a powerful enabler. M-Powered is in line with our efforts to build a more inclusive world and to ensure benefits of the digital economy are equitably shared across everyone. We recognize the exemplary efforts of all the partners in making M-Powered a success and applaud the government's support in leveraging technology to improve the lives of citizens," she said. "We commend the government's policy to drive 1% of the Civil Service comprising of people with disabilities and this truly demonstrates leadership of the Government of Malaysia," she added.
Realizing the need for continuous upskilling and reskilling, M-Powered will provide online training, supplemented with mentoring and boot camps. This end to end accessible portal includes eight pillars – employers, employees, development of inclusive technology and applications, online marketplace to market products created by persons with disabilities, academia, volunteering, civil society & NGOs, and mentoring.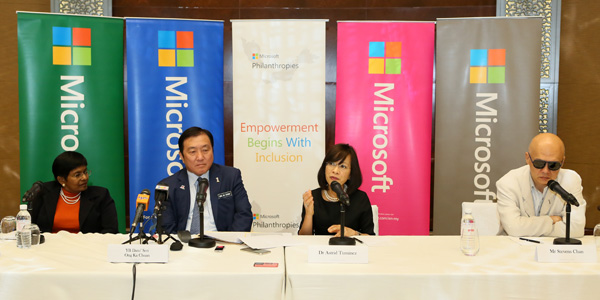 Commenting on the momentous occasion of M-Powered's launch, Stevens Chan, CEO and Founder, Dialogue in the Dark Malaysia said, "Today is a big day for us, it is a culmination of our efforts towards creating opportunities for the disadvantaged section of society. M-Powered is a key milestone for the community of disabled people and will work to give them meaningful employment and acceptance across the world. We are proud to collaborate with such esteemed partners that share our vision of inclusiveness."
En Ashran Dato' Ghazi, CEO, Malaysian Global Innovation and Creativity Center (MaGIC) added, "This unique initiative combines technology with local partnerships to address local and societal issues. It is a manifestation of our vision to create programs that are scalable, sustainable and community-centric. We are confident that M-Powered will positively impact the local communities and help catalyze the entrepreneurial ecosystem in Malaysia."