Courts Malaysia takes care of electronic devices from start-to-end
Kuala Lumpur (13 April 2017) — Courts Malaysia today launched a series of initiatives, aimed at providing customers a holistic electronics shopping experience. From selecting a product to maintenance, and even disposal of a device that has reached the end of its lifecycle, Courts Malaysia is an all-in-one solutions provider committed to taking care of every aspect of a customers' electronics purchase from start-to-end.
 "Check Your Label" – purchasing electronics with ease of mind
Together with the Malaysian Communications and Multimedia Commission (MCMC), Courts Malaysia has launched "Check Your Label", a campaign led by the Commission since 2014 to educate the public on the importance of buying communications and multimedia devices that are certified. Through this initiative, Courts Malaysia aims to raise awareness about the importance of purchasing communication devices bearing the MCMC label, which signifies that those devices have been tested and certified for compliance with relevant safety, radio frequency, electromagnetic compatibility, and interoperability standards.
"The "Check Your Label" campaign with MCMC is part of Courts' efforts to build and strengthen the confidence of our customers who shop with us. As a leading IT and electronics retailer, we stand committed to ensure that every product our customers purchase from us is original, legal, and safe to be used," said Ms. Low Bee Yin, Marketing Director of Courts Malaysia.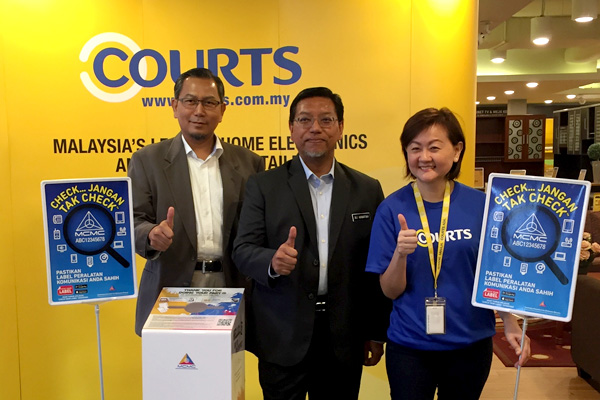 "Every communication device is verified and marked by MCMC's label to ensure that they are approved for consumer use. It is unsafe to purchase a communication device without the MCMC label, as it could be a counterfeit item or even cloned. Users who continue to use such devices risk electrocution, fire, and radio frequency interference that are caused by these devices," said Dato' Mohd Ali Hanafiah Mohd Yunus, Chief Officer of Communication and Digital Ecosystem Sector, MCMC.
With "Check Your Label", customers can easily check a communication device to see if it is approved by MCMC by referring to either an e-label or a physical label. The e-label is stored in a smartphone's firmware, while a physical label is embossed, engraved, or printed on the casing of the device. Both labels can be verified online using the "Check Your Label" mobile app, which can be downloaded from the Apple App Store or Google Play.
Doing a part for the environment by recycling mobile e-waste
In addition to "Check Your Label", Courts Malaysia has also announced the introduction of dedicated Mobile e-Waste disposal boxes in over 10 stores nationwide. This effort is part of Courts' pledge to help reduce environmental pollution caused by hazardous substances in electronic waste through the safe disposal of unwanted or unused mobile devices, while doing their part for the environment.
"Courts Malaysia advocates the disposal and recycling of e-Waste in an environmentally safe manner. We support this programme by the Malaysian Communications and Multimedia Commission (MCMC) by offering the use of our stores and encouraging proper electronics disposal habits, which ensures that we too can play our part in educating Malaysians to safely dispose and get rid of their used electronics, while inculcating the 3Rs – reduce, reuse and recycle – culture in our country," commented Ms. Low.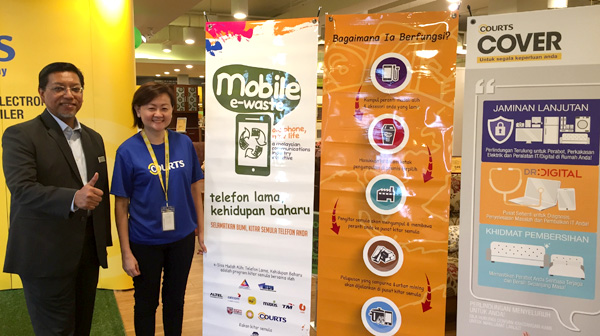 MCMC estimates that more than 65.7 million mobile devices currently exist in Malaysia as e-Waste, and are not being used or are incorrectly disposed of. Most devices are either kept in homes or have ended up in landfills, posing an issue to the environment and human health.
Courts Malaysia is the first retailer to proactively take part in this initiative, which has already seen the involvement of major telecommunications and electronics companies in the country. Though this programme, customers will be able to dispose of unused devices such as smartphones, tablets, and its accompanying accessories in selected Courts stores.
Protecting your electronics with Dr. Digital
Together, both initiatives supported by MCMC complements Courts' in-house Dr. Digital solutions, which serves to provide customers electronics and IT troubleshooting services. With Dr. Digital, customers can get support for a wide range of products at affordable rates, from computers and home systems to mobile devices such as smartphones and tablets. A service available to all customers, Dr. Digital is a quick, easy, and convenient solution for customers looking to resolve any technical or IT issues, which can be attained in-store or directly at their doorstep.
The expansive list of services includes installation of home and office products, and computer part upgrades. Dr. Digital also tackles software-related issues including reformatting, configuration of applications, and clean-ups for viruses and spyware on computer systems. With Courts' Extended Warranty*, customers are also assured that their products are protected for longer against damage and breakdowns.
A complete ecosystem for electronics purchases from start-to-end
Ms. Low said: "Check Your Label and the Mobile e-Waste programmes that we have launched with MCMC today complement the existing services that we have available in Courts Malaysia with Dr. Digital. This ensures that customers who walk into our stores to purchase an electronic product are provided with a holistic ecosystem of solutions that covers every inch of their devices' life-cycle, from the beginning to end."
"Customers can check products for the MCMC label before they make a purchase to ensure that the products they are buying is safe to use and legal, after which our after-sales Dr. Digital solutions are available at their service to maintain and keep their products in good order. Finally, when a product has expired and is no longer useable, customers can take it back to one of our 10 Courts stores to dispose of it safely in our mobile e-waste bins," she concluded.
Dr. Digital service plans are available in various packages, tailored to the needs of the customer and the type of devices they are using. For more information on Courts' Dr. Digital services, please visit www.courts.com.my/pages/dr-digital.
For more information about the mobile e-waste initiative, please visit mobileewaste.mcmc.gov.my.
Extended Warranty